Network testers go where fans go at Super Bowl 50
Network testers go where fans go at Super Bowl 50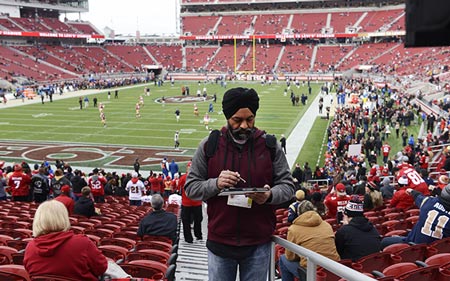 The team of 100 Verizon network technicians and engineers working Super Bowl 50 includes a specialized "boots on the ground" force with one mission – to test and replicate the network experience that fans will enjoy in and around Levi's Stadium.  These network test-walkers will provide real-time stats during the pre-game events throughout the Bay Area and on game day, helping Verizon make in-game adjustments to the network to ensure fans can reliably call, text, connect and share their most memorable Super Bowl moments.
"There are currently a half-dozen walk-testers on the team, and they've already gotten quite a workout," said Brian Mecum, vice president-network support for Verizon Wireless. "Between the stadium, Super Bowl City and the 50th Mile, they've walked more than 120 miles in the past two days."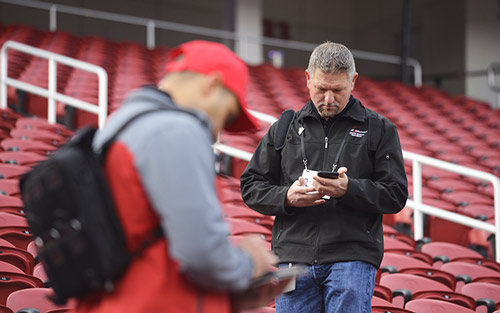 Each network tester is outfitted with a backpack of test devices that use GPS coordinators to track their exact location, while the devices make data connections and voice calls on a continual basis. Each network tester can view their results in real time on the connected tablet or smartphone they are carrying, while at the same time remote engineers receive the data over the Verizon Wireless 4G LTE network. 
Here is where Verizon's test men and women are walking:
Downtown San Francisco - including Super Bowl City, presented by Verizon, the 50th Mile, the NFL Experience Driven by Hyundai, as well as the Moscone Center, Union Square, host hotels and other key attractions.
Santa Clara – including Levi's Stadium tailgating areas and within the stadium during Super Bowl 50.
The Verizon network test men and women are just one more part of the company's preparations for expected record-setting data usage by smartphone-armed football fans.  Verizon teams have worked for nearly two years boosting network performance in key areas of the Bay Area for Super Bowl week.
Want real-time, in-game stats on wireless network performance at Levi's Stadium during Super Bowl 50? Follow @VerizonNews.