With new interactive platform enhancements, nothing fits better than BlueJeans video
Full Transparency
No Updates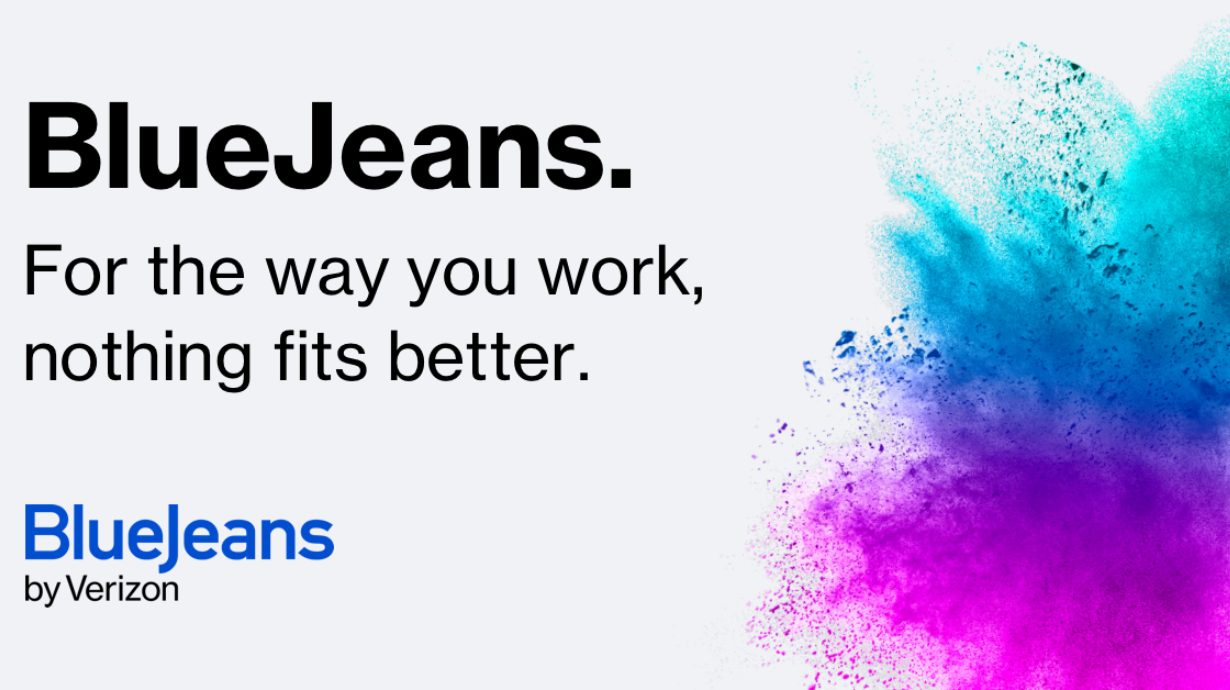 What you need to know:
Powering immersive video experiences for every digital need, BlueJeans announces cross-platform updates that mold to fit even the most specialized business challenges:

New BlueJeans Studio capabilities for BlueJeans Events designed to improve presenter experience and attendee participation; facilitate more intelligent event production

Introducing the BlueJeans Developer Platform, which enables third party developers to integrate BlueJeans' best-in-class video conferencing capabilities directly into any web or mobile application.

Upcoming availability of Direct Guest Join, new BlueJeans Gateway for Microsoft Teams updates improve conference room and huddle meeting experiences across office workspaces.
NEW YORK - To better support cohesiveness in how we work today, at Enterprise Connect today (3/27-3/30), Verizon Business announced several new, interactive feature updates across the BlueJeans collaboration and live streaming platform to boost video engagement.
"Video has exploded as the primary medium of choice for organizations when it comes to everything from broadcasting immersive company town halls to amplifying influential marketing messages and product launches," said Chris Lewter, VP and General Manager, BlueJeans by Verizon. "With today's announcements, we're making it even easier for customers to unlock the power of video in a way that best suits their specialized business needs and deliver game-changing experiences for their customers, employees, and partners across devices and channels."
Leveling up with BlueJeans Events
Since launching BlueJeans Studio, the simple and intuitive production suite built into BlueJeans Events, the goal has been to make it easier for presenters and producers to immerse and engage audiences and get maximum value from virtual events—powering amazing creativity that brings everyone attending along for the ride. To give event hosts an even more powerful set of features that can help them level-up their virtual stage presence, BlueJeans Events now offers a variety of new and exciting capabilities that will improve the presenter experience, give attendees fun new ways to participate in the event, and make production more intelligent.
Presenter: The new Presenter Dashboard view gives presenters clear line-of-sight into what the audience sees for a more cohesive experience and highlights when a presenter has their microphone and camera enabled. The new Presentation Upload feature enables access to presentations via Google Drive and Microsoft One Drive so that other members of the production team can drive the content in a seamless and secure way, without having to actually share potentially sensitive files.

Attendee: An expanded set of attendee reactions gives presenters more tangible feedback for when certain topics and content are resonating with the audience. From an accessibility perspective, the attendee view has been updated with better color contrast, clearer iconography, and improved usability. Furthermore, the event join screen can be more customized to better articulate attendee expectations and deliver clearer guidance on the event that they are joining.

Producer: Designed to ease the administrative burden of producing virtual events, Smart Producer automatically recognizes the active speaker and shifts layout options to accommodate the best possible view for attendees. This enables producers to stay focused on driving attendee engagement.
These new Events features will be available to preview in Q2, with GA anticipated for Q3. Learn more about today's BlueJeans Events enhancements.
The BlueJeans Developer Platform
Video has quickly risen to the top of the customer-centric must-haves list for driving brand visibility and easy accessibility in today's "always on" world. To help companies execute on their customer-first video strategy, the new BlueJeans Developer Platform provides a developer-friendly set of SDKs & APIs to power interactive video experiences for nearly any kind of application. This robust collection of developer tools makes it easy to integrate best-in-class video conferencing capabilities directly into any web or mobile application through the BlueJeans client SDKs for WebRTC (browsers) and mobile (Android & iOS) for fully customizable experiences, or via low-code Embed SDKs for web application development with minimal effort. Key Developer Platform Features:
Dolby Voice Audio–Crystal-clear call quality featuring spatial audio

HD Video & Screen-Sharing: High-performance video delivered up to 720p

Layout Customization: Flexible options for configuring multi-stream video

Audio/Video Controls & Settings: Complete customization of available capabilities

REST APIs & Webhooks–Robust package of APIs for workflow automation pre, during, and post Meeting. 
Learn more about the new BlueJeans Developer Platform, including how customers across retail, healthcare and sports have leveraged the BlueJeans SDKs to deliver premium video performance within their apps.
Better Office Meeting Experiences with MultiService 2.0
Organizations looking to welcome employees back into the office will need to emphasize flexibility and inclusivity in their office workspaces. However, most video conferencing hardware currently implemented today doesn't interoperate with all video conferencing services—getting in the way of employees being able to collaborate effectively with external partners. 
To help organizations apply a multi-service room strategy that ensures collaboration remains fluid, regardless of how employees are trying to connect from the office, BlueJeans is pleased to confirm the upcoming general availability for Direct Guest Join (Q2 2023). Requiring no additional hardware, Direct Guest Join provides a one-touch experience that allows Microsoft Teams Rooms users to easily join BlueJeans Meetings directly from their MTR using an embedded web experience. Similarly, BlueJeans Rooms users will easily be able join Microsoft Teams Meetings directly on newer Windows- and Android-based devices.
To further improve overall meeting quality and provide in-room meeting attendees with better insight into who's in the meeting and what's being shared, updates have also been made to the BlueJeans Gateway for Microsoft Teams, including the ability to automatically resize (Fit-to-Frame) incoming attendee streams to optimize poorly cropped participant feeds and advanced controls for Large Gallery View to enable in-room users to switch over to this mode directly from the supported endpoint. Gateway-supported users will now also receive Sharing Notifications other users are trying to share content from Excel Live, PowerPoint Live, OneDrive, and the Teams Whiteboard, which are not supported via CVI. Learn more about all of today's room system operability enhancements.