Nonprofits in the Nation's Capital Combat Domestic Violence, With Support From the Verizon Foundation
Nonprofits in the Nation's Capital Combat Domestic Violence, With Support From the Verizon Foundation
D.C. Councilmember Muriel Bowser Joins Verizon in Special Ceremony for Groups as Survivors Share Their Stories, Tell How Nonprofits Change Lives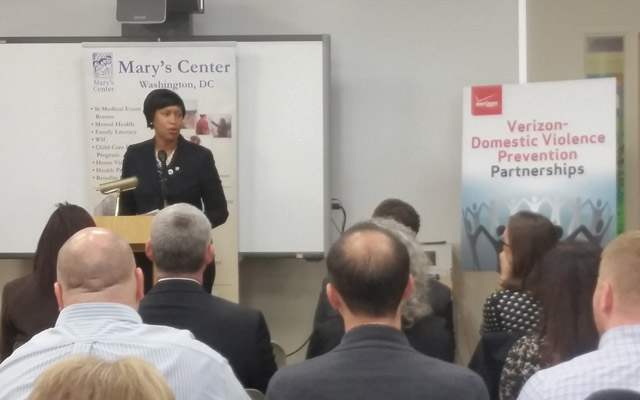 WASHINGTON – In an effort to raise awareness and end domestic violence, Verizon and District of Columbia Councilmember Muriel Bowser joined on Thursday (Oct. 30) to honor several nonprofits that are working to combat abuse against youth and adults in the nation's capital. 
The Verizon Foundation has awarded $115,000 in grants this year to assist these D.C. nonprofits in their efforts.
Domestic violence and emotional abuse affect people who are married, unmarried, heterosexual, gay or lesbian, living together, separated or dating. The violence takes many forms and can happen constantly or once in a while.
"Domestic violence is never justified nor will it be tolerated in our city," said Councilmember Bowser. "It destroys families and leaves physical, mental and psychological scars for years beyond the actual trauma. This must stop. I commend these organizations and concerned corporate citizens like Verizon for stepping up to help those who need it most."
During the special ceremony, the following Verizon Foundation grant recipients were recognized for their work in the community:
According to Anthony A. Lewis, Verizon's mid-Atlantic region vice president of state government affairs, "Domestic violence is a serious but preventable crime that affects millions of Americans in every segment of society. Domestic violence victims face many challenges.  Verizon has focused resources and funding for a number of years to help break this vicious cycle and make a meaningful impact on these victims' lives."
For nearly 20 years, Verizon has been committed to supporting domestic violence prevention, awareness and victim recovery efforts through various local and national initiatives, including www.vzw.com/hopeline. This program connects survivors of domestic violence to vital resources, funds organizations nationwide and recycles unusable phones to help protect the environment. Since 2001, the company has collected more than 10.8 million phones, donated more than $21.4 million in cash grants and provided more than 180,000 phones with wireless service to domestic violence organizations nationwide.
Now, to give a voice to those who need it most, Verizon has created "Because Voices Have Power" – a campaign asking people across the country to submit a message of hope to domestic violence victims and survivors. For every message of hope submitted, Verizon will donate $3 toward supporting proven and innovative dating and domestic violence prevention programs produced by the company's national and local campaign partners. For more information, visit http://www.verizon.com/about/responsibility.