Our mission: Thanking our military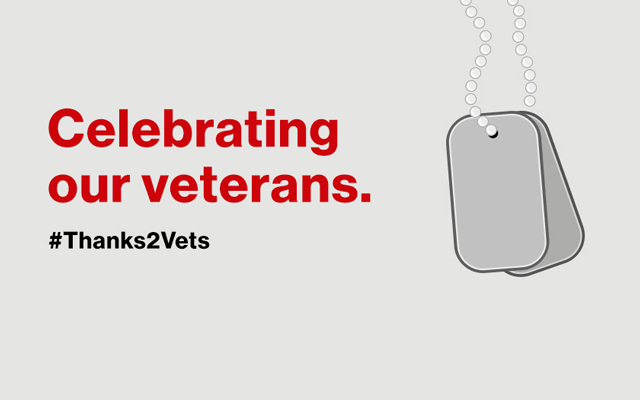 We have made it our mission to show our heartfelt appreciation for service members all year long. This Veterans Day, we'd like to send out special thanks to military personnel and their families for their service.
To participate, Verizon encourages you to say "thank you" via the Twitter hashtag #Thanks2Vets, where you can tweet your expressions of gratitude, support and recognition for a job well done. It's a simple yet sincere gesture we can all make to acknowledge our Veterans' hard work and dedication that keeps our nation safe. Join the conversation at #Thanks2Vets.
Suggested tweets:
Join me in giving a shout out to @[a Veteran you know] as a small token of recognition for all [his/her] immense work #Thanks2Vets
I thank [specific branch of service] today on Veterans Day in appreciation for what they do to keep us all safe #Thanks2Vets
Proud [brother, sister, wife, mother] of a Veteran. #Thanks2Vets
#Thanks2Vets for their remarkable sacrifice and courage and all those who currently serve to keep us protected.