Overland Park, Kansas Smart Store Goes Green With LEED Certified Operations & Design
Overland Park, Kansas Smart Store Goes Green With LEED Certified Operations & Design
Media contact(s)
Jessica Shih
908.559.1741
Jessica Thorpe
908.864.3691
On October 13, 2015, the Verizon Smart Store at Oak Park Mall in Overland Park, KS was recognized at a reception held by the United States Green Building Council (USGBC) for its energy efficiency, receiving a silver level Leadership in Energy and Environmental Design (LEED) certification. The Oak Park Verizon Smart Store in Overland Park, KS is now one of more than 170 stores to have received recognition by the USGBC for energy savings. The store, located at 11868 W. 95th St., was Verizon's first Smart Store in the state of Kansas when it opened in November 2013.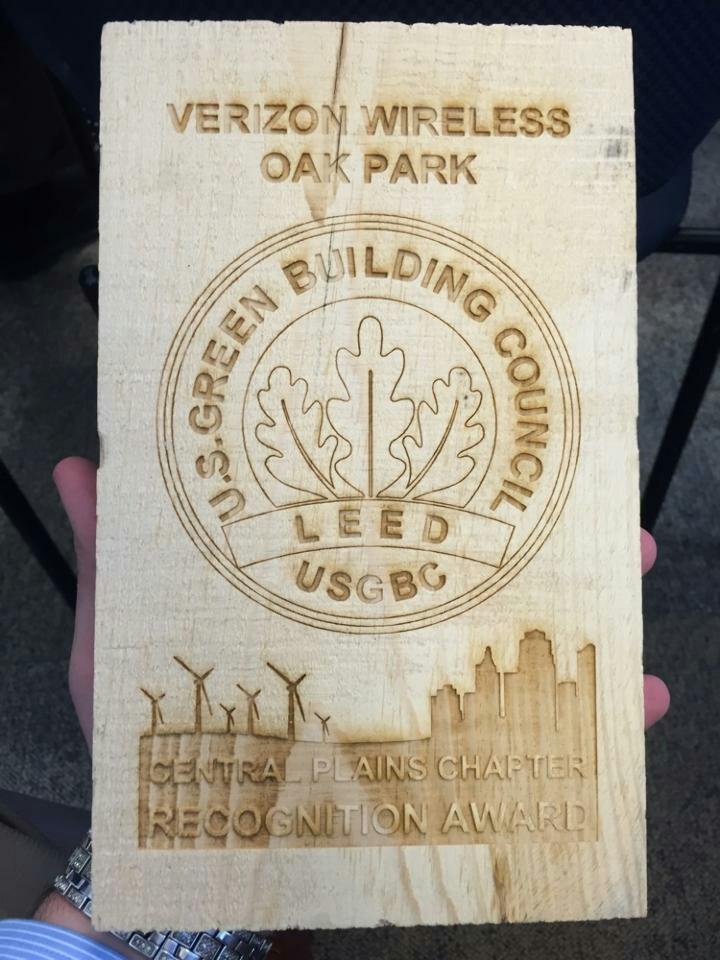 The Verizon Wireless Oak Park LEED certification.[/caption] Nationally, we are recognized by the USGBC as a leader in green building design. We are one of only eight retailers to have a green building design pre-certification in the LEED Volume Program. Under this design, any Verizon Store will earn a LEED Silver or higher rating. We began certifying stores under the program in 2012 and continue to build our portfolio of LEED certified stores. The Overland Park store has achieved this silver level rating, recognizing optimization in water and energy use, enhanced indoor environmental quality and reduced waste through practices, such as material reuse, phone recycling and paperless billing. As part of this certification, the Oak Park store, along with all other LEED-certified Verizon stores, is expected to deliver the following benefits and savings on average:
12,000 kilowatt-hours of electricity per year energy savings from lighting, equivalent to the CO2 emissions from the consumption of 972 gallons
28,000 gallons of water per year, equivalent to 455,000 glasses of water
28 tons of construction waste diverted from landfills, equivalent to 14 cars
As other stores continue to join the ranks with the Oak Park store, Verizon is working quickly toward the aggressive goal of reducing our carbon intensity by 50 percent by the year 2020.
For more information on our sustainability efforts, visit http://www.verizon.com/about/responsibility/sustainability