The St. Paddy's Day Games Are On: Watch a Leprechaun Try to Outwit Techies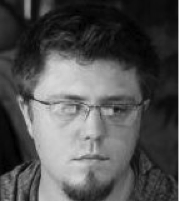 It started out innocently enough. Three techies from Six Dimensions, a domain-focused digital team in Cincinnati, agreed to match wits with a leprechaun.
The leprechaun (a PR agent named Andi who has a "thing" for dressing up in green) wanted to see how the nerdiest of all nerds would fare in a little lowbrow gamesmanship. And to add to the primitive feel of a 20th century game show, our Irish friend borrowed a vintage smartphone to record the shenanigans and edit the silliness using Videoshop.
Hence, the office game show, O'My McNerdigan was born.
Here are our contestants: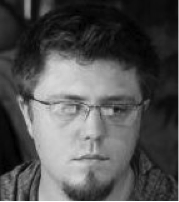 Nick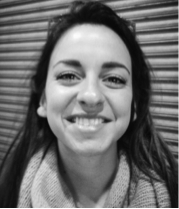 Maddie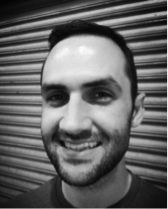 Dan
O'My McNerdian: Game One
The first challenge found Dan and Maddie in a face morph match against Nick and our game show host, the Leprechaun herself. Using the free app FaceMix, each pair had 30 seconds to morph their face with their teammate to see who made the best face mashup.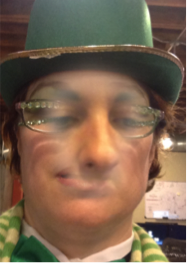 FaceMix Team One: Leprechaun and Nick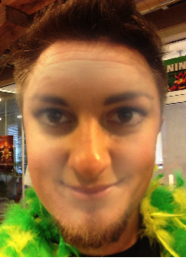 FaceMix Team Two: Dan and Maddie
Which team won?
You be the judge.
O'My McNerdian: Game Two
Fergie the Leprechaun then asked our nerds to recite a few lines from the famous Irish poet, Yeats:
When you are old and gray and full of sleep, and nodding by the fire, take down this book and slowly read, and dream of the soft look your eyes had once, and of their shadows deep.
At this point, the Leprechaun disqualified Maddie for being too elegant. Therefore, the Leprechaun challenged Nick and Dan to use Voice Changer to see who could sound, in the spirit of Yeats, the most profound.
And how did they do?
O'My McNerdian: Final bonus round
Since the devices used for the speed trials are all powered by the Verizon Wireless 4G LTE network, our leprechaun wanted to see how our nerd contestants would fare during smartphone trivia. Our Leprechaun found some interesting information on Factslides.com and tested them among the contestants.
So there you have it. Since our leprechaun was too indecisive to pick one winner—the "grand" prizes went to all three contestants. The biggest prize of all went to our Leprechaun, however, who learned that having fun with new friends can be the best use of technology.
Disclosure: Andi Ferguson a.k.a. the leprechaun Fergie is a senior account supervisor at Wordsworth Communications, a provider to Verizon Wireless. She would like to thank VZW for allowing her to have fun with with a vintage smartphone (and despite what it may seem, no alcohol at all) on her favorite holiday.
For more Verizon Wireless news, subscribe via RSS feeds in the right rail.