Paducah Police Holiday HopeLine Drive in Kentucky Collects Nearly 700 Devices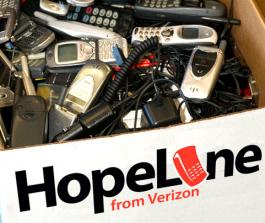 The community-wide Holiday HopeLine Drive in Western Kentucky, launched by the Paducah Police Department, came to a close this past week after collecting more than 670 no-longer-used wireless phones and accessories. The donated devices will be turned into support for residents in an eight-county area who are facing domestic violence.
Paducah Police Chief Brandon Barnhill launched the Holiday HopeLine Drive on November 12 and invited area residents to drop off their old phones and accessories in collection boxes that were placed in various locations throughout Paducah. As promised, the Merryman House domestic violence crisis center will receive a $10,000 grant in honor of the police department and community members who donated devices.
Not only did Paducah residents exceed expectations with their donations, Bristol Broadcasting radio stations in the community helped raise awareness of the domestic violence issue by frequently talking about the drive on-air.
"It was great to see how this community came together to help their friends or neighbors who are facing domestic violence," said Bridgette Mccuiston, manager of The Cellular Connection, an authorized retailer of Verizon Wireless. "Although the Holiday HopeLine Drive is over, I am going to keep a collection box at my store for the next HopeLine Drive."
The devices collected from the Holiday HopeLine Drive will be refurbished and resold or recycled and disposed of in an environmentally sound way. Verizon donates the proceeds from these drives to domestic violence prevention and treatment organizations in the form of cash grants. Last year, we donated more than $100,000 in cash grants to shelters and other organizations in Kentucky alone.
If you are interested in hosting a HopeLine Drive in your community, you can sign up here. We partner with companies for events and ongoing collections and team up with community groups and dedicated individuals to host drives across the nation. With a little planning and the materials we provide, you can host a drive that will benefit victims of domestic violence in your area and help protect the environment at the same time.
For more Verizon Wireless news, subscribe via RSS feeds in the right rail.