Peyton Manning's Return to Indy Fuels Fans' Wireless Phone Usage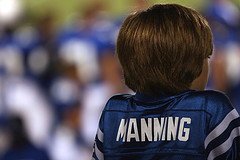 Peyton Manning's return to Indianapolis was the most watched Colts regular-season game in the Crossroads of America in a decade. The Denver Broncos-Indianapolis Colts match was watched by nearly 540,000 households in Central Indiana. Nationally, NBC trumped the game that the Colts won 39-33 as the highest overnight ratings for an October game for the NFL in 15 years.
And that wasn't the only big number.
The game was also a hit for Verizon Wireless' network, which capably managed nearly double the 4G LTE data and call volume on game day Sunday as fans converged on Lucas Oil Stadium and started their tailgating early in the morning.
Verizon's 4G LTE network plans for downtown Indianapolis were completed in time for Super Bowl XLVI in 2012, which enhanced the network at more than 30 venues around the city, including Lucas Oil Stadium, major hotels and the convention center.
In February 2012, Verizon Wireless customers used 2.75 times more data than the previous year's Super Bowl in Dallas and 4.5 times more data than a regular season game. Here's an insider's view of the network tour we provided of our behind-the-scenes work completed back then, courtesy of Mr. Noobie, an Indianapolis blogger.
Verizon is well ahead of other wireless carriers in completing our 4G LTE network buildout in Indiana. We hope it serves the city well in its bid for a return Super Bowl in 2018!
For more Verizon Wireless news, subscribe via RSS feeds in the right rail.
Photo Credit: Diamondduste via Compfight cc