Pittsburgh Steeler William Gay & Verizon HopeLine Share Domestic Violence Prevention App
Pittsburgh Steeler William Gay & Verizon HopeLine Share Domestic Violence Prevention App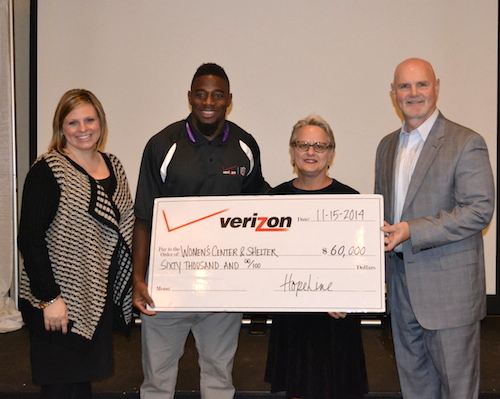 On Saturday, November 15, Pittsburgh Steeler William Gay shared a potentially life-saving message with more than 250 moms at the second annual Mom Con conference in Cranberry, PA.
Gay spoke about domestic violence prevention and RUSafe, a new assessment app created by the Women's Center and Shelter of Greater Pittsburgh (WC&S) that helps users identify if they are in a potentially dangerous relationship and connect them to a domestic violence hotline in their area.
It's a cause that's important to Gay, who lost his mother to domestic violence as a child and has worked with the Women's Center and Shelter for several years. During the conference, Mark Frazier, Verizon Wireless' region president for Ohio, Pennsylvania and West Virginia, teamed up with Gay to present a $60,000 donation to aid WC&S in its efforts to grow awareness and adoption of the RUSafe App.
"We are pleased to support the Women's Center & Shelter in its efforts to connect domestic violence victims with the help that they need through the RUSafe app," Frazier said. "Through our partnerships with organizations like the Women's Center & Shelter, we can take a stand that will make a difference in our communities."
RUSafe, developed by WC&S and Newton Consulting, invites the user to answer a series of questions about her/his relationship. The app then calculates the responses and, if there is cause for concern, it will enable the user to directly call the WC&S 24-hour hotline or the domestic violence hotline nearest them. If the user is in immediate lethal danger, she/he can call 911 directly from the app.
During the conference, we also collected no-longer-used phones and accessories for our HopeLine program. Through Verizon HopeLine, we collect and securely scrub donated phones, refurbishe and sells reusable phones and responsibly recycle unsalvageable phones. Proceeds are donated to domestic violence organizations nationwide.
The Mom Con is a two-day conference designed to empower and inspire modern and working moms. This year's conference featured workshops and sessions from local and national leaders. Verizon Wireless was a presenting sponsor of this year's event.
For more Verizon Wireless news, subscribe via RSS feeds in the right rail.