Red Cross, FEMA, Verizon, PSE&G Partner With Perth Amboy for 'National PrepareAthon Day'
Red Cross, FEMA, Verizon, PSE&G Partner With Perth Amboy for 'National PrepareAthon Day'
Media contact(s)
Andrew Testa
908.626.8339
Diane Concannon
609.206.4043
Noelia Colon
732.826.0290.x4006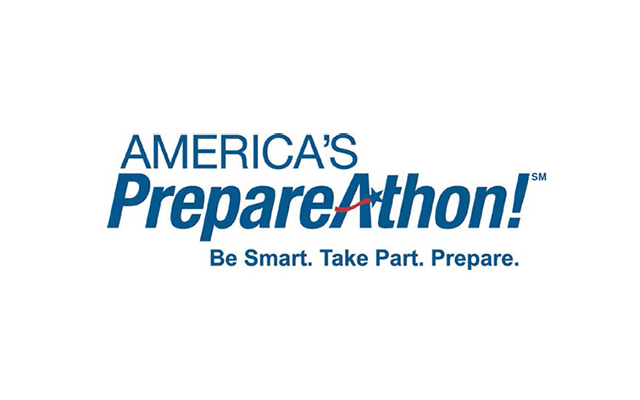 PERTH AMBOY, N.J. – According to the Federal Emergency Management Agency, in 2013 deadly weather caused more than $8 billion in property damage, and failing to prepare for extreme weather events has cost the United States $1.15 trillion in economic losses between 1980 and 2010.
Recognizing how emergency preparedness strategies can mitigate damages and keep individuals and families safe, representatives from the American Red Cross, FEMA, PSE&G and Verizon gathered today (Sept. 30) with Perth Amboy Mayor Wilda Diaz and other municipal, county and state officials. The event marked National PrepareAthon Day and stressed the importance of disaster preparedness, emergency communications and volunteerism.
National PrepareAthon Day focuses on increasing community emergency preparedness and participation in planning and drills and is the culmination of National Preparedness Month, whose theme this year is "Be Disaster Aware, Take Action to Prepare."
The event, held at The Armory restaurant, featured an array of emergency response vehicles and resources on display from the participants, who are among the first to respond in the aftermath of storms, natural disasters or other emergency situations.
"Perth Amboy experienced the damaging effects of Superstorm Sandy in 2012," said Mayor Wilda Diaz. "We know firsthand the importance of taking safety measures and preparedness to keep our community safe and well-informed during an emergency. I want to thank Verizon and the American Red Cross for their collaboration in making emergency readiness in Perth Amboy a part of their outreach initiatives."
Disasters can strike suddenly, and often without warning. Mathieu Nelessen, regional CEO, American Red Cross North Jersey Region, stressed the importance of preparing now for future emergencies.
"Having a regularly practiced emergency plan in place ensures all members of your family know what to do should a disaster strike," said Nelessen. "By taking steps as individuals and families to prepare for disasters, we help to create a more resilient and better prepared New Jersey."
The American Red Cross has developed free apps that make critical information about what to do before, during and after disasters easily accessible on mobile devices. The apps include a "Make A Plan" feature that provides step-by-step guidance to help families develop a customized emergency plan. A one-touch "I'm safe" messaging feature allows users to instantly broadcast reassurance -- via pre-set contacts for text, email and social media channels -- to family and friends that they are out of harm's way.  The apps are available in English and Spanish for Apple and Android devices and can be downloaded at redcross.org/apps.
Nelessen discussed the critical role volunteers play during disasters and how a large volume of volunteers are needed to effectively staff disaster operations.  The Red Cross encourages individuals to help better prepare their community for future disasters by becoming a volunteer and receiving the necessary training to step forward immediately to assist during times of disaster.
Paul Sullivan, region operations president for Verizon New Jersey, and Loroine McKnight, regional data sales director for Verizon Wireless, discussed how the company prepares for events that could affect its networks and the services it makes available for emergency responders and communities, and also provided useful tips for customers to follow as they prepare for emergencies or weather events.
"Planning and preparation are our best tools to manage effectively through severe weather or natural disasters," said Sullivan. "As one of New Jersey's largest providers of communications services, we know that for many people, when there is an emergency they rely on Verizon to keep in touch with friends, family, the workplace and others.  At Verizon, we focus regularly on emergency preparedness and communications, so we can respond to the needs of our customers."
Verizon has a range of assets it can deploy and services it can offer during emergency situations.  The company operates a Crisis Response Fleet that provides critical communication services for business and government customers throughout North America. Using specially equipped vehicles and trailers, Verizon technical experts can reestablish communications for customers during unplanned disruptions. Each vehicle can been converted into an advanced mobile communications facility offering voice and Internet capabilities.
The company's Crisis Response Fleet, which can be deployed to either coast within 24 hours, includes a 51-foot mobile command center. It features highly sophisticated communications equipment, with ample space for emergency responders, government officials and Verizon employees. Also deployed for humanitarian purposes, Verizon's Crisis Response Fleet saw extensive action in New Jersey in the aftermath of Hurricane Sandy in late 2012.
In addition, the Verizon Wireless Crisis Response Team supports first responders, government agencies and nonprofit organizations during emergencies. The program offers a nationwide hotline answered live 24/7, emergency communication centers that feature charging stations and Internet access, and a fleet of emergency mobile wireless assets to provide wireless connectivity during a disaster. In 2012, Verizon deployed 23 emergency wireless assets, 132 portable generators and 2,000 data and phone devices throughout the New York Metro region to support local municipalities and residents affected by the storm.
"At Verizon Wireless, we run to a crisis, not away from a crisis," said McKnight. "Our crisis management teams regularly prepare for and test our ability to respond to emergency situations, so that we can consistently provide high-quality wireless service to our customers. Our 4G LTE network covers more than 300 million people across the U.S., and in 2013 we invested more than $400 million in the New York Metro region alone to expand and maintain our wireless networks, including backup generators, batteries and fire detection systems."
As New Jersey's largest utility, storm preparedness has always been a major priority and focal point of PSE&G's efforts to promote the health, safety and well-being of its customers and communities across the state. When a storm hits, PSE&G crews work round-the-clock to safely restore power. However, the company's preparedness efforts expand beyond immediate response. The utility has upgraded its social media capabilities to stay in contact with customers about outages, and is investing in its infrastructure to make it more resilient against severe weather. 
"PSE&G's Energy Strong program has been underway since May -- hardening our electric and gas systems against the kind of severe weather we've experienced in our state in recent years," said Eileen Leahey, director of external affairs for PSE&G. "We've made a $1.2 billion investment to upgrade 29 substations that were flooded during Hurricane Irene and Superstorm Sandy, and we've already started modernizing 250 miles of cast iron gas mains that were in or near flood areas. These improvements will make our system stronger and more resilient in the face of future storms."
For more information on emergency preparedness, including helpful tips for consumers and businesses, visit the Red Cross at www.redcross.org/prepare.
About Verizon
Verizon Communications Inc. (NYSE, Nasdaq: VZ), headquartered in New York, is a global leader in delivering broadband and other wireless and wireline communications services to consumer, business, government and wholesale customers. Verizon Wireless operates America's most reliable wireless network, with 104.6 million retail connections nationwide. Verizon also provides converged communications, information and entertainment services over America's most advanced fiber-optic network, and delivers integrated business solutions to customers in more than 150 countries. A Dow 30 company with more than $120 billion in 2013 revenues, Verizon employs a diverse workforce of 177,800. For more information, visit www.verizon.com.
About the American Red Cross
The American Red Cross shelters, feeds and provides emotional support to victims of disasters; supplies about 40 percent of the nation's blood; teaches skills that save lives; provides international humanitarian aid; and supports military members and their families. The Red Cross is a not-for-profit organization that depends on volunteers and the generosity of the American public to perform its mission. For more information, please visit redcross.org.
About the American Red Cross North Jersey Region
The American Red Cross North Jersey Region provides programs and services throughout the counties of Bergen, Essex, Hudson, Hunterdon, Mercer, Middlesex, Morris, Passaic, Somerset, Sussex, Union and Warren, with a combined population of 5.7 million. The region trains and mobilizes more than 3,330 volunteers who support the delivery of services in the community. Last year, the Red Cross North Jersey Region responded to 494 local home fires, helping 1,130 displaced families; collected 25,420 units of blood through blood drives and Red Cross Blood Donation Centers; provided 1,877 military family case services with emergency messages, helping families find assistance and/or get counseling and referrals; and trained 60,441 individuals with life-saving skills in preparedness, CPR, AED use, first aid and aquatics. Follow the North Jersey Region on Twitter @RedCrossNorthNJ.
About PSE&G
Public Service Electric and Gas Company (PSE&G) is New Jersey's oldest and largest regulated gas and electric delivery utility, serving nearly three-quarters of the state's population. PSE&G is the winner of the ReliabilityOne Award for superior electric system reliability. PSE&G is a subsidiary of Public Service Enterprise Group Incorporated (PSEG) (NYSE:PEG), a diversified energy company (http://www.pseg.com/).