Roadtreking With Mike Wendland: Tech & Fashion at Kentucky Derby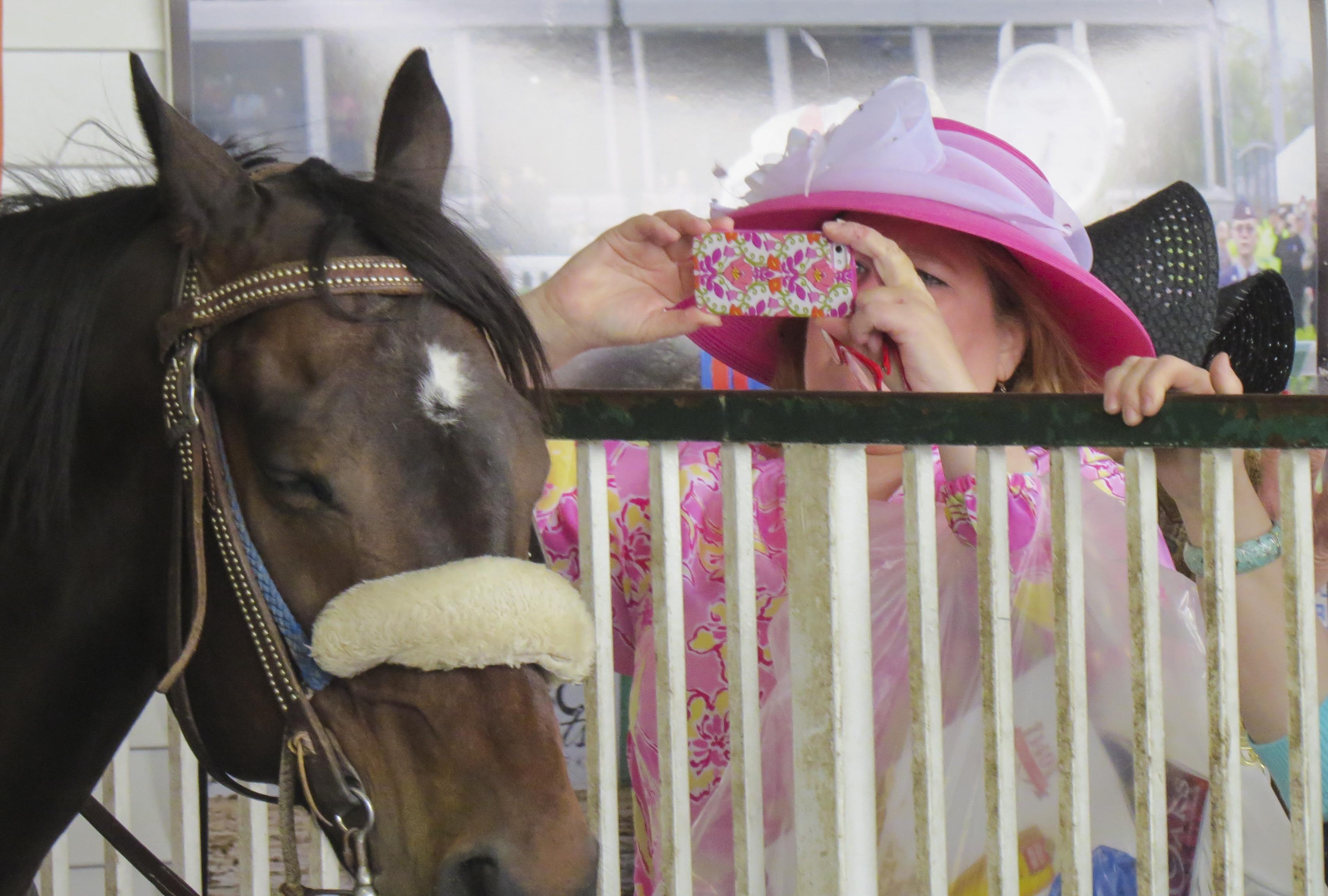 This weekend's 140th running of the Kentucky Derby - the world's premiere horse racing event - is as much social as sporting. The thoroughbreds and the famed "Run for the Roses" – the blanket of 554 red roses bestowed upon the winner – brought some 165,000 spectators to Churchill Downs this year, and the vast majority were dressed in their best. Especially the women, many of them carefully choosing to wear very fancy hats...because the Kentucky Derby is an event that is just as much made to be seen at as it is to see. Hats are a very big deal at the Kentucky Derby, a huge part of the tradition. Just ask Kenzie Kapp, the proprietress of The Mill, and one of Louisville's top hatmakers. On the day we visited her Main Street store during Derby week, she was sitting on the floor, working on a headpiece, fingers numb from too much sewing and bleary-eyed from lack of sleep.
That was Friday, the day before the Derby. She had been up pretty much non-stop since Tuesday. "What day is this?" she asked. "They've all kind of blurred together." Kenzie Kapp's creations are elaborate and dramatic, boldly colored in exotic feathers and materials, all original one-of-a-kind custom designs that she fashions after lots of consultation with her clients. Aside from face-to-face meetings, she also relies on cell phone photos of the customer, their dress, many sent along via Verizon's 4G LTE network. "Technology is very important to me," she says. "I get to see the customer's dress, the look they are after. We swap pictures back and forth." She started this year's designs last fall. Most of her hats cost several hundred dollars. A wide-brimmed orange design that caught my wife's eye was priced at $550. Before Jennifer got carried away by her inner Southern Belle, I changed the subject as fast as I could, pointing out that we were there to work, to shoot photos and video and such a frilly piece of headwear would surely get in the way. "It's like playing dress-up," Kapp said of the Derby and the hat tradition. "Like when we were little girls and dreamed of fancy clothes and those beautiful hats that every lady seemed to wear in those genteel days gone by. It's also like prom. Kind of like adult prom." You can meet Kapp and see her designs in the accompanying video, which also takes you to Churchill Downs, where the hats were on full display.
The Derby, always the first Saturday in May, is the culmination of a week-long celebration. There is a huge parade on Thursday, and on Friday, a series of races called the Oaks, which draws almost as many as the main event on Saturday. For the women, mandatory attire is a fancy dress and a hat. Many men, too, also dress up, with seersucker suits or jackets a popular choice, offset by pastel shirts and ties. Many men, too, wear hats, though they are not nearly as elaborate as the women. We spent Friday and Saturday at Churchill Downs. Races are held all day long both days, leading to the last race right around 6 p.m. Saturday, which is the official Kentucky Derby. Aside from the hats, the other big tradition is paying $11 for a Mint Julep, the official drink of the Derby made of Kentucky Bourbon and sugar syrup over ice and served with a sprig of mint. I tried one, just to check it off the bucket list. Let me say, it was not something I can see myself developing a hankering for. The other big thing everyone seems to do is wander about taking selfies and posting to Facebook, Twitter, Instagram and every other sort of social media site you can find.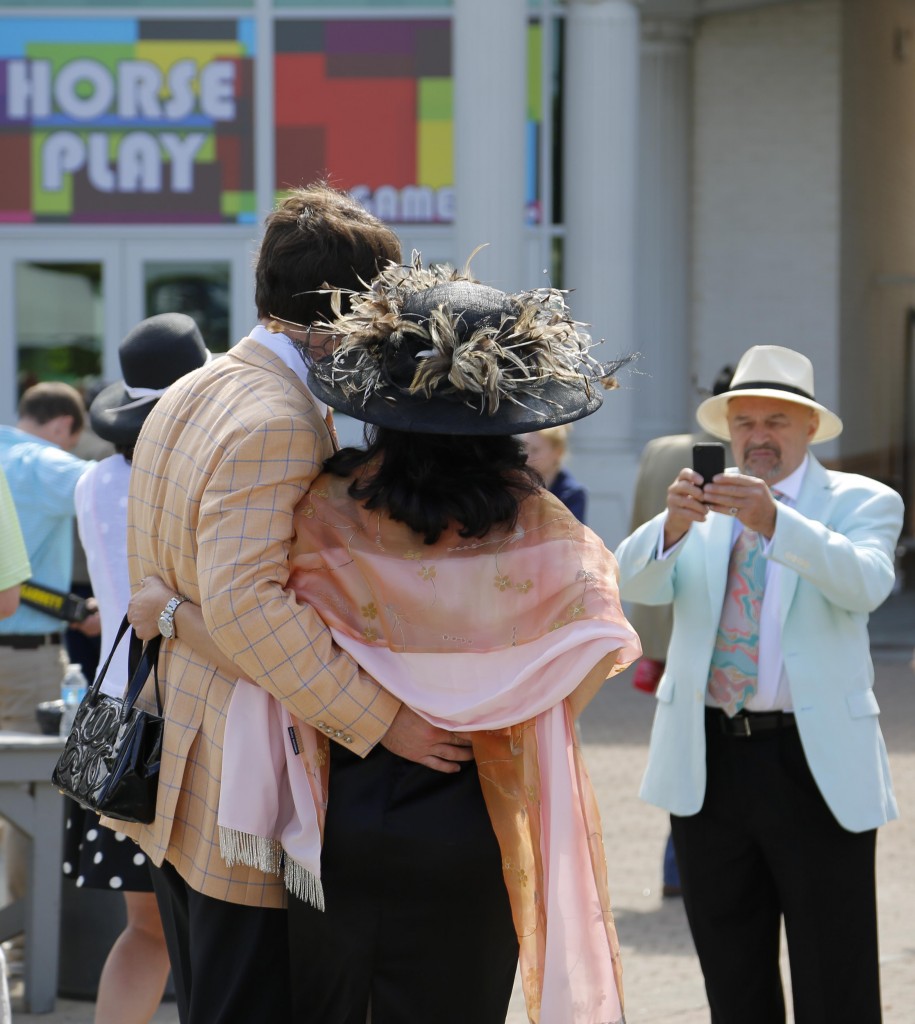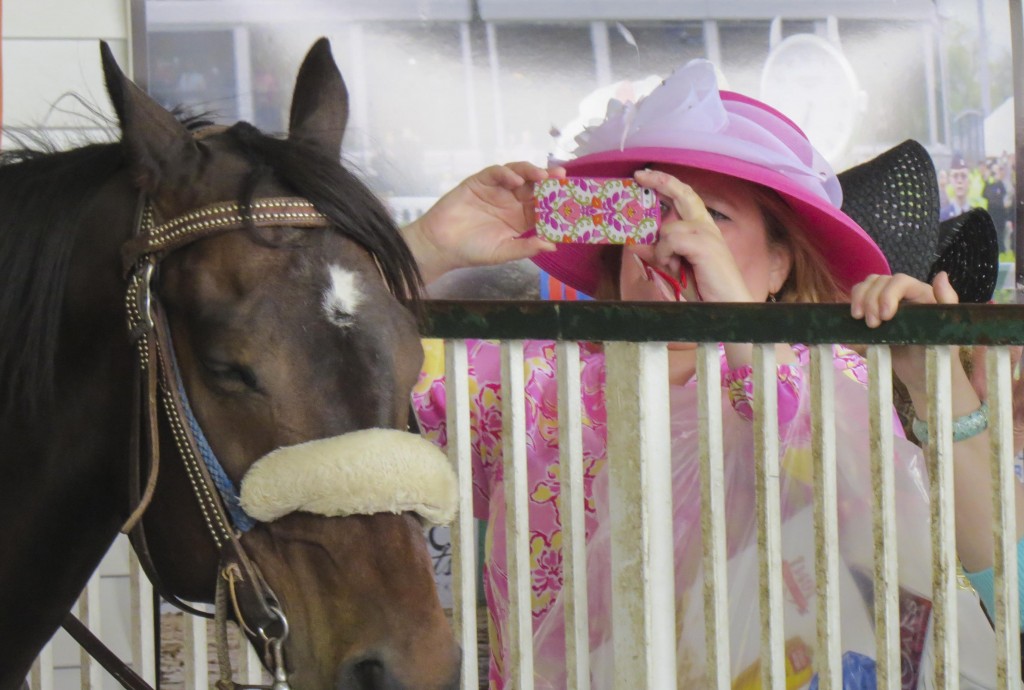 I wondered how Verizon Wireless could handle the demand. I mean everyone, everywhere you looked, every time you looked, was snapping and posting pictures. So I asked and learned that Verizon met that extra demand by deploying COWs and COLTs. Say what? Those acronyms stand for the portable technology that the company used to boost the capacity of its wireless network around Churchill Downs during Derby week. A COW stands for Cell on Wheels, and COLT is short for a Cell on Light Truck. Aside from moving in mobile special event booster gear, Verizon also fortified its 4G LTE network by launching a second band of cellular spectrum called AWS – which allows for faster speeds and more connections – and installed a Distributed Antenna System to strengthen its 4G LTE network signals in tough coverage areas, such as the interior rooms and areas shielded by the marble and stone walls at Churchill Downs. Acronyms and geek-speak aside, all I know is the staggering wireless traffic around Churchill Downs last weekend seemed to function just fine. No one I saw had any trouble getting a signal or being able to share their Kentucky Derby experience through photos, video, texts and tweets. Check out the second video I did showing how our smartphones are now just as much a Kentucky Derby fixture as the hats.
The Derby was a terrific time. Congrats to California Chrome for winning the $2 million purse in a race that took two minutes and three seconds to run, but an entire weekend to experience. For more Verizon Wireless news, subscribe via RSS feeds in the right rail.