Samsung Galaxy J3 V now available on Verizon
Samsung Galaxy J3 V now available on Verizon
Pick the Galaxy J3 that's right for you; available on Verizon device payment and prepaid plans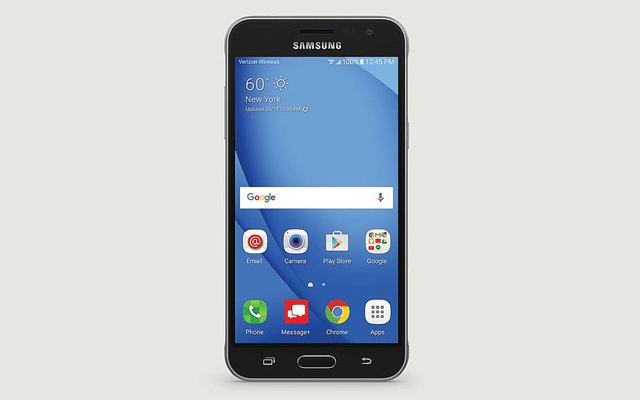 Looking for an affordable, feature-packed smartphone to stay connected with friends and family? Look no further. The Samsung Galaxy J3 is now available in two flavors — the 16GB* Samsung Galaxy J3 V (available on the Verizon device payment plan) and the 8GB* Samsung Galaxy J3 (2016) prepaid smartphone. Both models run on the Verizon 4G LTE network — ranked number one by Root Metrics for overall network performance across the United States.
Featuring a 5.0" HD Super AMOLED display and a 1.2 GHz Quad Core processor, both the Galaxy J3 V and the Galaxy J3 (2016) are powerful enough to stream, browse, and game, yet small enough to fit comfortably in your hand or pocket. With memory expandable up to 128GB with a microSD card,** you can enjoy more of your favorite music, photos and games on the go. And with Easy Mode, you can simplify your interface, so your favorite apps and contacts are never more than a tap away.
Both models of the Galaxy J3 include two cameras to ensure you capture life's most important moments. With the 2MP front-facing camera, you can take high-quality selfies to share on your favorite social networks. The 5MP rear camera features a wide f/2.2 aperture, making it easier than ever to capture beautiful photographs in low light.
This is the perfect phone for anyone looking to step up from a basic device, upgrade from the Samsung Galaxy Core Prime, Samsung Galaxy J1 or from a similar smartphone. Full specifications include:
5.0"  HD Super AMOLED display at 1280 x 720
1.2 GHz Quad Core processor
16GB (Galaxy J3 V)/8GB [Galaxy J3 (2016)]
Expandable microSD slot (microSD sold separately)
Camera: 5MP rear (with flash), 2MP front
Removable 2600 mAh battery
Android Lollipop 6.0.1
Pick the perfect device and plan
The Galaxy J3 V is available on Verizon device payment for $7 a month for 24 months ($168 retail).
The Samsung Galaxy J3 (2016) is available for $109.99 with Verizon's prepaid plans. Simply pay ahead of time and commit for as long (or as little) as you want — there are no annual contracts, credit checks or hidden fees, all on the best network in the country. Choose your plan:
$60 per month for unlimited talk and text with 3GB of data
$45 per month for unlimited talk and  text with 1GB of data
$30 per month for unlimited talk and text with Wi-Fi only access for data
The Galaxy J3 V and Galaxy J3 (2016) are available online today. The Galaxy J3 V will also be available in stores on June 23.
*Portion of memory occupied by existing content
**Memory card sold separately
George Koroneos is an external communications manager for Verizon, focusing on mobile devices and pricing. A former editor and certified tech geek, George has more than 15 years of publishing experience with expertise in vertical market solutions, mobility, IoT devices, cloud computing and data security.