Shooting For the Stratosphere: Using Tech to Teach and Discover STEM Concepts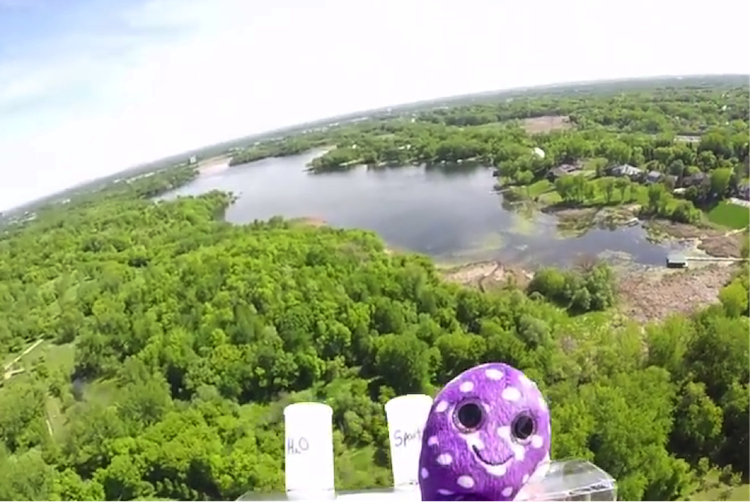 Six seniors and two elementary students at the International School of Minnesota (ISM) launched an incredible project this May—­­­launched it 30,000 meters into the air, to be exact.
Dr. Rod Fisher and his students built a stratospheric weather balloon, which is a high-altitude balloon designed to enter the stratosphere. Using Verizon-sponsored equipment including a GoPro Hero 4 and iPhone 5, and by accessing the Verizon 4G LTE network, the class tracked the launch, landing and 55 miles of the balloon's journey.
Pre-launch: Balloon Development
The team designed a launch plan three months before the May 22 launch date. They predicted weather and wind patterns, designed the vessel and parachute for optimal travel and coordinated the tracking technology.
"Every student played a unique role in planning," said Dr. Fisher. "If we had the right technology and design, but a cloudy, windy day, we wouldn't get good footage. It's the same outcome if we had a beautiful day, but poor design concepts and bad technology. Every planned detail had to come together perfectly for a successful launch."
Launch Day
The ISM team put their plan into action on May 22 at 3:45 p.m. A clear, sunny day allowed for the helium balloon to carry the GoPro, iPhone 5 and beloved mission mascot­­­­—a purple toy octopus—high into the air.
Analyzing the Results
The balloon carried the vessel 55 miles by air, from the school campus in Eden Prairie, MN, to Salem, WI. Dr. Fisher and the students tracked the journey and the exact coordinates of the landing spot with the help of the Find My iPhone app.
"The success of the project really came down to the Verizon network. If we hadn't had service, we wouldn't have been able to track and retrieve the balloon," explained Dr. Fisher. "The whole project would have collapsed without reliable coverage."
After reviewing the footage and data, the students were excited to find their predictions for altitude reached and flight duration had been right on track. There's even talk about what future balloon launches could look like.
"That's why we do this," Dr. Fisher said. "The stratospheric balloon is a great example of what STEM [Science, Technology, Engineering, Math] invites ­­– for students to imagine new possibilities."
Check out the video below to see the best of the balloon's journey captured by the Verizon GoPro:
For more Verizon Wireless news, subscribe via RSS feeds in the right rail.