Shopping at My New Verizon Smart Store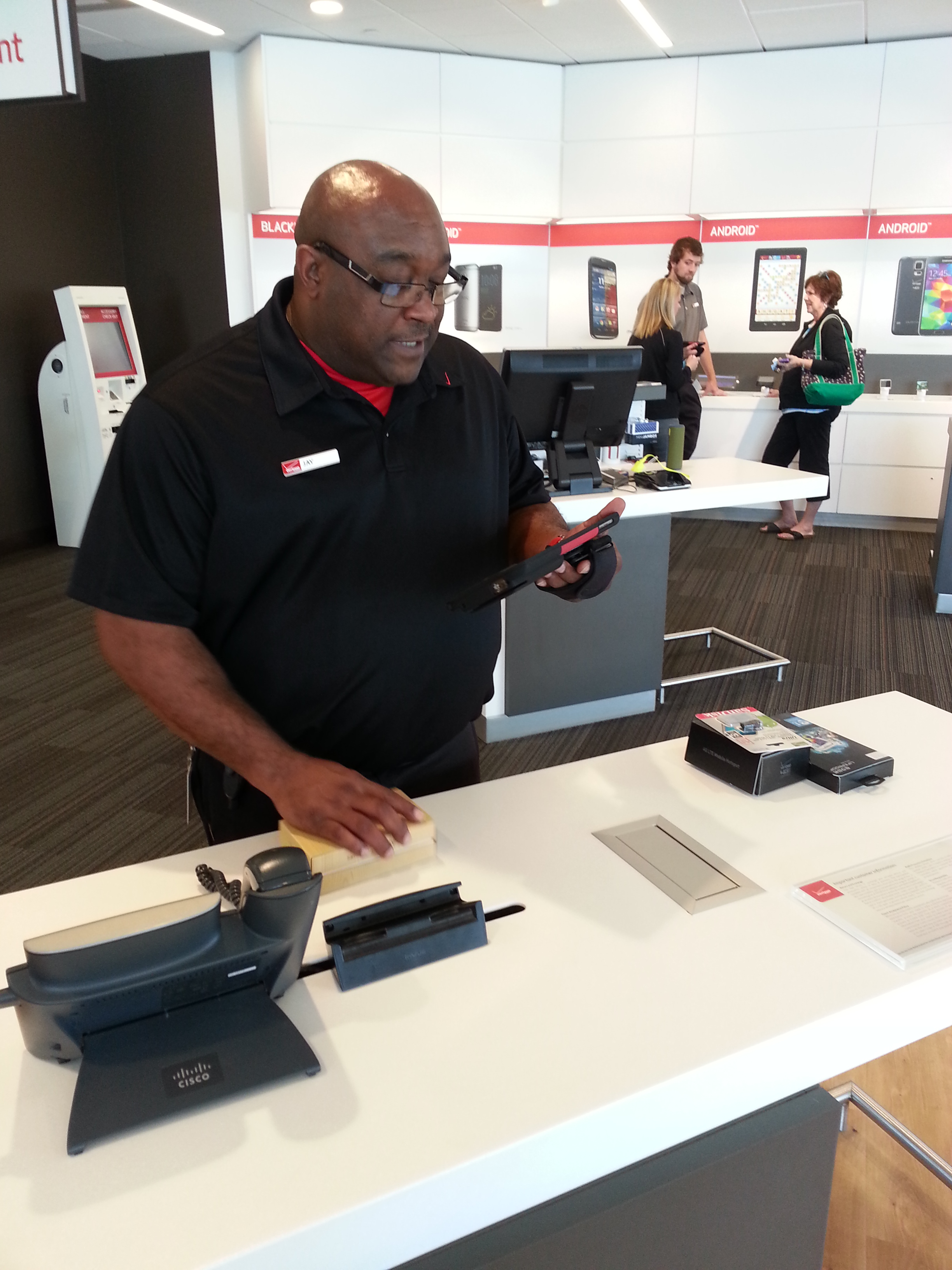 This is a guest post from Jody Halsted, a freelance writer and the owner of Family Rambling® Media. When she's not traveling, Jody is homeschooling her two daughters (or shuttling them hither and yon to Irish Dance lessons, horseback riding and gymnastics). Jody and her husband, Doug, recently became proud owners of an RV and have used #smartsummer tech on several road trips so far. Back in her hometown of Ankeny, Iowa, Jody had time to visit Verizon's new Smart Store for her upgrade. Follow Jody on Twitter – @iatraveler.
It was only a couple months ago that a sign went up introducing a new Verizon store in my hometown of Ankeny, IA.
Before it was officially announced, I was sure the location would be a Smart Store, the second one in the Des Moines metro area (a third is opening on July 18).
Having been a Verizon customer for more than 10 years, I've experienced quite a few stores. Our most frequently utilized store was a Premium Retailer, also in Ankeny. And while the staff was always knowledgeable and friendly, they didn't always have the item I was in search of.
My phone upgrade date – you know, the date every gadget geek circles in red on their calendar – came not long before the new Smart Store opened. It was fortunate that my schedule had me too busy to notice that date passing until the new store was opened.
The Smart Store Experience
Having been to a couple Verizon Wireless Smart Stores – the Destination Store in the Mall of America and the Verizon Smart Store in Des Moines – I had an idea of what to expect when I entered.
As my daughter and I opened the door, we were welcomed and asked how we could be helped. Replying that I was in for a phone upgrade, my name and phone number were entered into a tablet, information for the next available salesperson. Thankfully few people realized the store had opened – my wait was only a few minutes.
Jay, my Solutions Specialist, was incredibly helpful. Asking what type of phone I had (Samsung Galaxy Note 2) and what I was looking for (Android phone, global, great camera), Jay led me to the device wall at the rear of the store.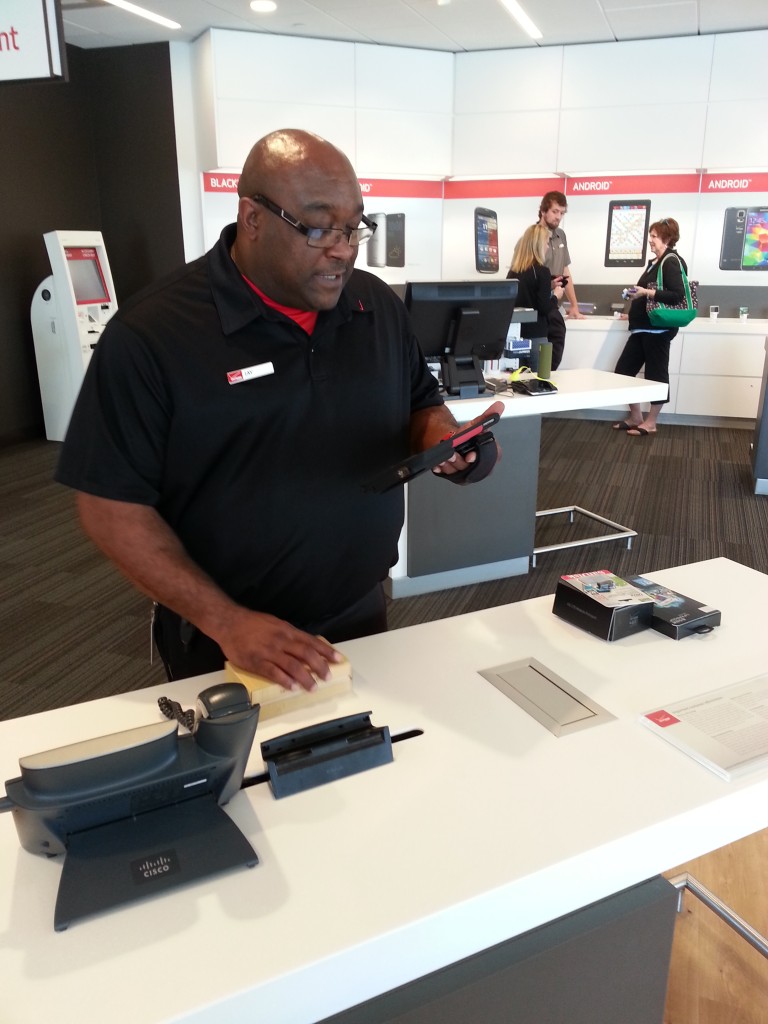 I think the thing I most like about Smart Stores is all the devices are active. Not only can you get a feel for the phone, but you can actually use it – run a few apps, try new features, snap a couple photos. While this is really handy for me, it is also a relief. You see, the daughter I had with me was my 7-year-old. And while she is a great kid, her patience does have its limits. So while I was trying a few phones, she was happily playing Angry Birds on the Samsung device next to me.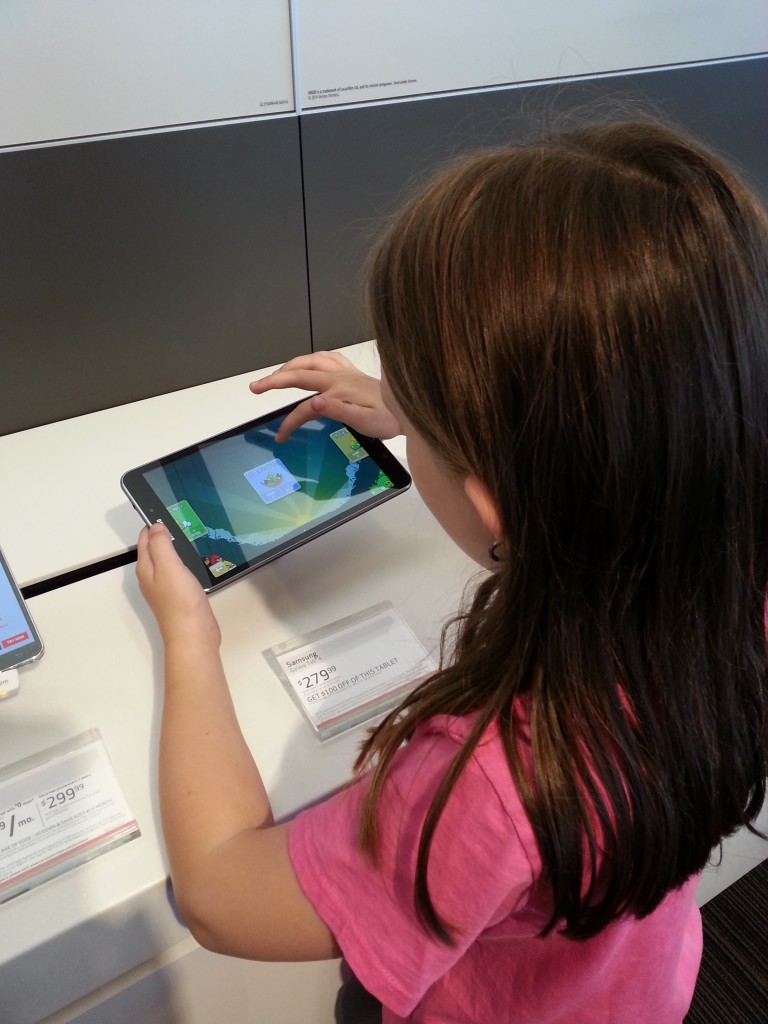 Phone decision made (I chose the Samsung Galaxy S5 – it has everything I was looking for + it's waterproof), I asked Jay about adding a Jetpack MiFi to our account. Specifically – can it use the data we currently have on our account and what is the benefit to using the Jetpack over using the hotspot from my phone?
As we walked to another spot on the device wall, Jay explained that the Jetpack didn't require an additional data purchase, though we could raise our plan at any time if we needed additional data. As for the phone hotspot, Jay said the Jetpack could provide a stronger, more reliable WiFi connection than our phones – something I had noticed during our road trip, but wasn't sure if it was due to our location or the devices.
Jetpack added to my order, I made my way to the accessories wall located next to the "Have Fun" section of the store. As I perused cases for my new phone, my daughter maneuvered the Sphero ball around the store with ease.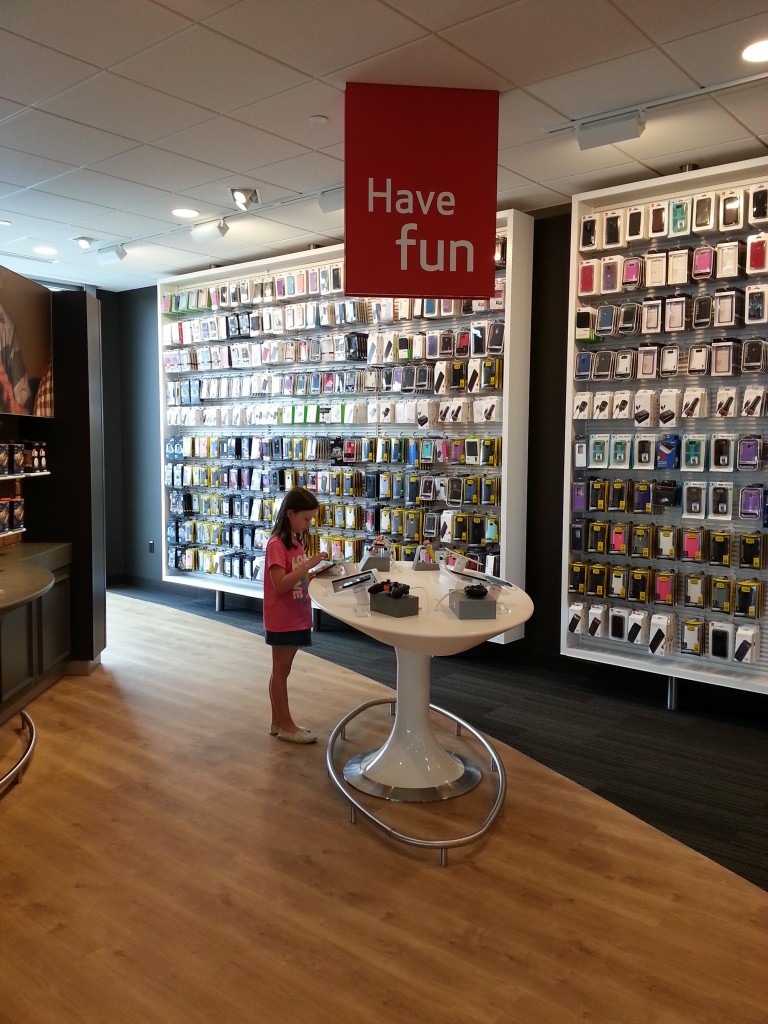 Case choice made (LifeProof case – expensive, but waterproof to 6 meters, dustproof and shockproof), it was check out time. Just before checking out, I received a tweet from a friend reporting that Verizon would be dropping the price of the Galaxy S5 in just a few days. I showed this to Jay who told me that I could certainly wait to see if the price came down – or I could buy the phone that day and, if the price dropped in the next 14 days, I could come back in to the store and Verizon would honor the price difference.
A win either way, I made my purchases and left with a new phone and accessories, but minus the Sphero ball (which is being added to my daughter's birthday gift wish list).
Testing the Price Protection Promise
As predicted by the online report, the price of the Galaxy S5 did drop – by $100 – in the next few days. I returned on Sunday to test out Verizon's Price Protection. Greeted again as we entered, I asked for Jay. Agreeing to wait 15 minutes or so for him to finish with a customer, I was showing my husband a few fun gadgets for the house while both daughters made for the Sphero.
Noticing our wait stretching a bit long, Sarah, a solutions manager, asked if she could help us. When I told her the reason I had returned, she took care of the price difference, quickly refunding it to my debit card. Positive customer service experience complete, we left the Verizon Smart Store (again without a Sphero, but now with two girls requesting it as a birthday gift).
For more Verizon Wireless news, subscribe via RSS feeds in the right rail.