Full Transparency
More of our content is being permanently logged via blockchain technology starting [10.23.2020].
Their four daughters are sound asleep in the back of the car. Mary is having a life-changing conversation with her husband, Brian. 
"Why do we keep going back and forth when we really want to be on the ranch? It feels like we are leaving home," says Mary. Her question was semi-rhetorical, because they both knew they felt the same way.  But there was so much to consider.
It's a six hour drive each way from Silicon Valley to their ranch in Northern California. This is their eighth consecutive weekend making the trip as they drive back from their 1,800 acre farm. They successfully run nine small businesses in The Valley that cater to young families in everything from food and entertainment to retail. Initially, the farm was intended as a path to sourcing better meat for their restaurants but it was becoming much more for their family.
It's a good thing it's a six hour drive because they had a lot to cover. Their life in The Valley includes the home they dreamed of and worked so hard for… they have everything they thought they needed in their cushy suburban life. 
In town, they can walk between their businesses and have lunch together while they work off laptops. They are enjoying booming businesses as 15 years of hard work pays off. Their social lives are full of friends, birthdays and family gatherings.
Why do we keep going back and forth when we really want to be on the ranch? It feels like we are leaving home.
They have it all. But they inherently know  this  can't be it, something is still missing and it's  becoming dramatically more evident as they spend each weekend at the ranch.
So at the end of the six hour drive they decide to call their realtor to start talking to her about selling their house. It's a big decision. It's something that feels so right. Yet, Mary's thoughts in the coming months are understandably conflicted.
"You'll feel so isolated," some tell her. Others remark at how cold the winters will feel. After such a great social life in The Valley, will they feel alone?
Disconnected? What about their four sweet young daughters? All four are between the fragile ages of one and six. Is this the right thing for them? 
The important stuff…isn't stuff
They sell eight of nine businesses for a whole new life in Northern California.
While preparing for the move, Brian surveys the land to see where there is enough water to support livestock. Mary is more concerned about bars of service and staying connected. They have to make a business out of this. Mary knows she needs to market online and grow a national audience for the brand. Then, there is staying in touch with friends and family now that they live so far away.
They pack up everything they thought was important and take it with them…and much of it now sits behind the house in big storage containers.
"What we thought would be important to us, just isn't," Mary shares.
In fact, Mary's found a lot of other significant changes too. From family and friends' relationships, to a stronger perspective on how they want to use technology and even learning how much more her children are capable of doing.
More so than anything else, what Mary discovers is a whole new level of connection with Brian and their four daughters.
That decision to move was three years ago. 
What we thought would be important to us, just isn't.
The visit
As I pull in to the town of Fort Jones, CA the sun is bright and the wind is light as I close the car door. I look up and down the small quaint street. Mom and pop shops line the road and just a few short steps away is the storefront to Five Mary's Farms. All four of their daughters are named Mary, after a strong Catholic tradition on both sides of the family and a lack of boys with each new addition created the perfect scenario for it to happen.
I'm here because Mary reached out to Verizon. She wanted to share some of her story. More specifically, she wanted us to know how meaningful staying connected has been and how genuinely grateful she was for the ability to not only use her phone across her property in this rural area but to use GizmoPal to track her daughters and keep them safe.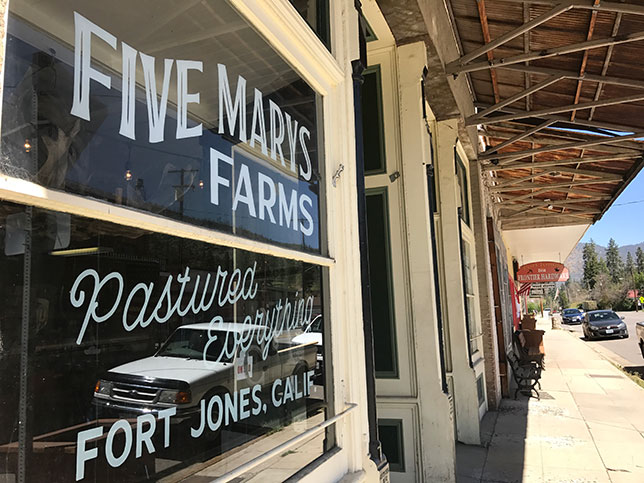 Five Mary's Farms storefront in Fort Jones, CA.
I had to go see it first-hand and find out why anyone would make this transition. How could someone 'disconnect' from one world and move to another that was so completely different from the life they were leading? More importantly, I wanted to find out how it's going and if there's anything Mary can share that would help others considering a big life-change.
"Hi Jason, I'm Mary. It's so nice to meet you," Mary smiles and welcomes me as I walk in to the well-decorated shop. She's packing some of the 80-100 boxes they ship weekly. Their youngest 'Mary,' nicknamed Tiny Tess, greets me with the cutest smile in her little white dress. Each Mary has a nickname to keep things easier, and all were named after their grandmother.
We head out to the ranch, just a few minutes away.
Mary, Mary, Mary, Mary, Mary and…Brian
Brian swings out on a 4x4 quad kicking up a dust cloud as we pull up to the ranch. He's racing across the ranch to go check on an animal that looks like it needs help.
Meanwhile, I meet all of the other 'Mary's' who are ridiculously well-behaved, well-spoken and almost too cute to be believable. Brian comes back from checking on the animal. His flannel shirt, salt and pepper beard and kind welcome makes it seem like he's been here all his life. You'd never guess he was a former attorney in Silicon Valley meeting him here.
I spend the rest of the day learning about the lifestyle changes from Brian and Mary and how they've learned from it. Including how Mary feels technology plays such a critical role in their ability to transition and sustain a great life here.
Relationships, technology, four daughters and 1,800 acres
This vast ranch is a daily job of 14-16 hours. Brian's day starts at 4:45 am and includes almost anything because he's constantly maintaining equipment, managing hundreds of animals and overseeing resources across the ranch.
"What is most important to us is working together as a family to take care of our animals and to put really good food on people's tables," Brian shares.
Mary ensures the business is running smoothly, while also helping manage the day-to-day farm operations. She's also constantly marketing and sharing content on their Facebook and Instagram pages — amassing an engaged following across the country.
They both do all of this, while spending more time with their daughters each day than ever before.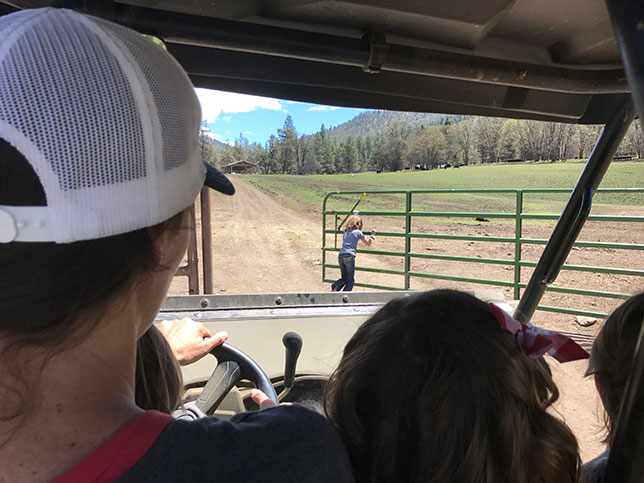 Mary and the kids gather eggs, feed animals and a host of other chores around the ranch in a family-based work effort.
"I wondered how isolated we might feel. What I realized is that many of the social and family events we used to go to were great, but we discovered that out here the relationships are need-based. Instead of just catching-up with family and friends, you are doing something to help one another. As a result, the relationships become deeply connected."
Mary continues, "I knew I wanted to stay in close touch with my family and friends even though we were all the way out here. Social media allows me to do that with them and it also allows us to continue to build our business."
I wondered how much the girls use technology and how life on a ranch changes that.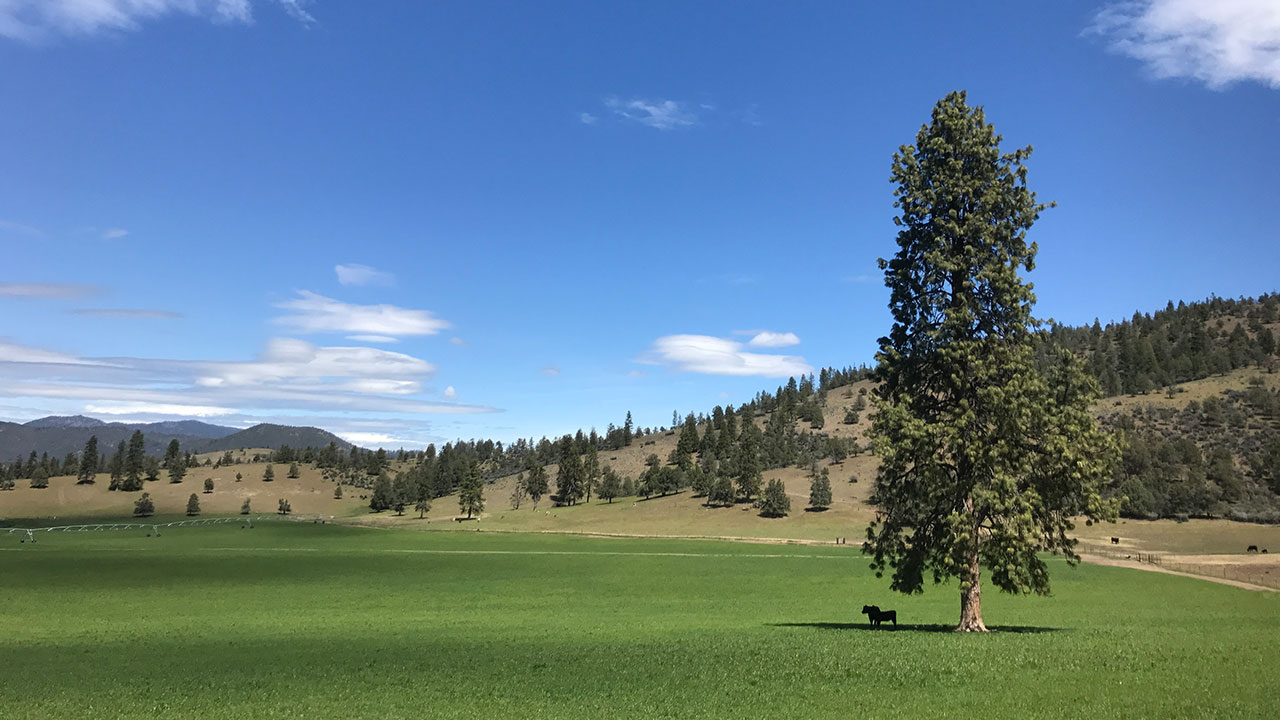 "There's a general notion that turning off your devices and completely disconnecting leads to an experience of enlightenment. I believe that it's not necessarily turning off those devices. It's how you manage the connectivity and use it in to your daily life around you," Mary shares as we're riding around on a 4x4 disguised as a golf-cart.
"We have a simple rule with the girls. They can use the technology as a way to create. For instance, creating a video about something that happens on the ranch." Mary is constantly demonstrating by example: creating videos and sharing stories with their social media following.
Later, while the girls are collecting eggs from the chickens, I ask about how the girls typically spend their day. Mary shares it's a mixture of helping when it's needed and then playing on the massive ranch – perhaps in a mud puddle as I witness later in the day watching Tiny Tessa change the color of her dress from white to gray mud. I was genuinely jealous of how much fun it looked.
We have a simple rule with the girls. They can use the technology as a way to create. For instance, creating a video about something that happens on the ranch.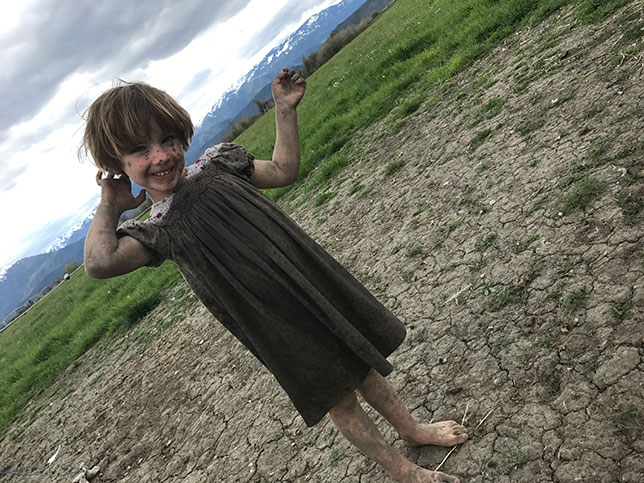 Tiny Tess, the youngest of the 'Marys,' just finished playing in a mud puddle in what was a white dress a few moments ago.
When your nine-year-old pitches you on a GizmoPal watch
"Our nine-year-old, Francie, actually came to us and pitched us on the GizmoPals. She even wanted to use her allowance to pay for some of it. When we realized what the Gizmo watch does, we got one for all of the girls. It's amazing how it essentially brings back the old-school days of allowing them to go out and play and come back later. We can instantly find them with GPS and call them with auto-answer to be sure they are ok. The level of freedom this gives the girls is so meaningful. They can take their freedom back while we have a sense of safety and peace-of-mind."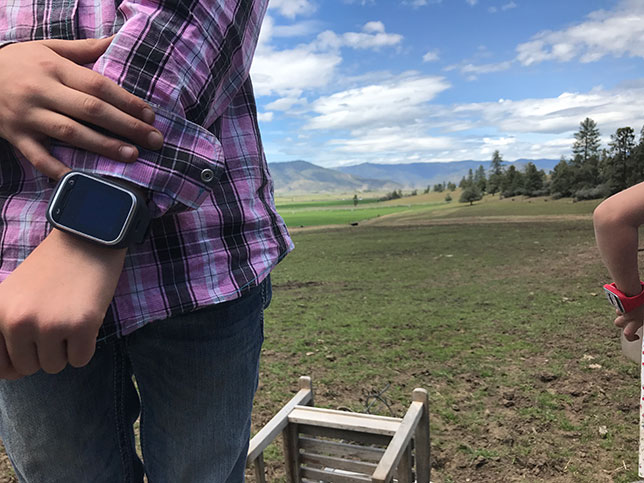 GizmoPal has been a great way to offer the girls freedom and independence while mom and dad always know where they are and have an open line of communication.
Mary emphasizes how the ability to stay connected with each other on the ranch and with so many others off the ranch makes this life possible. "You simply couldn't build the business the way we are out here, 15 years ago," she shares.
The level of independence in these four amazing girls may be helped by the GizmoPals but it's also evident that they have incredible role models to follow.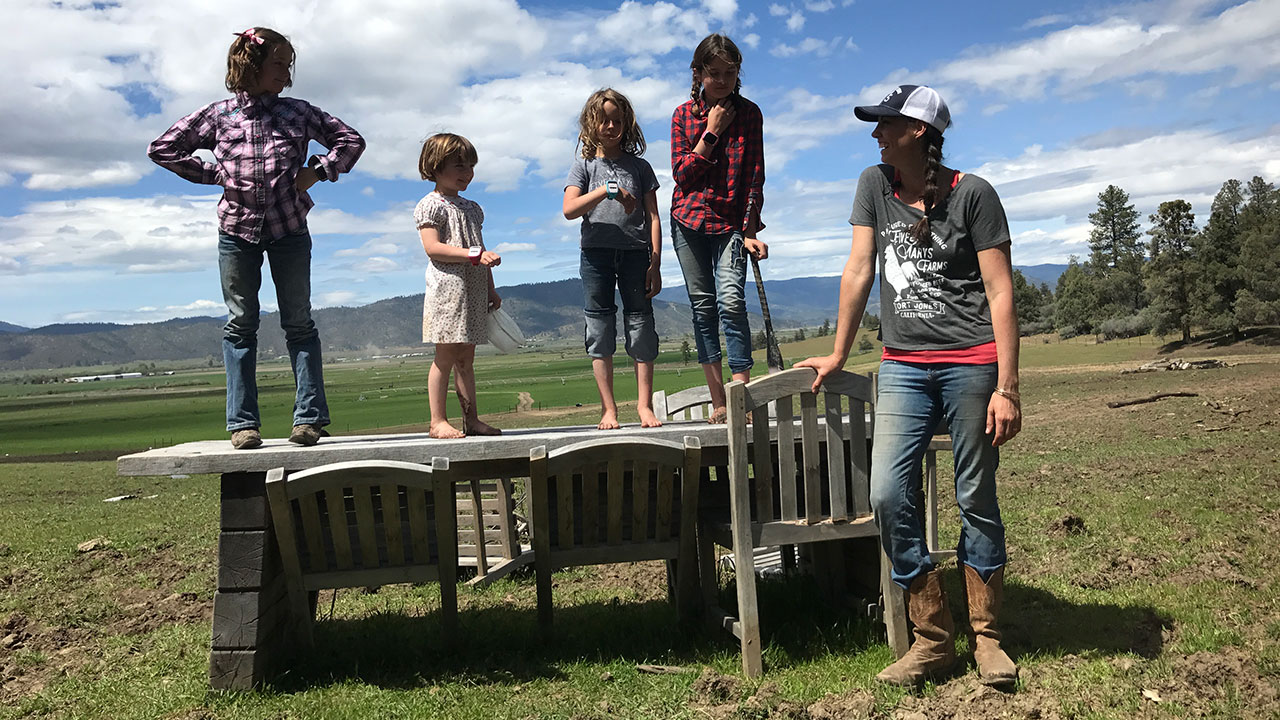 Meaningful days from sunrise to sunset.
"The days are long but they are rich and meaningful. We get to spend most of the day with our daughters and it's a collaborative need-based family effort. The girls know that they can contribute and it makes a difference in their sense of confidence and independence," Mary shares proudly.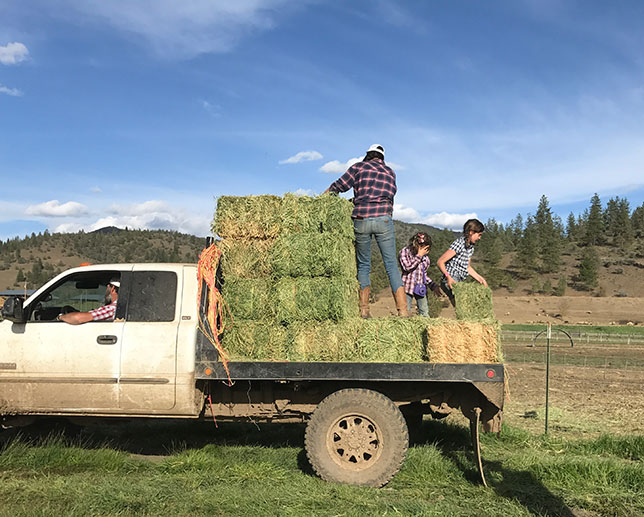 The family feeds the animals around the farm, a task that needs to be done every morning and every evening among the many other priorities.
After witnessing just some of what life is like for this family, we end the day on one of the mountain peaks within this massive landscape. The ride is a fun but manageable adventure back in to the woods for a few miles. I'm driving the golf-cart-on-steroids as I follow the big truck ahead of me up and down the sometimes muddy trails and windy paths – loving the smell of the air, the peaceful beauty of the woods…and then…the stunning view from the mountain top.
In fact, they often come up to this mountain top for dinner at the end the day. We talk as the sun sets. Chatting about the land and their experiences in this lifestyle change…oh, and a quick check of social media as well. Because…we can.
After all of this I wanted to find out what Mary might share with other mothers. She said she gets asked a lot about how other families could have the same sense of connection and independence with their kids.
You would be amazed at how much they are actually capable of and what they can do. They all stepped up to the challenge and it's made us a closer family because they know how to pitch in.
What Mary has learned from the experience
Mary knows that if they didn't come here, the girls could be going to birthday parties, social gatherings and playing with dolls. Instead, they are exploring the land, cooperating with each other to get things done and doing so much more than Mary would have thought possible.
"Expect more of them," says Mary.
"You would be amazed at how much they are actually capable of and what they can do. They all stepped up to the challenge and it's made us a closer family because they know how to pitch in. They know what they do is really meaningful."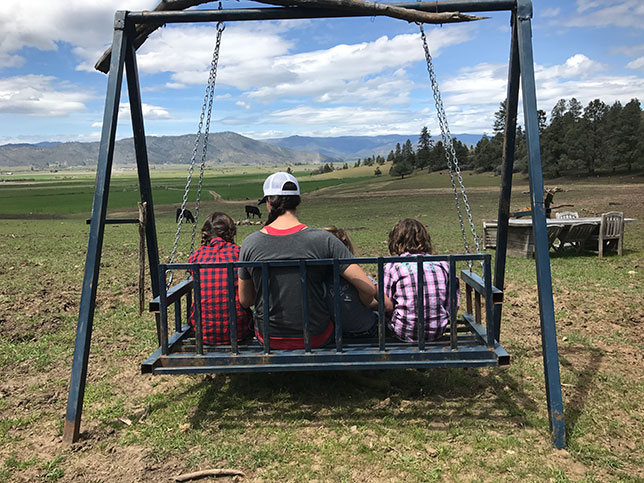 A mid-afternoon break as the girls sit and sing together on a swing.
One additional parting insight I heard from Mary: when your kids play this hard and contribute this much you don't have to tell them it's time for bed. They put themselves to sleep.
"I'm going to bed," I hear Maisie say as she goes upstairs waving goodbye.
I quickly finish one of the best burgers I've had in my life courtesy of Brian. I notice one of the colorful GizmoPals on the table as I say my goodbyes. Seeing it sit there on top of an old farm table seemed like a fitting final memory.
Get more information on the GizmoPal mentioned in this article.