Simulmedia Brings Online Ad Ideology to the World of Television Ads
Simulmedia Brings Online Ad Ideology to the World of Television Ads
This sponsored article was written by Erica Swallow, a New York City-based tech and lifestyle writer, technology entrepreneur, and MIT Sloan MBA candidate. Erica's articles on entrepreneurship and startups have appeared in Forbes, Mashable and The Huffing
Advertisers demand analytics to prove that their online ad buys are working, but why is it they'll spend millions on a TV spot without really knowing its impact? Perhaps we'll never know, but at least we can point to new technologies that are bringing the Internet's sensibilities to the TV set.
Simulmedia, for example, enables television advertisers to target specific affinities, psychographics, and demographics, just as online advertising platforms already do. 
At a recent Verizon FiOS Meetup, Simulmedia sales director Brett Joss discussed how his company is bringing Internet ad targeting ideology to the television. In a room full of entrepreneurs, developers, venture capitalists, and media titans  discussing the future of the connected home, Joss explained that the key to Simulmedia's success is licensing a large amount of set-top box data and partnering with a wide selection of inventory partners across the country, including 35 national cable networks and 78 top multiple-system operator (MSOs), all of which allows the company to segment audiences based on advertisers' criteria. For example, an advertiser could use Simulmedia to target ads to 18-34 year olds who live in urban areas, earn more than $150,000 annually, and have watched "Dance Moms" more than five times in the past six months.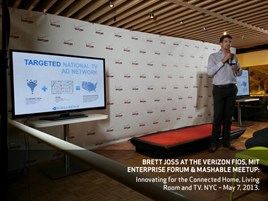 "We have a strong belief that in the next five to 10 years, TV is not going to the Web. Web-like business models are coming to TV," he says, pointing out that it will take quite a bit for the television to be displaced as the center of American living room life.
Advertisers seem to be into the idea, and Verizon FiOS director of product development Maitreyi Krishnaswamy was particularly fascinated with the technology when introducing Joss at the event: "For us in the video business, advertising generates millions of dollars in revenue, but the value of that advertising really gets diluted if you're not targeting the right households," she said. "Simulmedia is doing some innovative work by tracking analytics and using that data to target advertising."
Though Simulmedia's business is currently focused on set-top boxes, Joss says the company's platform is open and device agnostic, ready for a future where alternative video platforms proliferate and further fragment where and how people are watching videos.