#SmartSummer: Fishing With Technology Puts a Whole New Spin on Popular Sport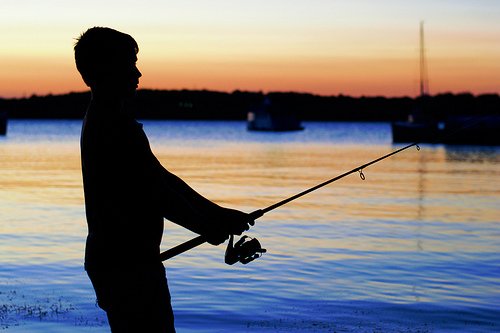 This is the first post in our #SmartSummer series, where we'll be sharing stories related to using tech to enhance your summer activities and fun with family and friends.
Whether it's fishing for crappie on Lake Okoboji in rural Iowa or seeking stickleback in South Dakota, a smartphone now is as important as a rod and reel for many Midwestern anglers who want to enhance their fishing with technology.
An accomplished tournament fisherman, Kevan Paul has been fishing across the Midwest for the past 33 years. He owns and operates a mobile fishing guide company in Iowa and relies on his smartphone to support his company's slogan: "Where memories are caught."
"I am always taking photos and video of my clients' catches. I post them on my website and send the photos to them, so they can share with family and friends," Paul said.
Not only is his smartphone his main link with clients, but it also functions as a valuable fishing tool for him and others.
"The big app out there that a lot of people like to use is called Navionics, which shows GPS as you're on the water. Some people just don't have the money to go out and spend thousands of dollars for the electronics on their boat, so instead, you just use your smartphone and this app for mapping. It shows the contour lines and good locations for certain structures to fish around," Paul said. "I'm a Verizon customer and I've always had good reception when out with my clients on the water, which is important to us."
Paul said other popular apps with anglers are Moon Phases, which indicates when the fish may be biting based upon what type of moon is out. FishPhone turns a smartphone or tablet into a fully functional underwater camera monitor.
In South Dakota, Adam Oswald uses his phone to check the weather, staying abreast of adverse conditions while away from shelter and out on the water. He also uses his phone to capture photos and videos of nature, wildlife and any trophy fish he's caught. A flashlight app and compass app come in handy while navigating unfamiliar terrain, particularly after dark.
"When I go fishing, I always check water apps, as well as the fishing access map on the South Dakota Game, Fish and Parks Outdoors app," he said.
An information officer for the South Dakota Game Fish and Parks Department said that with the Verizon Wireless 4G LTE network, he might be in the wilderness, but he's never off the grid.
"In the central and eastern parts of South Dakota, the Verizon signal is great and I rarely have issues. If I'm in an area where signal strength is low, like a low-lying area, I usually don't have to go far to find good reception," he said.
What's your experience fishing with technology? Do you use any other apps or gadgets we didn't mention?
For more Verizon Wireless news, subscribe via RSS feeds in the right rail.
Photo Credit: Andrew from Sydney via Compfight cc