#SmartSummer: Mobile Technology Drives Food Truck's Success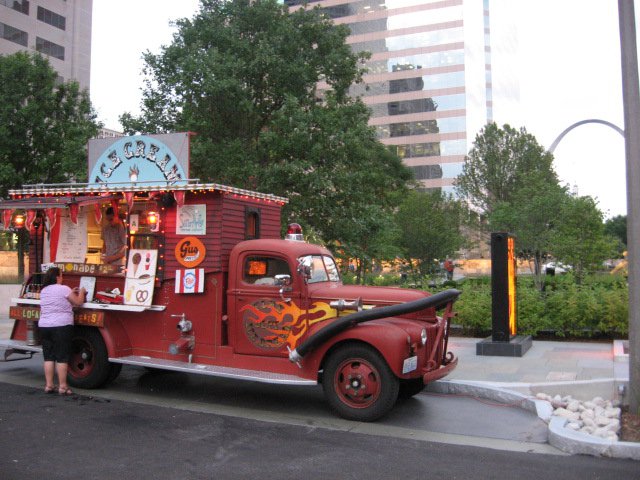 This is part of our #SmartSummer series, where we're sharing stories related to using tech to enhance summer activities and fun with family and friends.
Stephanie Nelson-Pondrom and husband Scott co-own the Fire & Ice Cream Truck. The retooled 1946 Ford fire truck brings delicious ice cream, lemonade and locally made treats to St. Louis residents year round, though summer proves to be the time when cold treats are most necessary.
The longest running food truck in St. Louis is available to rent for private parties and special functions, though the truck normally resides within Citygarden – an urban oasis in downtown St. Louis. To take their business to the next level and set up shop at a moment's notice, mobile technology and payment options have been critical to the truck's success.
The number one benefit Stephanie has seen in improving the truck's wireless technology is the reliability of the Verizon 4G LTE network. On the network, Stephanie utilizes Square mobile payment on the truck, paired with an Apple iPad from Verizon. The mobile technology enables Stephanie to offer her customers a fast and easy payment option, no matter the truck's location.
"Our business has grown significantly since we began using Square and Verizon Wireless technology," Stephanie said. "Using Square on the Verizon network gives us the ability to visit a variety of locations around town and not have to worry about having the Internet access we so desperately need."
"In addition to mobile payment, we really try to create an atmosphere around the truck, so we always have music playing. We're able to play Pandora stations anywhere we go thanks to the Verizon 4G LTE network. We just plug our iPad into the speakers affixed to the side of the truck."
The Fire & Ice Cream Truck is highly sought after, especially during the summer months. It books up quickly and attends a variety of events year-round. The owners need the ability to update their booking calendar, no matter the location. Thanks to a shared online calendar, Stephanie and Scott can each update the calendar from their Apple iPhone 5 devices or from the iPad on the truck. This ensures that their schedule is fully updated all the time. Their iPhones are also utilized when updating their financial records thanks to Google Drive. With a business on wheels, the ability to maintain the company's books while on the go is critical.
Wireless technology has driven sustainable success for businesses like the Fire & Ice Cream Truck. It has led a new wave of enterprises that no longer necessitate a stationary business address.
Have you ever picked up some ice cream or a treat from the Fire & Ice Cream Truck? Let us know about your favorite food truck(s) in the comments below or on Twitter with #vzwmidwest!
For more Verizon Wireless news, subscribe via RSS feeds in the right rail.