#SmartSummer: Must-Have Tech For Road Trips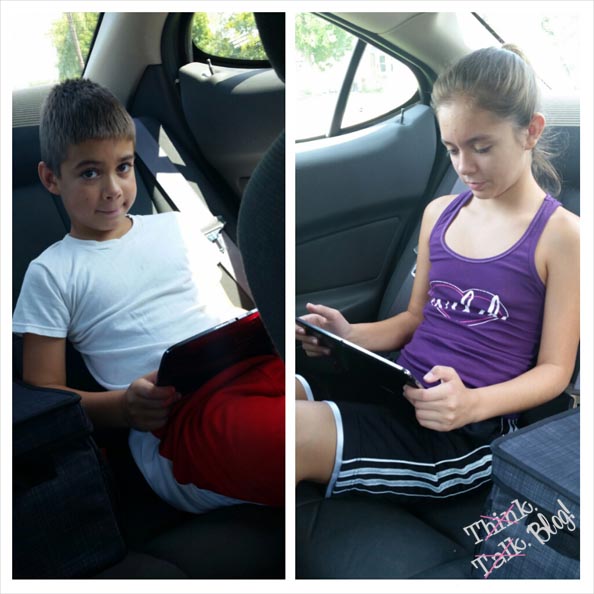 This is part of our #SmartSummer series, where we're sharing stories related to using tech to enhance summer activities and fun with family and friends.
This is a guest post from Bobbie McKeefry, owner and author of Think. Talk. Blog. She is a mom blogger and technology fanatic. When Bobbie is not sharing her daily adventures on her blog, she and her husband Travis enjoy experiencing life with their one teen daughter, Mariah, and one son, Alex. We equipped Bobbie and her family with some must-have tech for road trips, including the Samsung Galaxy Note Pro and Samsung Galaxy Note 10.1, to make their summer trip to visit family a little smoother.
This summer, my family, like many others, did some traveling. Traveling can always be a bit of a worry. We always wonder if we packed correctly, packed enough, if everything is taken care of at home, whether we shut and locked everything up…the list goes on.
This year, we took a 19-hour (each way) trip that involved travel through seven states and 2,600 miles. It was an adventure that we had never taken before. The most we've ever driven was about three hours each way with a long rest in between. This would be a first for my husband and our kids, but not for me. We were traveling to see my family, so I had made this trip with my mother one other time before.
Since I was leaving family back home and meeting up with family miles away, staying connected along the trip was vital. Everyone in our car had cell phones, tablets and game devices with enough chargers and cords to light up the city! I don't think the trip would have been nearly as easy or fun without the devices and ability to stay connected.
We used Instagram to share photos of the beautiful scenery along the way. We were able to share that with family and friends, as well as my many blog readers, who were tracking and watching our journey. We used Twitter for those moments I needed a quick laugh and to remind myself I wasn't completely insane for taking this challenge on.
We used all forms of social media to connect at some point along the trip. Of course, most of our connection was texting (everyone but the driver!) and phone calls. My car is equipped with hands-free, so that was a HUGE bonus when taking a trip like this. Of course, hands-free headsets are an option, but not something that we personally needed to worry about. If your vehicle is not equipped, I would highly recommend a hands-free set. It's so much easier and MUCH safer.
On the entire ride down, we used a window mount for one of our phones. We ran Verizon's VZ Navigator the entire way. This is such an amazing GPS app. It informs you of traffic incidents and delays in advance, and it's dead-on with the speed limit changes and will alert you if you are going a bit too fast. I've used a lot of GPS options in my years of traveling, and the VZW Navigator will always be my favorite.
About six hours into the trip, I started hearing the familiar questions of "How much longer?" and "Are we there yet?". Oh yes, it wouldn't be a road trip without those questions! The beauty of electronics today is we can connect to a cell phone tower while traveling down just about any road. For that reason I was able to keep my kiddos busy with educational and travel games! Each child had a tablet. There was even a couple times when they were able to watch movies. It made the drive pretty peaceful and happy.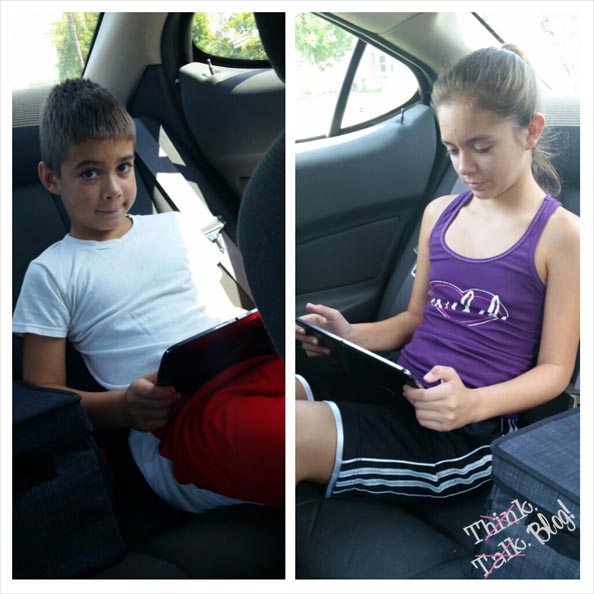 Stopping at hotels was even more peaceful. We were able to take our Chromecast from home and use our Verizon Wireless Samsung Galaxy Note Pro to play movies and stream TV shows on the hotel television sets. We had already loaded the tablets with some family movies for our stop. This was something I prepared about a week ahead of our trip. I am glad I did! We'd eat some dinner, take showers, snuggle into bed and watch a movie before bed. This was relaxing downtime that we all really needed.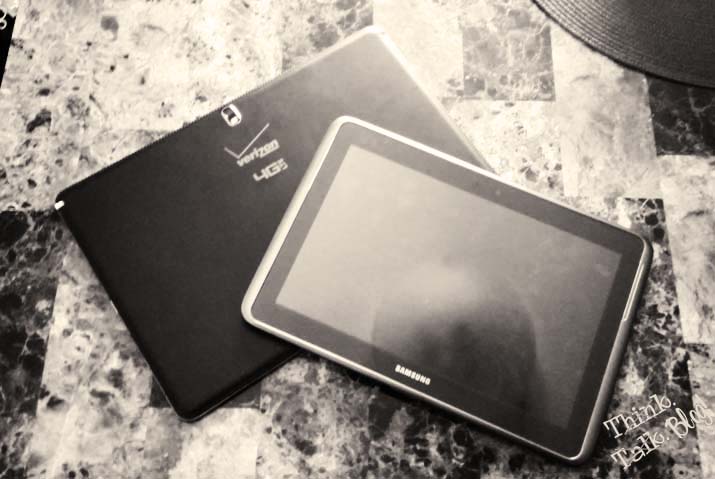 Along the way, we got plenty of calls from family to find out our location and how things were going. It was nice to have a connection to keep in touch with them. We could update them on road conditions and so much more. It eased the mind of both our family we were meeting and our family back home.
We left our family dog at home during the trip. My father-in-law was staying at our house to dog sit, get the mail and other deliveries and keep an eye on the house. So it was nice that we could check in with him through Skype and see the dog. The kids really loved that, especially since he's still a puppy and they were worried about him.
When I think back on trips I made 10 years ago when all this technology wasn't as plentiful, I wonder how we managed! I can't even imagine not having my phone to check in, having my tablet to store multiple books and magazines on (rather then having a pile with me), transporting movies to watch rather than the dull hotel TV channels, and more. I am truly in awe at how far we have come with technology and how tech for road trips has made life easier, not only for my family, but for many others!
Like what you've read? For more stories on how technology enhances our lives, subscribe via email or RSS in the left sidebar.