What Social Media Club of St. Louis Believes is "The Next Big Thing" in Tech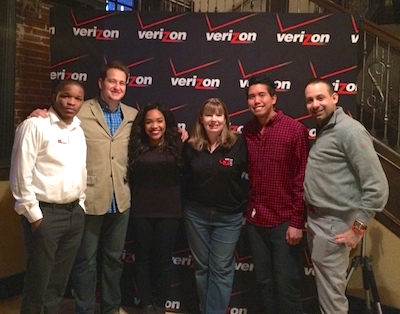 What's the next big thing in tech? Who better to ask than Social Media Club of St. Louis (SMCSTL), an organization including the area's top marketing professionals with a passion for learning about the latest trends, tools and tech.
Last week, we partnered with SMCSTL for an event to kick off the beginning of the calendar year and to showcase how these local leaders can use tech to reach both their professional and personal goals.
Rubbing shoulders and clinking glasses with the city's social, digital and marketing thought leaders, the crowd buzzed with conversation about tech. With health and exercise goals being one of the most popular New Year's resolutions, fitness devices like the Fitbit were a hot topic among attendees.
A raffle offered attendees the chance to win Verizon accessories and devices, with some winners trying Verizon for the first time. Others were legacy users, like Nicki Bridges, who won a Droid Turbo.
"My first cell phone was a Verizon phone," said Nicki. "I was very happy to win it. It's a good phone, and the people are very friendly here."
SMCSTL is known for its ability to connect people, which is why Verizon is such a natural fit for an event like this.
"Social Media Club has been around a long time in St. Louis," said SMCSTL member and digital strategist Archie Mckinlay. "I came in at its infancy, and it's been around as my career's progressed. It's been really cool to see what's going on in St. Louis - on Twitter, on Instagram - it's been great to see people connect and grow their followings and their communities...and sometimes their own personal brands."
Like Archie, many people use networking events like this to connect with their community's small businesses and the vast opportunities of a growing tech city. Archie went on to say, "I think it's great that Verizon is supporting the local social media scene and the companies that are making big waves in St. Louis."
The feedback received from the club was nothing short of warm. When registration opened, tickets flew off the shelves, selling out 175 tickets in less than 12 hours.
"We're thrilled to partner with Verizon for this event. Excitement from our members has been better than we ever expected," said SMCSTL president Erin Maloney.
During one of the device raffles, members tweeted what their prediction of the next big thing in technology would be for 2015, and a winner was chosen by the SMCSTL board. Their answer? Wearable tech.
This makes sense. Smart watches like the LGGWatch are the perfect companion for business professionals always on the go. It provides useful information at your fingertips, fast answers to spoken questions and brings ease and convenience, making it more than just a watch.
What do you think will be "the next big thing" in technology in 2015?
For more Verizon Wireless news, subscribe via RSS feeds in the right rail.