Sol Republic DECK Wireless Speaker: Doesn't Sound Like a Phone Speaker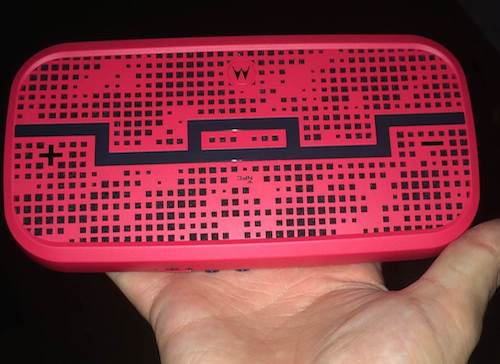 This is a guest post from Phil Gerbyshak, who works with organizations to increase engagement by leveraging social media to create and deepen relationships. It's not about the tools; it's about the conversations. Phil has been featured multiple times on WTMJ TV in Milwaukee and profiled in USA Today, the Financial Times and The Wall Street Journal. For more insights from Phil, visit http://PhilGerbyshak.com.
I recently demoed the Sol Republic DECK Wireless Speaker from Verizon Wireless. I asked to demo it because I had a lot of conference calls where I needed to have someone else in the room with me, as well as someone on the phone. I didn't want to just put my smartphone on speaker, as that is tough to hear. I also didn't want to sound cheap and have a free conference bridge for my clients. So I tried out the speaker, which I used with my smartphone's Bluetooth, connection and it was all of this and more.
First, the battery stayed charged for a very long time. I had a few stops and starts in setting up client calls for the month, and I didn't need to charge it once. When I finally did connect with my clients, we talked for nearly eight hours using the device, and it said it was still nearly fully charged. Really convenient.
Second, but most important, was the sound quality. It didn't sound "tinny." It didn't sound like my phone on speaker. It sounded like a professional quality speaker; the kind I was used to having to spend $500 or more on when I was an IT manager at a larger company.
Very impressive!
The music quality was also good. As we missed connecting on our timing on a few calls, we had time to listen to some tunes. It played them well and with the sound quality I expected from a much larger and more expensive speaker.
Speaking of tunes, the Sol Republic DECK Wireless Speaker wireless feature allows you to play music from your smartphone from up to 300-feet away. It also has a fun feature for parties. Its Heist Mode allows as many as five people to pair with it at once so they can take turns controlling the music.
Last, but not least, was the form factor. The device was small enough to fit in my backpack and not weigh it down. It fit on a small coffee shop-size table (along with two laptops) quite easily.
Oh – and the non-skid back kept it from falling off the table. I wish I could say the same for my smartphone, which fell off the table a few times during meetings. Not cool.
All in all, this was a fantastic demo and a speaker I could use again and again – professionally for calls, and personally for music.
For more Verizon Wireless news, subscribe via RSS feeds in the right rail.