Show, don't tell.
Insights from Diego Scotti, CMO of Verizon, and Leslie Berland, CMO of Twitter, on Marketing Unfiltered: a Verizon podcast.
Full Transparency
Our editorial transparency tool uses blockchain technology to permanently log all changes made to official releases after publication. However, this post is not an official release and therefore not tracked. Visit our learn more for more information.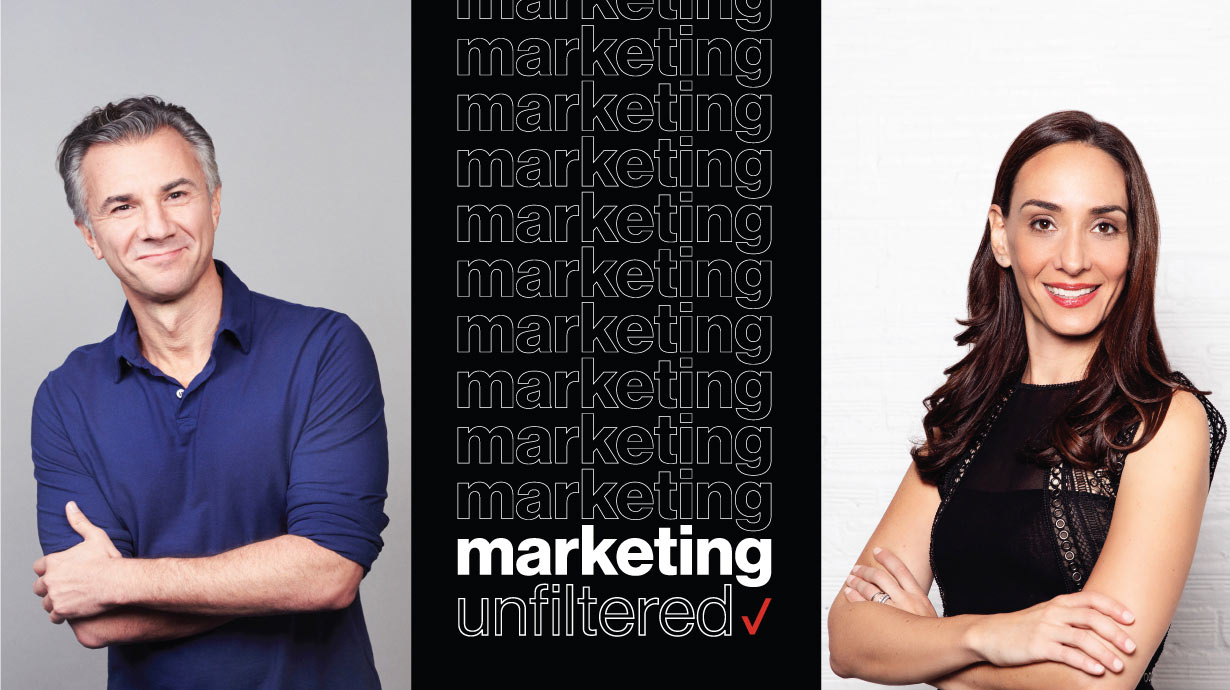 "Should I go with the cleaned up version of this story or the real, unfiltered version?"
"Let's go with unfiltered."
And thus, within the very first minute, Marketing Unfiltered: a Verizon podcast lived up to its name.
In the first episode, Verizon Chief Marketing Officer Diego Scotti and special guest Leslie Berland, Chief Marketing Officer and Head of People at Twitter, sat down with host Diana Alvear for a deep-dive conversation on a range of brand and marketing topics.
Listeners hoping to be flies on the wall in a room where marketing heavyweights talk shop will not be disappointed. Not a surprise for a podcast that aims to put brand purpose into action by bringing together leaders, influencers and innovators to discuss the thinking behind decisions that reach consumers and move the industry forward.
That type of honest back-and-forth is easier with long-time friends. Having previously worked together at American Express, Diego and Leslie share a mutual respect for one another. They were excited to catch up and compare notes, each from the perspective of a different yet complementary industry, and it showed.
Diana asked Leslie about how she felt about her brand after an unprecedented year in which Twitter had been at the center of constant, major breaking news cycles. "I think the power of the platform and how critical the platform is has never been more clear," Leslie responded. "If you think about COVID, obviously Twitter is a platform where the actual world is communicating with each other. Everything from doctors in the beginning tweeting notes back and forth, asking questions, talking to people in ERs. And also coming together in times of joy and escape, whether it's sports or entertainment. Some of the funniest moments that have happened on Twitter, I think, happened this year."
Diego wanted to know how Leslie advises other brands to market on Twitter, especially during social movements like the rise of Black Lives Matter. "Number one, it's always listening first," said Leslie. "What are the conversations that are happening here? What is the sentiment? What is the energy? The second part is always about authenticity. Companies and brands have to look at themselves and say, 'What are we doing here? Are we doing the right things by our people? Are we doing enough?'"
Diego shared his own behind-the-scenes stories, including how following Verizon's purpose and Credo led to the advertising pullback from Facebook. "It was a big decision but one that I felt really confident about because it wasn't an emotional or political decision. It was about principles relating to the Verizon standards around what we expect social media companies to do in terms of protecting our brand. And it's very clear. It's on paper."
The conversation could have been mistaken for a masterclass. In just 45 minutes, the two leaders shared a number of tips and insights, including what advice they would give themselves on the first day of their marketing careers. Leslie even revealed a personal secret: after working at Twitter for five years: she dreams in tweets. "I see my timeline, I'm scrolling through. And the thing is, the tweets aren't even that interesting."
To hear more insights and the full conversation listen to the podcast. Have your notebooks ready, and keep your ears open for the next episode dropping later this spring.
And, be sure to check out our podcast page for upcoming episodes.
Related Articles