Storm Chasers Number One Network Choice? Verizon Wireless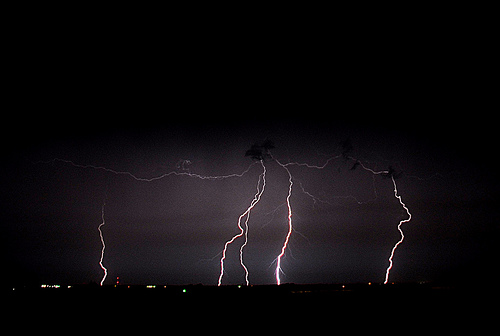 Verizon's Kristen Meehan and Kevin Rogers kept storm chasers throughout the Midwest updated at a conference in Indianapolis, moving through new products and updates on Indiana's nearly completed 4G LTE network build-out for the state that started in 2010.
Today's storm chasers understand the need for a reliable wireless network.
GPS pinpoints where they are, mobile routers keep their multiple devices connected, and dramatic video they shoot as "spotters" can serve as a lifeline to vast TV audiences they serve. So when you enter a storm chasers conference and hear phrases like "juicy air" and "super cell parameters," the discussion is likely to focus on transmitting data and connectivity.
When asked, nearly every attendee at the Indiana Storm Chasers Convention raised his or her hand at the Indy meet-up to indicate they were using the Verizon Wireless network to do their work.
That wasn't surprising to Kristen and Kevin. They know chasers need speedy uploads and downloads, as well as reliable connectivity.
Verizon is also known for its emergency preparedness and response in times of weather disasters, including providing assistance in the aftermath of the devastating Henryville, IN tornado in March 2012. According to news reports, the twister stayed on the ground for more than 50 miles and generated winds of 170 miles per hour.
While on-the-ground video can be uploaded within moments from these devastating weather events, it wasn't always so.
Many chasers started out using ham radios and calling back to a central base to get updates as to where to turn and travel on rural roads as they chased spiraling clouds and hail. That was before the Internet – and before cell phones.
Today, sophisticated software mapping and tools mean storm chasers have more than a hobby, and they're more reliant on devices like tablets, wireless phones and laptops. There are nearly 290,000 members of SKYWARN, a volunteer program of trained severe weather spotters who help their local communities by providing timely updates to the National Weather Service.
The Verizon team offered storm chasers some of the latest product and service updates that could help them in the field.
Librestream, for example, offers the leading enterprise mobile video collaboration solution called Onsight that fully connects experts to remote locations in real time. Using Onsight, a storm chaser can see live video, talk, draw and share images with other chasers. Onsight Connect offers collaboration software for smartphones, tablets, Windows PCs and Librestream Onsight rugged devices.
The GoPRO Hero3+ is already used by some chasers and offers one of the lightest field video cameras with longer battery life. Chasers attach them to windows, car hoods and dashboards. The latest versions are updated to allow for immersive wide angle shots and have a 30% longer battery life for use in the field.
Verizon's 4G LTE Broadband Router with Voice is critical when chasers are operating out in storm activity where there are localized power outages. The router emulates 4G LTE WiFi for data connectivity, and the back-up battery allows for four hours of talk or 33 hours of standby power. The router also can be used to connect multiple devices and added to Share Everything Plans for extra savings.
Kristen advised the storm chasers, who are heavy data users, that they could be eligible for data upgrades on business plans from Verizon by using business tax ID numbers.
Storm chasers have come a long way since the 1990s. Organizers predicted the number of storm chasers will only increase as technology advances, making it easier to develop a weekend hobby into a mainstream business.
For more Verizon Wireless news, subscribe via RSS feeds in the right rail.