Storm Chasing With Verizon (Amazing Photos Captured!)
Storm Chasing With Verizon (Amazing Photos Captured!)
I'm a meteorologist, I don't generally recommend storm chasing to the public.
I'm a meteorologist. I've been on the air. My friends and colleagues are experienced meteorologists. Why am I starting this post with these statements? Well, I want to emphasize the fact that we're professionals. I don't generally recommend storm chasing to the public.
That being said, some friends and I went storm chasing a few times over the last couple of months. With the help of Verizon Wireless, we were able to stay ahead of the storm. A chase day starts with a briefing many hours before the storms are expected to flare up. Once we figured out the approach, we were on the road. Though there were a couple of different trips, I'll focus on one specific day.
On this particular day, we were torn between heading north or south from Madison. We chose south. We loaded up two cars and split up the tech between the two. I gave a phone with an active WiFi hotspot to one car and kept the Jetpack MiFi unit for ours. These act as portable Internet access points. With laptops being the easiest to navigate, we relied on those, and the hotspots came in handy. In addition, I gave the Verizon GoPro to the other car while we kept the waterproof Sony Xperia Z3v. This was going to be our streaming phone once we came across active weather.
On the road, we went over all the data and decided to drive into northern Illinois. We'd wait there until we saw some convection, or storms ignite. We got set up for streaming and decided to use Ustream. (Now that Periscope is available on Android, we'll try that next time.) We waited… and waited… and then we finally decided to make a play on a cell developing just to the west. We got back in our cars and hit the road. We met up with a storm and tracked it back to the east as it went through Illinois. Fortunately, (or unfortunately for us), the storm never ended up developing.
There's a lot of frustration when you spend your time tracking and planning and end up seeing only one bolt of lightning. We determined that we made the best effort possible based on the information we had at the time, but it still yielded no exciting results. Putting it in perspective, that's a good thing, really. Overall, we still all gained more experience, and with the help of the gear lent to us by Verizon Wireless, we were able to stay ahead of the clouds.
Our team was able to go out several times since. Most of those have been busts, as well. We did, however, manage to grab a few pictures, including some great shots of the aurora borealis. These pictures were taken by Christopher Manzeck, an associate of mine. 1) "Windows XP" – Sometimes a storm chase is best described as: "So Cloud. Wow. Much Calm." ... and in that scenario, we storm chasers turned photographers often find amazing tranquil landscapes right in front of us to distract us from a busted forecast. This photo was taken in a rural farm field in extreme northwestern Illinois on a summer evening when storms failed to initiate.
2. "Tornado Warned Supercell" – This storm produced a lot of lightning while it was still tornado warned in Illinois but was heading toward sunset fast, so our opportunity to photograph was quickly dwindling. We stopped near this wind farm/real farm to take some long exposure photos to try to capture the lightning from this amazing storm. Pictured are two lightning strikes over a 10 second exposure (which also causes the storm to appear slightly blurry due to how fast it was moving).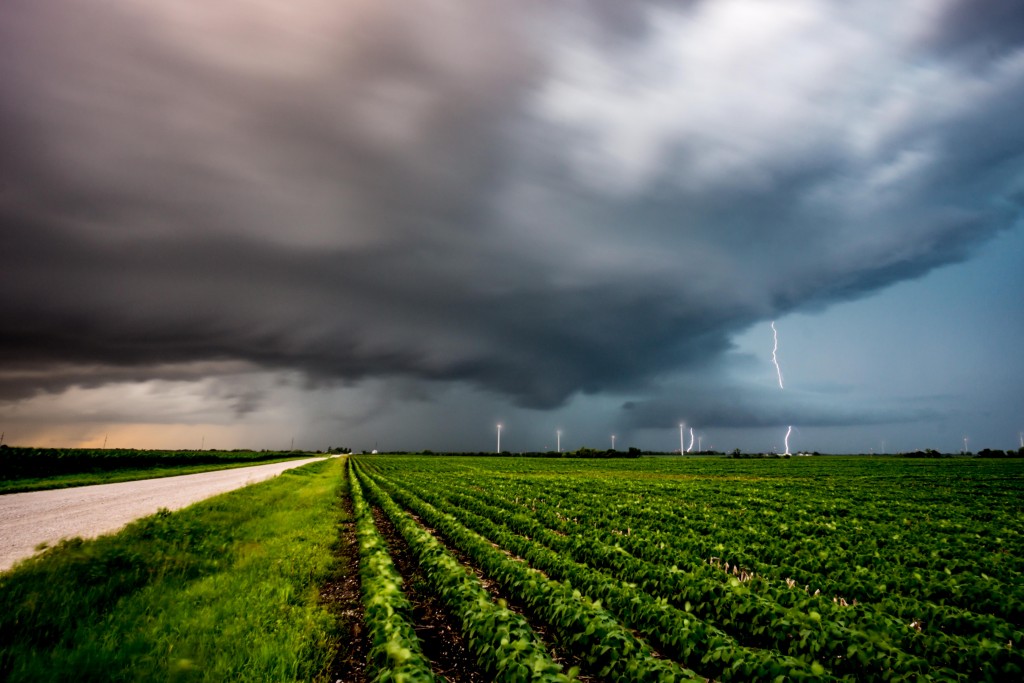 3. "Northern Lights in Wisconsin" – It's very rare to be able to view the aurora this far south, but on our way back from the successful Illinois chase in photo #2, we happened to notice out the back seat of our car while driving home (mind you, it was already 1 a.m. on a Monday and we all were needed at work, coherent in the morning). So what do three meteorologists with fancy cameras decide to do when we get back home? (It's now 2 a.m.) Of course, we go attempt to photograph this extremely rare, but awe inspiring natural event. This photo was taken at approximately 2:30 a.m. in a rural setting outside of Madison, WI. Totally worth the near-hangover experience of being completely exhausted at work the next day!