Styleshack Founder Rachel Schostak Reveals What's in Her Bag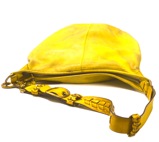 Rachel Schostak is the founder of the Detroit-based fashion tech startup Styleshack, a shop local platform that connects consumers to neighborhood boutiques and specialty stores throughout the country. Today, Rachel shares her advice for traveling with tech in style.
As the founder of the fashion tech startup Styleshack, I am constantly on the go. From daily meetings, in-store pitches, industry events and business travel, I rely on mobile technology and the Verizon 4G LTE network to help me stay connected and run my business while on the go.
Today, I'm going to share with you the items that help keep me organized and ready for anything! It all starts with a great bag…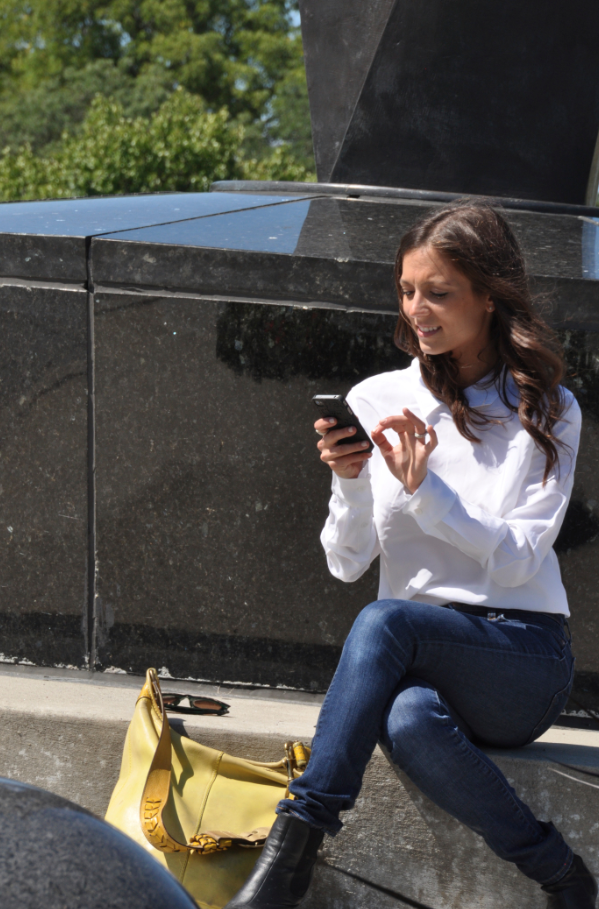 The Bag
As the founder of a fashion tech startup, my bag needs be fashionable, yet functional. For my needs (and a bag that can fit my on-the-go business lifestyle), my vintage Coach yellow crossover bag is perfect. You can always find me in a large crowd because I am the boss with the yellow bag. Not only does it carry all my tech essentials, it's my "good luck charm." It's been through everything with me (my adventures in New York City, Chicago and now Detroit) and has carried my necessities over the past seven years!
The Devices

Aside from having the best team around, I largely depend on my "tech tools" and gadgets to run my business. Here are the tech essentials I keep in my bag:
MacBook Air: Light and easy to transport, I take my MacBook Air with me to meetings to give presentations and in-store demos.
Verizon iPhone 5s: I've always been an Apple fan and take my Verizon iPhone 5s everywhere I go. It stores my calendar, sends me reminders, allows me to access email and document events and conferences in real time on social media.
Mophie Powerstation: When you're busy running to and from meetings or attending conferences, it can be easy to drain the battery power on your devices. I always make sure to keep my Mophie Powerstation with me in case I'm in need of an urgent charge.
Black pencil bag: With so many devices to take with me, I use a simple black pencil bag to neatly store all the extra USB plugins, chargers, headphones, etc. that go with them.
Black Moleskin journal: I'm mostly all digital, but now and again I like to jot down inspiration and future ideas. I also store all my weekly agenda notes in a digital notepad.
In addition to using the devices listed above, I use Evernote, Dropbox and Google Drive to stay productive, organized and efficient on the go. I also use social media to stay connected and promote my business while traveling. Of the social media networks I use on a daily basis, I probably use Instagram the most. There, I personally post everything from the @styleshack account and use the app Fotor to make collages and edit photos.
And then there's all the other essentials I keep in my bag, including my mini lime green makeup case for any quick touch ups, hand sanitizer and portable snacks.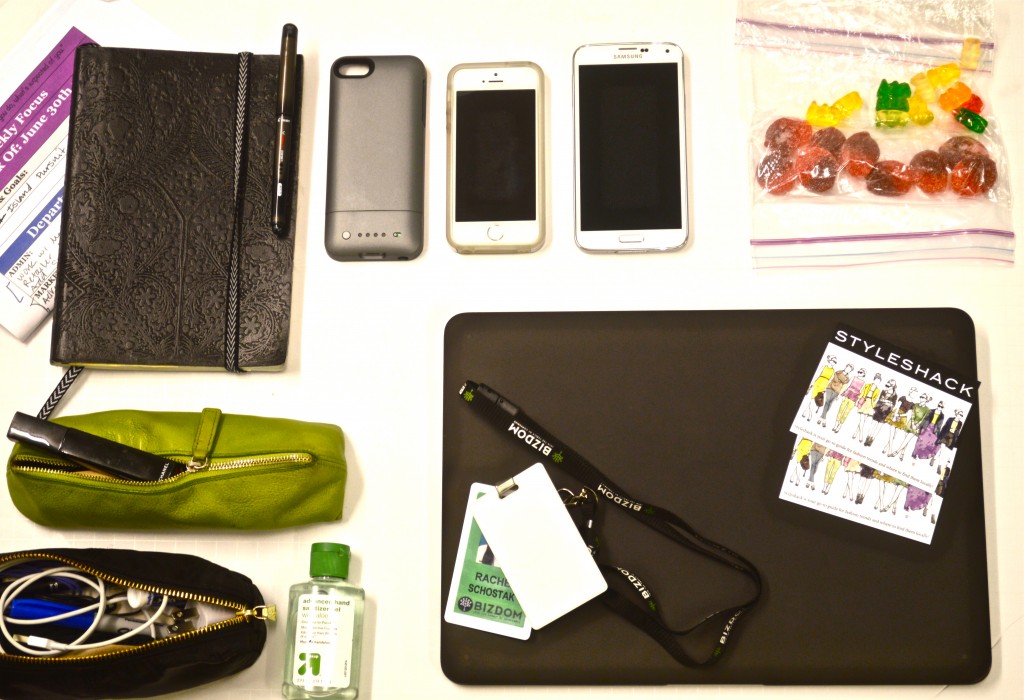 These are the tech essentials I keep on hand at all times. The bag has stayed the same, but the devices are always changing. Over the years, I've figured out what works best for "my business style," which can be described as fashionable, yet functional.
Do you have a favorite "tech bag?" Send me a tweet! I'd love to hear how you combine fashion and technology to stay productive on the go.
For more Verizon Wireless news, subscribe via RSS feeds in the right rail.