Tech For Winter Driving: How to Best Prepare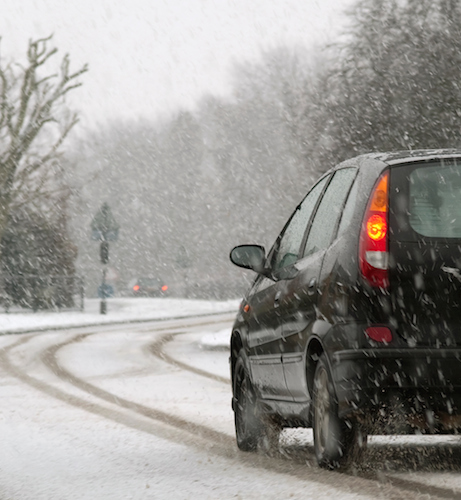 Ask anyone in the Midwest who hates winter why they dread the season, and the result is often three words: "driving in it."
"Driving in it" may refer to ice, snow, or the cold – all of which impact our daily commutes.
Snow and ice are some of the most dangerous weather-related hazards to drive through, but tech for winter driving is changing the way we travel. Someday soon, mobile technology will allow for self-driving vehicles. However, until that celebratory day, there are apps to help ease winter road woes.
Maria Sica of Bloomfield Hills, MI said her mobile device gives her alternate driving routes to avoid treacherous roads. A new app will prompt her phone alarm clock to ring earlier to allot for more morning drive time if bad weather hits overnight. Her mobile device also helps her plan snow fun days with her daughter.
Sica said this winter she will try Boondoggle's Winter Wake-Up App. It works like an alarm clock that can think and reason. Simply download it, set your alarm and – voila! The app sounds the alarm early if snow or ice falls in your area overnight, allowing more time to drive through the slippery conditions and avoid feeling rushed - which brings us to the topic of road safety.
The first day after a snowstorm is often a heavy accident day as drivers become reacquainted with navigating through slick conditions. Waze is a community-based app where users in the same vicinity share real-time traffic and road information, so drivers can avoid traffic accident areas, construction sites or other traffic jams.
"It's a real time saver," Sica said. "Weathermob is also a crowdsourcing app, but it's designed strictly for weather news. If an ice storm hits your neighborhood or wherever you are traveling to, you can post the news to help warn other people – or find more information about it for yourself."
If a driver does get stuck or stranded in severe conditions and is unsure of what to do (you have purchased a phone charger for your vehicle and Boostcase Hubrid PowerCase to extend your battery life, correct?), the Winter Survival Kit app based on military tactics will find the users' location, call 911, contact friends or family and calculate how long to run the engine to keep warm while staying safe from carbon monoxide poisoning.
And when all is smooth and safe and it's time for winter fun, On the Snow app provides the best places for skiing, snowboarding and sledding.
Be safe out there!
What tech for winter driving have you tested out?
For more Verizon Wireless news, subscribe via RSS feeds in the right rail.