Tech Trendsetter: City of Fishers, IN Launches First Twitter Town Hall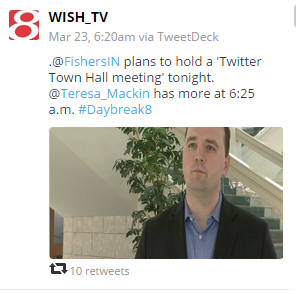 Reaching out to city hall can be intimidating for citizens who don't want to attend meetings and stand up in front of crowds, especially with a concern or complaint. So the city of Fishers, IN, one of the fastest-growing in the state, took a different approach with a Twitter Town Hall. For one evening hour, any resident chimed in with questions about how to make Fishers more accessible for those with disabilities.
Fishers already had a good following on Twitter with more than 8,700 followers via @FishersIN. Communications Manager Tiffany Holbert reported it was a great first-time reach to residents on social media and resulted in 21.5K impressions, or three times the daily average.
During the month of March, the city also had a great start on an ADA (American Disabilities Act) Task Force that has been paying attention to community assets since 2011 and coming up with innovative solutions — such as closed captioning for its movies in the park nights.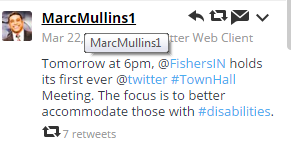 Holbert gathered about 10 leaders and department heads into one room for the evening chat and used the hashtag #FishersAccessibility for the chat. Questions ranged from parking permits for those who have disabilities to fire codes in public buildings to alert those who are deaf with strobe lights.
March is also Developmental Disabilities Awareness Month, which was put into place by President Ronald Reagan in 1987.
The Arc of Indiana applauded the effort.
"It's an interesting idea, another forum to use, especially for people who aren't verbal and have a lot of trouble getting to meetings," said Sally Morris, assistant director for public relations.
The National League of Cities doesn't track data on Twitter Town Halls, but usage still seems relatively new. A scan of the news headlines shows only a few users ranging from high schools to the prolific White House.
"We are always looking for new ways to engage our residents," said Fishers Mayor Scott Fadness. "Through social media we're able to meet residents where they are to hear their honest feedback and address their questions and concerns."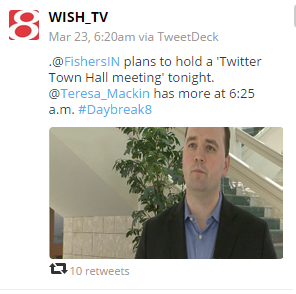 Holbert said the two-week span of promoting the Fishers Twitter Town Hall also caught the media's attention, landing plenty of tweets and a morning TV report in Indianapolis. She said about 10 of the city's directors use their Verizon Wireless mobile devices to update their Twitter feeds on a daily basis.
"Our goal was just to have an open forum online. We've received great feedback because it was unique and a different way to engage residents."
For this on-the-move, tech trendsetter city, Holbert said it's like entering a social media room where people are already hanging out — and ready to participate.
For more Verizon Wireless news, subscribe via RSS feeds in the right rail.