#ThrowbackThursday: Car Breakdowns Before & After the Smartphone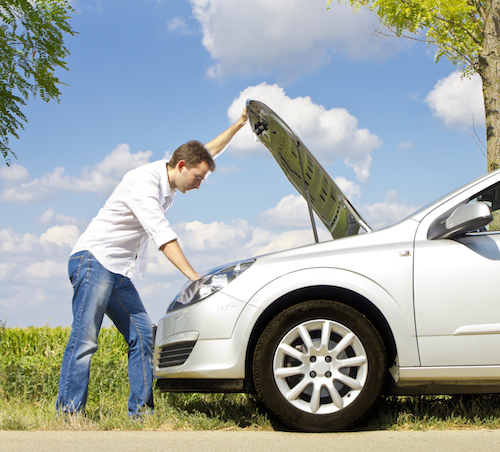 This is part of our #ThrowbackThursday series – with a focus on tech, of course!
Back in the day, before extensive pre-trip vehicle checks, Cincinnati native Betty Closser was en route to an annual vacation in the Outer Banks when the 26-foot GMC motor home carrying her 12-member extended family broke down in the middle of rural North Carolina.
By today's standards, this was more than unfortunate because the 1981 version of Route NC-24 was equipped with neither streetlights nor telephone booths. As she recalls it, the seemingly endless country road featured no stores or even gas stations. And at the time, personal cell phones could only be found on The Jetsons.
Luckily for Betty and her family, the RV broke down close to a shack owned by a chicken farmer. (True story.) The farmer's son had enough mechanical experience to fix the five-ton RV after seven hours of tinkering.
Surrounded by family and optimistic farmers, the event was not as harrowing as Mattie Griffin's breakdown story.
Fast forward 25 years to 2008:
Mattie was in high school on a dark, rainy night. Two girlfriends hopped in her car, and the then 16-year-olds drove down their country road in the pouring rain en route to the small Texas town Blockbuster video store. Suddenly, Mattie's car broke down in the middle of nowhere.
As she describes it, the three girls were "hyper, blissfully ignorant, ever hopeful 16-year-olds,\ who waved down the first car heading toward us. The night had all the makings for a folk legend horror story, or low budget 'wrong turn' type of film in which the well-meaning, innocent youth get eaten by the mutant cannibals living in tree forts in the woods."
With no phone, they couldn't call roadside assistance. Fortunately they flagged down a nice couple, who let the girls borrow their cell phone. Mattie's parents' first reaction when she called? Shock that none of the girls had brought a cell phone on the errand.
Our worst car breakdown story comes from Shannan Boyer, who thanks her lucky stars for her life-saving smartphone. Driving an hour to pick up a relative from the Dayton, OH airport, Shannan brought her two year-old son along. A delayed flight meant the young mother was running out of kid supplies—particularly diapers — and was forced to buy a diaper from another mother in the airport.
Grateful to make her way back to the car, she discovered her car battery was dead. After getting a jump, the very tired mother of two made her way to I-75 south only to face a sudden rainstorm. Shortly thereafter, a tractor trailer jackknifed, and traffic was at a standstill.
Shannan's battery died again on the highway as a result of running the air conditioner while stopped. Her only food for her hungry child was an old, warm can of Sprite and pretzels. Since her cell phone battery was dying, she squeezed in two calls: one to the police and one to her husband.
The highway patrol arrived but weren't able to jumpstart Shannan's car. Finally, her husband arrived to take his family home, leaving the car behind for a tow truck.
Word to the wise:
Make sure your car breakdowns aren't like our three folks above. Make sure you always have your cell phone, even if you are running a short errand, as many breakdowns happen close to home.
According to Consumer Reports, emergency items to keep in your car include red reflector triangles, bottled water and snacks. A good updated list would include items like a Motorola charger on your keychain and a handy Energizer cup inverter in your car to power more than one device.
Do you have a close-call car breakdown story? Share it with me on Twitter @VZWLaura, or in the comments below!
For more Verizon Wireless news, subscribe via RSS feeds in the right rail.