#ThrowbackThursday: Evolution of the Music Listening Experience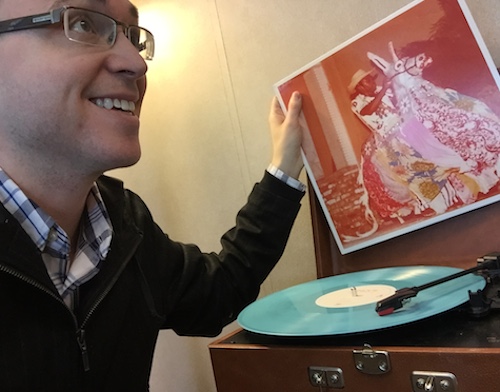 This is part of our #ThrowbackThursday series - with a focus on tech, of course!
When Greg Swan started his critically-acclaimed music blog Perfect Porridge in 2004, the industry's seismic shift from physical CDs to Internet music had already begun with Napster and the social media music sharing site, MySpace. But that did not stop the music industry from sending him CDs.
"All of a sudden I was being sent tickets to shows and so many CDs were being shipped to me I had to get a box at the post office," says Swan. An early adopter, technology trend advisor and music aficionado, Swan owns nearly 4,000 physical CDs, all of which are now stored away in his basement.
"If I got a new CD today, I'd have no way to play it," he admits.
Instead, Swan listens to music four hours a day on his smartphone through his favorite streaming service – Spotify. He has access to all the music he already owns on CDs, but the service offers so much more.
"Spotify has changed my lifestyle," he says. "I can see what my friends are listening to, the service will recommend albums and most importantly, I can access almost any album I want and stream it in its entirety with no ads onto my phone."
Streaming services mean Swan no longer uses digitally stored music on his 64 GB iPod. The era of carrying stored music on portable devices began with cassette tapes and CDs after the invention of the Sony Walkman lineup.
"You listened to music via earbuds and wore the walkman on your waist," says Swan. This revolution of enhancing activity with music was known as the "Walkman Effect".
Swan still appreciates the sound quality of LP's – his turntable and six-speaker stereo system is in his office. But at home he listens to music on a Beats Pill connected via Bluetooth to his smartphone. Ironically, the quality stereo headsets formerly only used by audiophiles with home stereo systems, such as the Beats Headset, are now considered "fashionable" for use with smartphones.
What are new generations missing? Maybe the beauty of albums such as Pink Floyd's "The Wall" that were designed for listening all the way through. Swan notes music consumption by Gen Z is dominated by YouTube and the culture hinged around selectively listening to favorite songs versus entire albums, then posting those songs via social media with liner notes, lyrics or produced videos.
"How many parents have played the 'Frozen - Let It Go' video for their kids?" he notes. As of early February, that would be more than 325 million times.
To read more from Greg Swan visit: http://gregswan.net/ or connect with Greg on Twitter: @gregswan.
For more Verizon Wireless news, subscribe via RSS feeds in the right rail.