#ThrowbackThursday: Voice of the Kentucky Wildcats Shares How Mobile Has Changed Sports Fans
#ThrowbackThursday: Voice of the Kentucky Wildcats Shares How Mobile Has Changed Sports Fans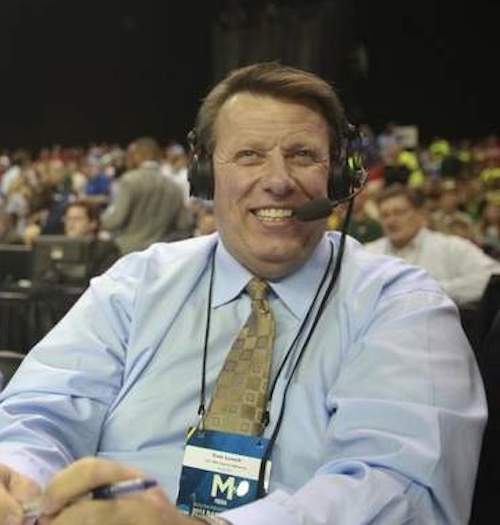 This is part of our #ThrowbackThursday series – with a focus on tech, of course!
When Tom Leach began his career as a sports radio reporter, his days were exciting, dream fulfilling and long. At a young age, his career goal was to become the next 'Voice of the Kentucky Wildcats'. Almost every broadcaster in Kentucky wants that best seat in Rupp Arena, but the dream came true for Tom.
Now, he follows in the footsteps of Cawood Ledford, Ralph Hacker, Claude Sullivan, Jim Host and the others who have called the games for the Cats.
Tom began his work on the UK Radio Network in 1989 as host of the postgame scoreboard and call-in shows. Eight years later, he was named the play-by-play voice for Kentucky football, and he added the basketball responsibilities in 2001. Since then, he's been named Kentucky Sportscaster of the Year four times.
"When I began my career, smartphones didn't exist. I used a tape recorder and camera to record games, then would have to upload everything to my desktop computer," says Tom. "The nights were long in order to get the game information out to fans. Sometimes, I would even have to wait until the next day."
As time and technology evolved, so did Tom's career. His most recent venture is Tom Leach Productions. His website tomleachKY.com features Tom's coverage of the Wildcats, as well as highlights of high school sports. He also writes a bi-weekly column for the UK Athletics website.

"It would be impossible to execute all my responsibilities if it weren't for the evolution of technology," says Tom. "My Verizon Wireless HTC One M8 allows me to tweet live stats from games, upload photos from the court straight to my website and add audio files of interviews with players to my website."
Some of Tom's favorite apps to use are the Yahoo Sports and ESPN Scoreboard. He uses these to announce scores of other games while he's reporting live from another.
Tom explains that even as a sports fan, smartphones come into play more than people realize. "When you wake up on game day, you check an app that tells you the weather for the day so you can dress appropriately. Once arriving at the stadium, another app notifies you of available parking lots with the best prices. As you enter the game, you pull out your smartphone to scan your ticket. During the game, you post pictures and scores of the game on Facebook and Twitter. When you leave, instant replay post-game press conferences are available on the ESPN app. And finally, an app helps you find your car in the parking lot and tells you the fastest way to get home."
Tom explains that fans make his job exciting. They maximize their viewing experiences by interacting with each other and the rest of the world on social media. It adds excitement and rivalry to each and every game.
Tom says that without a smartphone and the Verizon XLTE network, his job wouldn't be as smooth and efficient. He's excited to see how technology will help his job in the future.
For more Verizon Wireless news, subscribe via RSS feeds in the right rail.