Truckshop Blends Fashion & Tech For a True Mobile Shopping Experience
In today's increasingly mobile world, Cincinnati's Truckshop is bringing new meaning to destination shopping with an innovative mobile boutique that travels around the Midwest offering trendy clothing at affordable prices.
The idea for Truckshop started when founder Ashley Volbrechet saw a mobile store featuring vintage clothing while on a vacation in California. "When creating Truckshop, I knew I wanted it to reflect my own personal style," she said. "I wanted the Kate Spade esthetic for a Target price."
Over the next nine months, the vision for the mobile boutique became a reality, and Truckshop opened for business in June 2013. Ashley, who has been a Verizon Wireless customer for 13 years, packed the truck with network-connected technology to keep business operations running smoothly. Without access to the traditional tools a brick-and-mortar store would utilize, she got creative in building her business model around a truly mobile environment.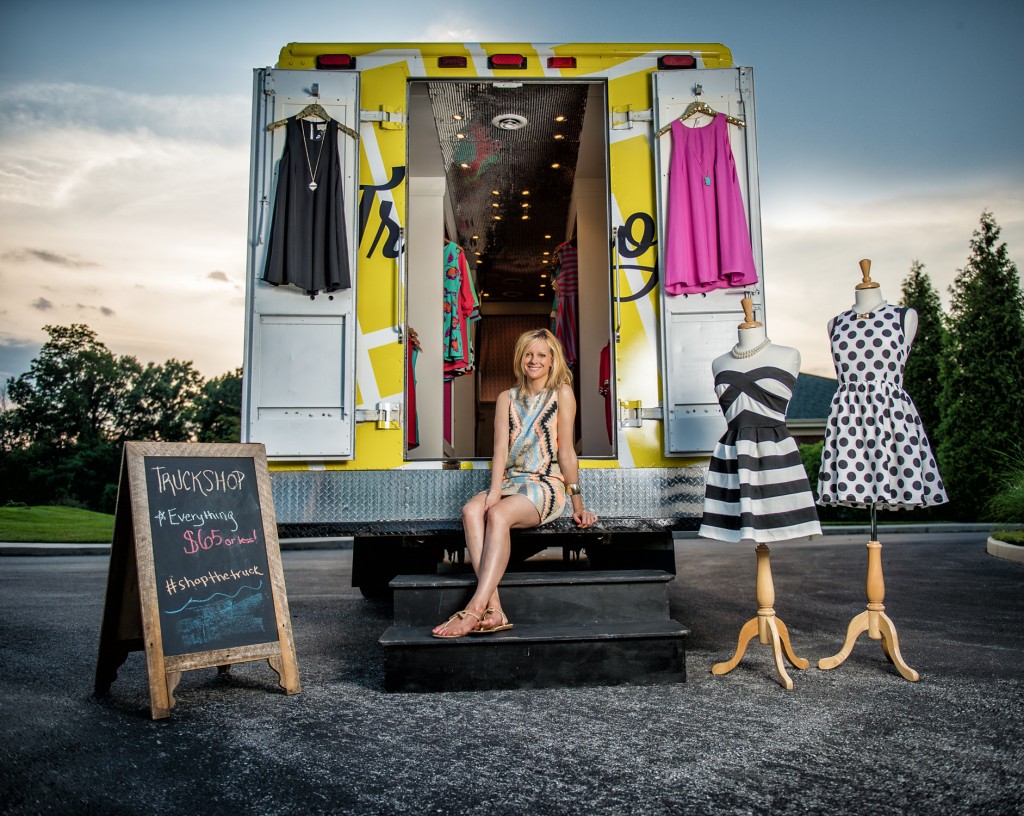 Photo credit: Kelly School of Business at Indiana University/Josh Anderson
From her iPhone 5, Ashley controls every aspect of the truck in the palm of her hand. To keep the atmosphere of the truck lively and fun for shoppers, she plays curated playlists over Bluetooth-enabled, portable Bose speakers. She completes day-to-day business operations using apps downloaded from the Apple App Store to read email, check clothing shipments and answer customer questions without owning a laptop.
"My only regret about purchasing my phone is not buying more storage because I love apps and taking pictures," Ashley says. She also utilizes every inch of the 162 square foot retail space by ditching a traditional cash register and using Square, a mobile credit card reader that connects directly to her phone. Square allows Ashley to take payments anywhere, even when she's not connected to the Internet.
"I paid nothing to download Square, and I honestly am not sure how I would be able to process payments without it," she said. "I always say I don't think this business could have been started before I had a smartphone. It makes everything I do so easy."
When it comes to social media, Ashley solidified Truckshop's presence early on to keep the boutique fresh and connected. She regularly shares the truck's location and photos of new clothing items with her Facebook, Twitter and Instagram followers.
"I lean on Instagram now more than ever," she said. "I think it's there that I have the most engaged followers. I also find a lot of designers through Instagram." As Truckshop enters its third year of business, the mobile boutique and its innovative owner show no signs of slowing down.
"I love fashion, and the mobile truck presented a unique way for me to pursue my passion," Ashley said. "Nothing about what I'm doing feels stressful, which I have to believe, is what a dream job should feel like."
Featured photo credit: Truckshop Facebook page