Unleash your LinkedIn profile's full potential
Full Transparency
More of our content is being permanently logged via blockchain technology starting [10.23.2020].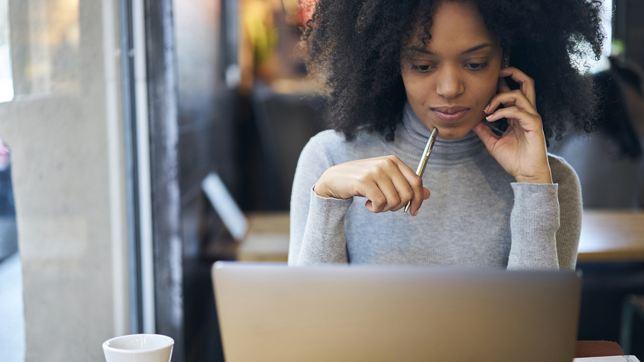 LinkedIn has become the 'go-to' for employers to share their job roles. It's easier than ever to connect with employers and explore potential opportunities online.
So, we as employers are doing our jobs to make it easy for you, but what are you doing to get noticed by us?
Remember, your LinkedIn profile is your digital persona and how you portray yourself to a potential employer. Whether you're looking for a new opportunity externally or within your current company, you always want to show the best version of yourself. Today, more than 90% of recruiters are using the platform to fill positions, so cleaning up your profile makes sense. There are tons of tips and tricks to help you optimize all the features of LinkedIn. To give you a head start, here are seven LinkedIn best practices to help you stand out among other candidates.
Complete sections.

 From your summary to your certifications, complete as many sections of your profile for an edge on other candidates. Each piece of information you add to your profile gives you credibility and relevance to make your profile easily searchable when recruiters are looking for specific skills.

Professional photo. 

Users with a professional profile photo have seen around 14 times the profile views and 36 times as many messages compared to those without one. Recruiters and hiring managers want to put a name to a face and adding a professional photo makes your profile seem warm and human.

Personalized URL.

  LinkedIn gives every member a customized URL that's easy to add to your resume or portfolio. Make sure you have your name in the URL to keep it professional and simple to remember.

Summary.

 Besides your photo, your summary is the entry point for recruiters and hiring managers to consider looking at your profile. Typically a good summary will have around 40 keywords and give visitors the elevator pitch on your work style, career aspirations, and your accomplishments. Your LinkedIn summary is also a great place to give actual numbers on the positive impact you've had at current and previous organizations.

Keywords and relevant skills

. Linkedin has a section where you can display your skills and endorsements. Adding your skills not only shows recruiters your capabilities but helps match you to open positions in your selected area. Having a few endorsements on those skills will also show recruiters and hiring managers that you're not the only one that knows you have skills!

Personality.

 Your profile shouldn't be an exact copy of your resume. It should show off your personality with the right tone and voice. It's typically a best practice to keep your profile in the first person unless company or brand guidelines suggest otherwise.

Engage and influence the conversation.

 Studies show that 2 in 5 people interacted with employees from their current job on LinkedIn before being hired. So show off your expertise by commenting, liking and sharing articles with your network and industries where you have an interest. Keeping an active profile can help connect you to the influentials in your desired field of interest while staying informed on news and trends. Remember, LinkedIn is not the same social network as Facebook, Instagram and Twitter. Keep it professional and be mindful of what you post.
These steps are just the beginning of your journey toward finding a career that gives you the power to go beyond. LinkedIn is a valuable tool, but it's only one piece in the complex puzzle of job hunting. For more information on best job hunting practices, check out the rest of our #AskaRecruiter posts.
Follow us on LinkedIn and check out all our job opportunities.