A V Teamer goes Hollywood.
A V Teamer goes Hollywood.
Fios tech Rohan Arnett stars in new Fios commercial.
Fios is the clear winner of a number of consumer satisfaction awards. Fios Tech, Rohan Arnett was the clear winner in a casting call for our latest Fios commercial.
Get to know the new star: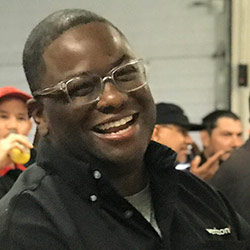 Name: Rohan Arnett
Location: Passaic, NJ
Notable roles: Facilities Technician, and now, actor
Time in the biz: 23+ as a tech, newcomer to acting
Fun fact: He beat out several other technicians, and even some trained actors, to get the role.
Special skills: Installing triple plays
Rohan won over the casting agent the same way he wins over customers… Expertise on our fiber optic technology + skilled technician + a winning smile = the best experience for customers.
"Fiber optic technology has changed the way I can install and deliver internet speeds to customers.The speed is through the roof. You can teach your customers about all the services that go along with faster speed - you can hook up their alarm systems, their tablets, all the devices in the home. You get to show them all the cool things they can do with our services." - Rohan Arnett
Get to know Rohan at the Passaic garage.