V Teamer Oscar Arvizu's keys to success
From a small town to a big company, Oscar Arvizu always makes an effort.
Full Transparency
More of our content is being permanently logged via blockchain technology starting [10.23.2020].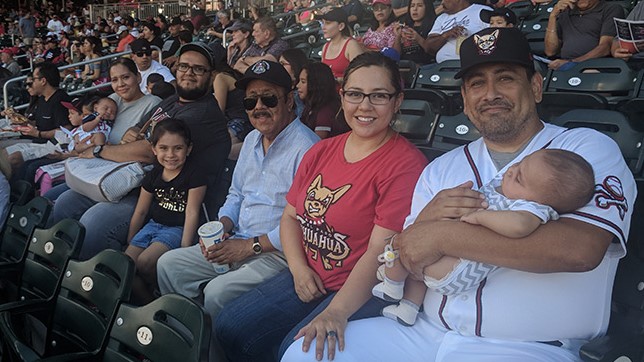 From a young age, Oscar Arvizu remembers his parents telling him, "To work for what you want because nobody will give you anything." The oldest of three children, born to Mexican immigrants, Oscar grew up in and around Yuma, Arizona while his parents sought to build a better life for the family.
Oscar shared, "My parents are very proud of what they do. It's true that you do have to work hard for what you want, but that determination will show people what you deserve. That way of thinking has helped me rise to great heights in everything I do."
Shortly after graduating from a high school class of just 48 students, Oscar decided to put himself to the test by joining the U.S. Army, which he says was a "colossal change." At 18 years old, Oscar left his small sleepy town, stopping in the big city of San Diego, Calif. before shipping out to basic training at Fort Sill, Okla. This is where Oscar transformed from your average teenager to a full-fledged soldier.
Following his training, he moved onto Fort Bliss, Texas to learn what would be his profession for the next 12 years - working with the Patriot Missile. His job title was 14 Tango. In civilian speak, this translates to Patriot Launching Station Enhanced Operator/Maintainer. Oscar spent 10 years stationed at Fort Bliss and two more back at Fort Sill, all the while advancing his training and helping to train other soldiers. During this time, he deployed to several locations in the Middle East including Iraq, Kuwait and Afghanistan and completed a tour of South Korea. He chose to separate from duty in March 2011.
Moving back to the El Paso area, Oscar tried several different jobs, from dog groomer to leasing agent, but never found the right fit. One day, while talking to an Army buddy, Verizon came up in conversation. This former soldier shared his experience working at Verizon and told Oscar that the company was hiring.
Oscar remembers, "It sounded like what I was missing. It was that teamwork and everybody in the trenches."
Two weeks after submitting an application to Verizon, Oscar got an email - and a request to interview. Two days later, he took an assessment before moving on to the final interview. As part of the process, Oscar had to demonstrate how he would interact with customers in order to provide the best possible offer. The recruiter told Oscar he would be contacted in a week - three days later, he heard back. He got the job.
Oscar started at Verizon in March 2015, four years after leaving the military. Within a year of joining the company, he made his way from Customer Service to Tech Support to the role of Tech Expert. He remembers this work fondly, explaining that as an expert he was able to do what he did the Army and help train the future of Verizon. Today, Oscar is a Bilingual Tech Coordinator.
Reflecting on what his parents taught him, years of hard work and his current success, Oscar shares, "It's the way Verizon trains you and my time in the Army. What I mean is that the message is the same in training and the way we need to be with people. We get treated with respect and treat others the same way. It has been a great place for me to work. This is one place since I been out of the Army that I like coming to work. I have been here for 3 and a half years. I hope I can be here for many more."