Verizon and Ahold USA complete digital transformation of iconic retail brands
Full Transparency
Our editorial transparency tool uses blockchain technology to permanently log all changes made to official releases after publication.
More of our content is being permanently logged via blockchain technology starting [10.23.2020].
NEW YORK – To better accommodate more than three million customers and 115,000 associates each week across 780 store locations, Ahold USA's retail divisions, Stop & Shop New England, Stop & Shop New York Metro, Giant Landover, and Giant Carlisle, embarked on a technology overhaul in collaboration with Verizon Enterprise Solutions to create a 'smarter store' for today's always-connected consumer. With consumers increasingly relying on smartphones and public Wi-Fi when shopping, retailers are recognizing the imperative to offer strong and reliable networks for delivering the digitally rich in-store experience that is now an expectation.
"Our divisions are focused on the needs of their customers and improving the overall customer experience," said Paul Scorza, chief information officer for Ahold USA. "Verizon Enterprise Solutions has helped them deliver on their 'better place to shop' mission as we were able to bring Wi-Fi to all 780 division stores while increasing network bandwidth that moves data quickly."
Wi-Fi connectivity throughout their stores has been instrumental for the Ahold USA divisions to tailor offers and promotions to subscribers of their app and SCAN IT! Mobile feature, which allows customers to use smartphones to scan items for self-serve checkout. Additionally, Ahold USA division associates can rely on strong network connectivity to rapidly and securely transmit data related to everything from inventory needs to medical prescriptions and point of sale transactions.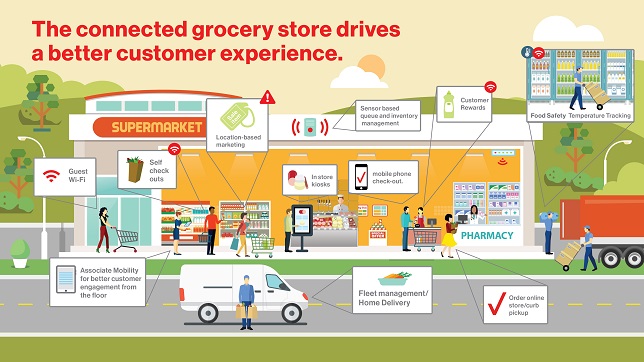 Wi-Fi connectivity throughout their stores has been instrumental for the Ahold USA divisions to tailor offers and promotions to subscribers of their app and SCAN IT! Mobile feature.
"With this improved store network, we're making it easier for our division customers to smoothly access other technology options like SCAN IT! Mobile," added Scorza. "With a strong, reliable network, store associates are in a great position to succeed; whether helping a customer with a price, ordering an item, or finding a product, associates can get the job done faster and easier."
Underscoring the growing popularity of the Wi-Fi feature, in December 2016 alone Ahold USA's divisions saw an overall 23% spike in the number of users over the previous month.
On top of improving the customer experience, the technology upgrade includes operational enhancements across all Ahold USA division stores. All locations are now equipped with Verizon's business-grade voice-over-IP (VoIP) phone solution which streamlines network management and cost efficiencies while extending the capabilities of the company's existing phone system. Further, the addition of Verizon's industry leading wireless network capabilities in each location will provide backup connectivity to help maintain business continuity in the event of outages which can be harmful to business and a company's brand.
"Ahold USA's businesses are reinventing the retail experience for today and the future, and we are proud to be partnering with them," said Michele Dupré, group vice president of retail, distribution and hospitality with Verizon Enterprise Solutions. "We've built our business on helping retailers, and organizations across all industries, embrace innovative technologies that deliver efficiencies and create new opportunities. Never before has technology transformation been so important for attracting a consumer population that has comfortably adapted to a digital world."
Editor's note: The following data points help illustrate the complexity of Ahold USA's divisions' digital transformation initiative. Transforming 780 division locations into 'smarter stores' required the installation of more than 14,000 wireless access points; 1,500 network routers; and, 850 network switches. In addition, more than 500 miles of cable were run during the project; equipment and wireless service was upgraded across 32 corporate locations; and, new phone systems were installed in 100 stores. Finally, a total of 9,000 site visits were completed for equipment installations, testing and production activation.