Verizon Announces Newest Midwest 4G LTE Markets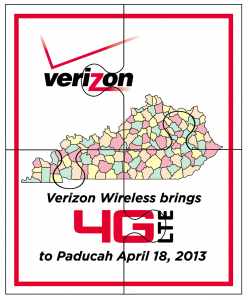 As you may already know, we've been busy expanding our 4G LTE footprint across the Midwest, with plans to cover our entire 3G network with 4G LTE by the end of 2013. As of today, our 4G LTE network now covers 95 percent of our 3G footprint, meaning faster access to all of the great content our customers love to access in their daily lives.
To celebrate, we've been sharing clues in the form of puzzle pieces each week, hinting at where Verizon's 4G LTE will launch next. Today, we launched our newest 4G LTE market, one of 491 markets across the United States. Starting today, customers in Paducah, Kentucky, are experiencing 4G LTE speeds on their mobile devices.
Faster speeds mean our customers can download and stream music and movies in minutes, enjoy live video chatting with no buffering delays, share photos instantly and stay in touch with family, friends and colleagues at speeds up to 10 times faster than on the 3G network. Paducah residents now find themselves part of more than 287 million people in the U.S. who can access the 4G LTE network.
Our customers can also take advantage of HomeFusion℠ Broadband, a solution that leverages the power and speed of the Verizon Wireless 4G LTE network to deliver high-speed, in-home Internet access for residential broadband, particularly in areas where Internet options are limited or unavailable.
To celebrate the launch of 4G LTE in Paducah, we have some pretty cool activities planned, including a mobile hotspot party for local residents on Saturday, April 27, at our store at 5017 Hinkleville Rd. We also hosted a news conference this morning at The Grand Lodge on 5th where Paducah Police Chief James Berry helped Verizon's Region President John Granby with a ceremonial "flipping of the switch." We presented a $4,000 grant and a quilt crafted by Paducah resident Martha Mize, of All About Quilts, to Merryman House, a local domestic violence shelter, in honor of Quilt Week in Paducah and Verizon's commitment to supporting programs to prevent domestic violence.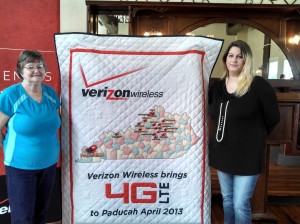 Martha Mize (left) and her daughter, Kayla Howell
With all four puzzle pieces now in place, the completed picture represents the quilt that was donated to Merryman House.
In addition to Paducah, other Midwest cities that will launch 4G LTE this week include East Liverpool, OH; Middlesboro and Harlan, KY; and Fort Dodge, IA. Last week, we lit up 4G LTE in English, Huron, Losantville, Marengo, Taswell and Sulphur, IN; and Chase, Evart, Idlewild, LeRoy, Luther, Marion, Reed City, Tustin and Sand Lake, MI. All of these areas help make Verizon the provider of America's largest 4G LTE network with a customer base now nearing 100 million strong.
Our Midwest 4G LTE Markets continue to expand - you can check your network coverage to find out if 4G LTE is available near you.
For more Verizon Wireless news, subscribe via RSS feeds in the right rail.