Verizon Best Mobile Network in Fort Wayne, Indiana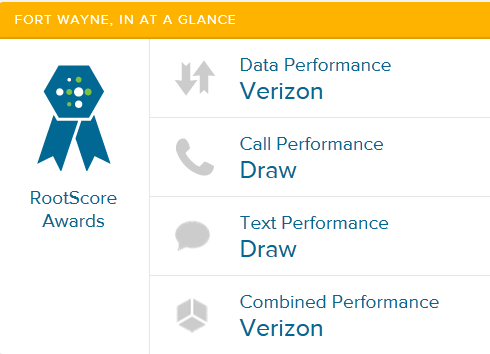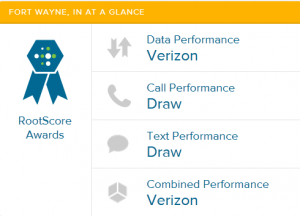 What does Verizon have to offer to Fort Wayne residents and businesses?
Just the best overall score of four wireless carriers based upon independent testing done in the area by independent consumer advocate RootMetrics...
As part of their analysis in determining the best mobile network in Fort Wayne, RootMetrics conducted more than 19,000 tests in the area. These tests looked to determine which carrier had:
Fastest download and upload speeds;
Most reliable and fastest email, web and apps service;
Fewest dropped and blocked calls;
And strongest text service.
So who did RootMetrics decide has the best mobile network in Fort Wayne, Indiana? Verizon. But what does the RootScore used to determine this mean for a consumer? Well, it means increased performance: Verizon's 4G LTE network clocked in with the fastest time and was also found to be the most reliable. This is a testament to the fact we first launched our 4G LTE network in Fort Wayne in March 2011 while our competitors are just now offering updates to their networks. Being the best mobile network in Fort Wayne, Indiana, means quality data and call performance, with effective text service and overall excellent combined performance.
Just in time for summer, we're also keeping busy with other updates around Indiana. Verizon has activated 4G LTE coverage in eight Indiana counties, expanding and filling in coverage on the high-speed data network for Boone, Henry, Ohio, Orange, Pulaski, Scott, Shelby and Monroe counties at some of the state's most popular tourist destinations and along major highways and state roads just in time for summer travel.
Here's your vacation snapshot of network updates:
Greensboro – 4G LTE coverage in Greensboro and along I-70 and between Greensboro and Lewisville.
Lexington – 4G LTE coverage in Lexington.
Monroe County – 4G LTE expanded to Monroe Lake, Allens Creek State Recreation Area, and Hardin Ridge Recreation Area, and along State Road 446 in the southeastern corner of the county
Paoli – 4G LTE coverage from French Lick and West Baden Springs into the town of Paoli along U.S. 150.
Pulaski County – 4G LTE coverage extended for the entire county and covering Francesville, Medaryville and Winamac.
Rising Sun – 4G LTE in Rising Sun coverage from Aberdeen on State Road 56 north and northeast and State Road 262 into Rising Sun.
Shelbyville – 4G LTE coverage extending to the east and northeast side of Shelbyville and along I-74, State Road 9 and State Road 44.
Spiceland – 4G LTE in Spiceland and along I-70.
Whitestown – 4G LTE expanded to Whitestown, north to State Road 32, south down to State Road 334, west to I-65 and east to U.S. 421.
How much does 4G LTE matter? Plenty when you're traveling for either business or family.
For more Verizon Wireless news, subscribe via RSS feeds in the right rail.