Verizon is Building a Greener Network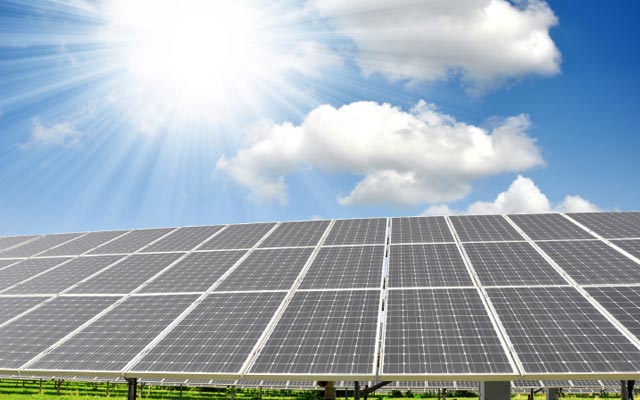 This is the first blog post in a series that will share information and progress regarding Verizon's Carbon Intensity Metric and our three scopes of verification. 
Powering the nation's most reliable wireless network and FiOS Internet service requires a lot of energy.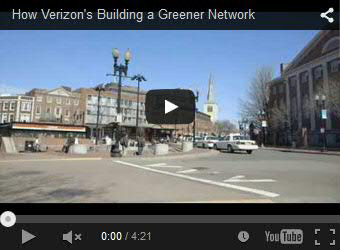 Verizon operates America's largest and most reliable 4G LTE wireless network. We are the largest provider of advanced fiber-optic network services to homes and small businesses in the United States. And, our global IP backbone network is one of the largest of its kind in the world.
Moving Massive Data
Our networks continuously move massive and ever-increasing volumes of data around the world.  In 2013, our networks transported nearly 77 million terabytes of data. That's a lot when you consider that just 10 terabytes could hold the printed collection of the Library of Congress. 
If you think it takes a lot of electricity to keep that data flowing, you're right. It takes more than 10 billion kilowatt hours annually. That is the same amount of energy it would take to power 181 Empire State Buildings. 
Electricity is our largest single operating cost to run our network and business – and the biggest contributor to our company's carbon footprint.
Greener Power
That is why Verizon has invested more than $160 million in renewable solar power and low-emissions fuel cells to help power a number of our U.S. facilities. However, alternative-energy investing is only a small piece of how Verizon is building a greener network. Setting a benchmark to measure sustainability, Verizon established its Carbon Intensity Metric.
What Is the Carbon Intensity Metric?
Imagine if a shipping company wanted to make its operations more sustainable. The company would invest in technologies that move packages from warehouses to their destinations in the most efficient and environmentally friendly way possible. Reducing fuel consumption in the vehicles that deliver packages would likely be a primary focus.
Think about Verizon as a shipping company. We deliver information to consumers over our networks.  Our packages are files of information, from webpages and music files to images, videos and voice calls.  Our primary fuel is electricity. In fact, electricity accounts for 92 percent of our carbon emissions.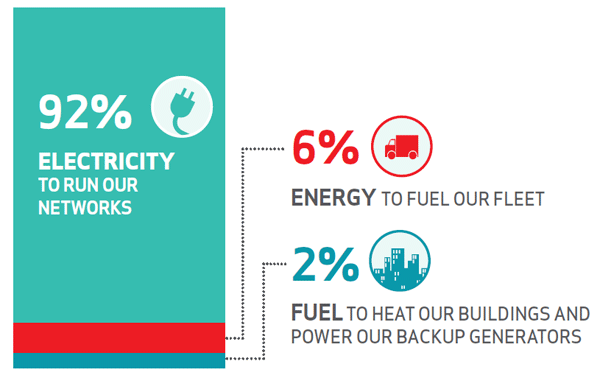 Driving Sustainability
Verizon approaches sustainability the same way an environmentally friendly shipping company does: by finding ways to reduce the amount of energy it takes to deliver information from the point of origin to its destination at a customer's home or office. 
Tracking Sustainability
To measure and track our progress in sustainability, Verizon created its carbon intensity metric: a mathematical equation for measuring how energy efficient we are in delivering data. To do so, we divide our carbon emissions in metric tons by the terabytes of data that we transport:

Verizon measures CO2 emissions in two specific scopes:
Scope 1 – all direct sources of emissions owned or controlled by Verizon, with the main categories being fuel to power our fleet, to heat our buildings and to power our backup generators
Scope 2 – indirect emissions sources generated off-site, but purchased by Verizon. The main category is electricity to power our networks and data centers, plus a small amount of steam and heat purchased to heat our buildings
In addition, Verizon tracks the CO2 emissions that stem from our employees' business travel, including air and rail. We categorize these as scope 3 emissions. 
Measurable Results
By quantifying our carbon intensity, we set a benchmark in 2009 that we measure against each year.  With quantifiable improvements and focus on the environment, we aim to reduce our 2009 baseline carbon intensity by 50 percent by 2020. 
We know that having the highest sustainability standards is a competitive advantage. Each day, we hold ourselves accountable for building a greener network for our customers.
Follow us @VerizonGreen, where we share news regarding our sustainability goals and progress.