Why Are You Excited About Verizon's First Connection Day?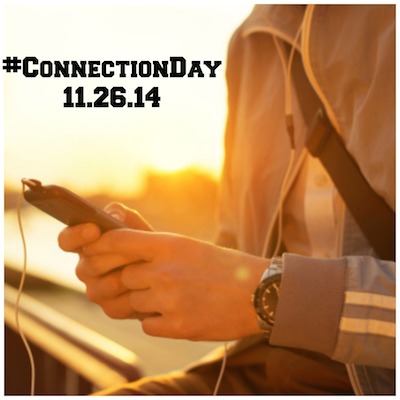 Need another excuse to get psyched for the holidays? In case you missed the news, Verizon has declared November 26 as Connection Day. We'll be offering mobile users the chance to connect with everything they love in life – friends, music, books, news and apps -- on one of the busiest travel days of the year.
On this one special day, everyone, regardless of whether they're a Verizon customer, can receive free content, from movies to WiFi to audio books to streaming music, all compliments of Verizon. The complete list of offers includes:
Verizon FiOS: Special mobile access to popular movies and TV shows on November 26, compliments of Verizon FiOS, by downloading the free FiOS Preview app.
Amazon: Selection of 10 free/discounted apps, plus two free Audible book downloads (new members) or $10 Audible credit (current members)
Apple: A special offer from iTunes to be revealed on Nov. 26
Condé Nast: Free Digital Edition downloads of 17 Conde Nast Publications, including Wired, Vanity Fair and GQ.
Free Wi-Fi: Complimentary Internet sessions through Boingo Wireless (at airports) and Gogo (in-flight).
JetBlue: Free in-flight Fly-Fi (Wi-Fi) for flights between November 26th and December 31st.
Pandora Media: Free seven-day trial of Pandora One.
Visit www.verizon.com/connectionday to preview the Connection Day goodies. If you visit the site before November 26, you can get a reminder to return on Connection Day to choose the gifts you're interested in.
Verizon Wireless customers also get a special treat. MORE Everything customers who register for Connection Day at verizon.com/connectionday are eligible to immediately receive a one-time gift of 1GB of shareable data applied to their account. Plus, they'll get another 1GB of data in their next billing cycle!
Not a MORE Everything customer? No worries. You're eligible for a special discount on the mophie powerstation 4000, a perfect tool to keep your devices charged while you travel during the holidays.
We checked in with some of our Midwest blogger pals to get their reactions to Connection Day and find out which content they're most excited about. Here's what they had to say:
"I do love technology and gadgets. My smartphone is never far from my side, including when I sleep, and my tablet is the first thing I pack for vacation. So I am very much looking forward to Verizon's first ever Connection Day and all the free and discounted digital content. I am most looking forward to getting the $10 Audible book credit. I love listening to digital content of all kinds when I do my daily exercise, and listening to a new FREE audio book would make getting my 10,000 steps per day that much more enjoyable." – Jackie Harper, Free is My Life, Michigan
"We are actually traveling Jet Blue to Boston in mid-December for a wedding. My flights would be a great opportunity to catch up with some blogging on my laptop, but I hardly ever bring it with me or spring for in-flight WiFi. This has me even MORE excited to head off on our Boston getaway!" – Jess Brown, In Pursuit of Simple, Pennsylvania
"I love the idea of Connection Day! What a great way to bring people together the day before Thanksgiving in a unique way. It's always nice to see companies reach out and show their appreciation to their customers, and it certainly makes me, as a consumer, more anxious to turn to a brand that treats me well. I'm anxious to hear what secret offer iTunes will be offering, and I am definitely going to look into some free downloads. I'll never turn down free WiFi! – Marissa Burdett, The Modern Austen, Pennsylvania
"On Connection Day, I will be downloading Wired from Conde Nast. Their gadget and gear updates are plentiful and current, plus the extended features are very thought-provoking. Also, with the free seven-day trial of Pandora One, I'll be listening to Sting, Zumba Fitness, Peaceful Holidays Radio and Film Scores Radio. I'll also be researching my accommodations status and sending my family and friends pictures while I'm traveling with the offers from Boingo Wireless and Gogo." – Michael Siebenaler, Gear Diary, Ohio
"For Connection Day, the first five stations I would create/pick on Pandora One with their seven-day free trial would have to be David Cook, Imagine Dragons, The Kin, P!nk and Justin Timberlake. I have been lucky enough to see all these artists live multiple times. Their music and lyrics are all incredibly different, but they all speak to me, almost feeling like the soundtrack to my life… so of course I would love to have streaming radio stations of their work, uninterrupted by ads! The great thing about Pandora is that it can introduce you to artists and music similar to what you already love - and isn't love what the holidays are all about?" – Shay Hazen, More than a Fan, Ohio
"I think the event is huge! I have to drive to Lebanon, KY to see my mom on that Wednesday - no shortcuts on this ride! Back in the day, my kids had a VCR and about three tapes to rotate. I memorized the audio from the Lion King from the driver's seat! Thank goodness for cell phones and earbuds! The extra data is huge. Bigger than Mom's Thanksgiving turkey!" – Jeff Ramsey, "The Ramsey Brothers" on WVEZ-FM, Kentucky
"As a travel blogger, I see great content everywhere. So, when I'm out and about, whether in my hometown or on the road, I'm always snapping pictures with my phone and sharing them across my social networks. The extra data Verizon is offering for Connection Day just gives me more reason to share terrific sights from the Season. As a "professional family traveler" I know all about the stress that can come when you travel with the kids over the holidays. Long car rides, busy airports and extended layovers don't help the tension. Of all the Connection Day gifts, the one that thrills me most is the 10 free apps from the Amazon App Store. New apps will keep my kids occupied for hours and those wait times will fly by!" – Jody Halsted, Family Rambling® Media, Iowa
"The most exciting part of Connection Day is there are offers for everyone all across the board. The apps that appeal to me include the Amazon Apps and the special offers from Apple iTunes. The seven-day trial of Pandora Media also is an interest that I will certainly try. I play music and love to shop, so those apps go hand-in-hand with my interests. Thankfully I don't have to travel too far for Thanksgiving, but I know my 15-year-old niece Shelby will be entertained with the offers since she's into social media and always looking to try the next new thing." – Keith Taylor, Big Blue Mist and The Winchester Sun, Kentucky
Why are YOU excited about Connection Day? Tell us using #ConnectionDay on Twitter!
For more Verizon Wireless news, subscribe via RSS feeds in the right rail.