Inside Look at Mall of America's Verizon Destination Store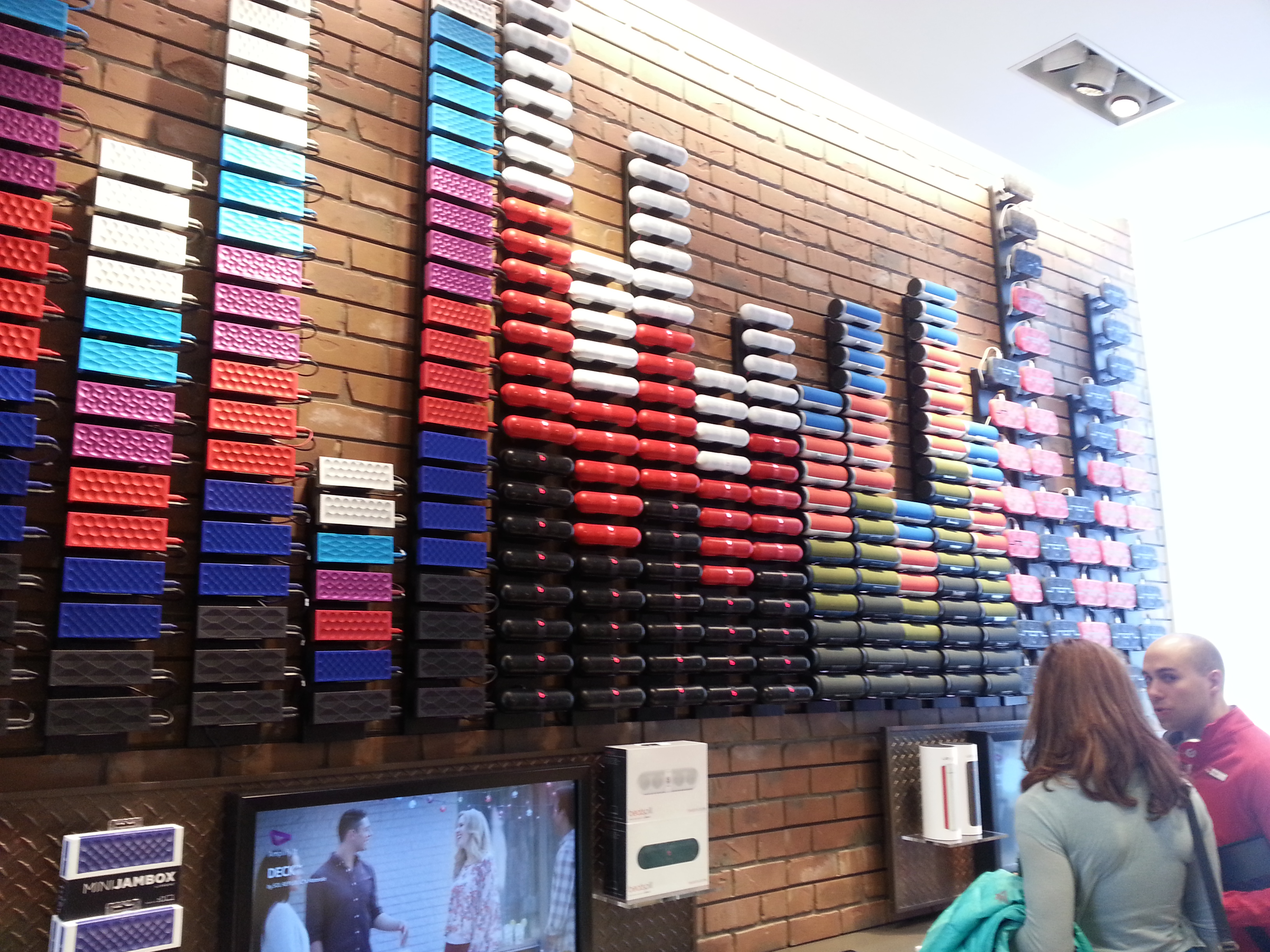 This is a guest post from Jody Halsted, a freelance writer and the owner of Family Rambling® Media. When she's not traveling, Jody is homeschooling her two daughters (or shuttling them hither and yon to Irish Dance lessons, horseback riding and gymnastics). During her "down time", Jody enjoys cooking and "geeking out" with her husband Doug, a software developer and IT specialist. If you're planning a trip to the Mall of America this holiday season, you'll want to check out the new Verizon Destination Store. It's unlike any other wireless store you've visited and takes shopping for technology to a whole new level.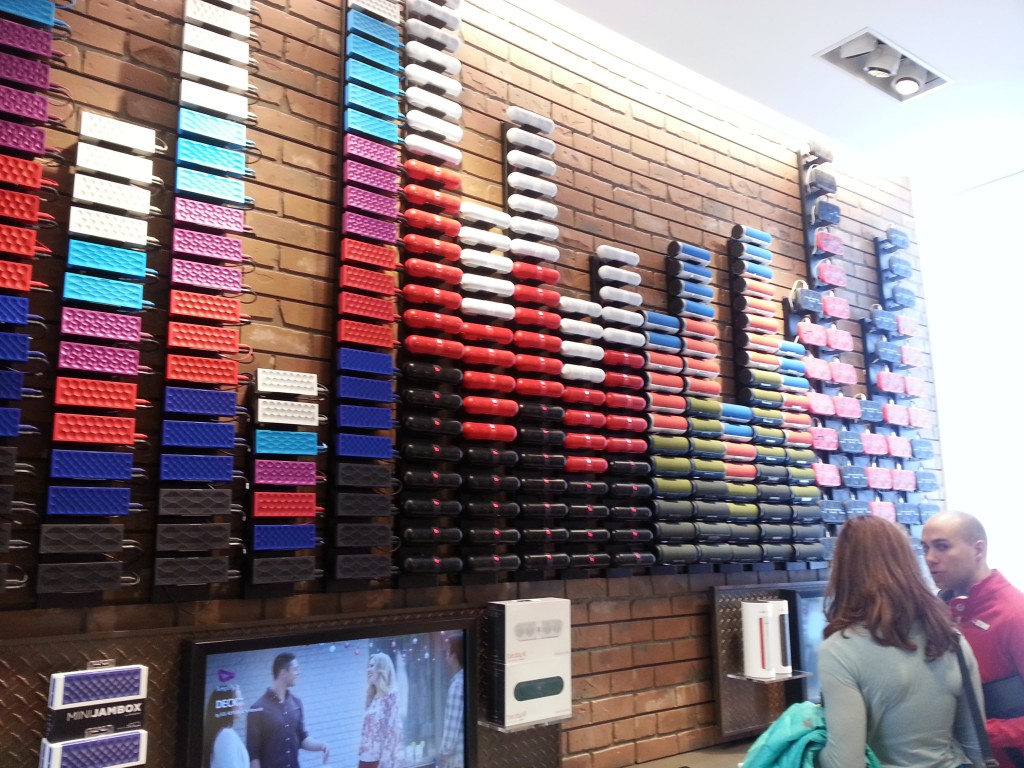 The wall of working speakers gives new definition to audio visual Amplify It Zone.
Stepping into the store, I was nearly overwhelmed by its size. It's almost 10,000 square feet of space dedicated to working, playing and living smarter. Keeping all these gadgets contained are six "lifestyle zones", each focused on a different part of your life. It's an Interactive Tech Playground What makes the Verizon Destination store different from any other wireless store is the ability to touch, try and tutor.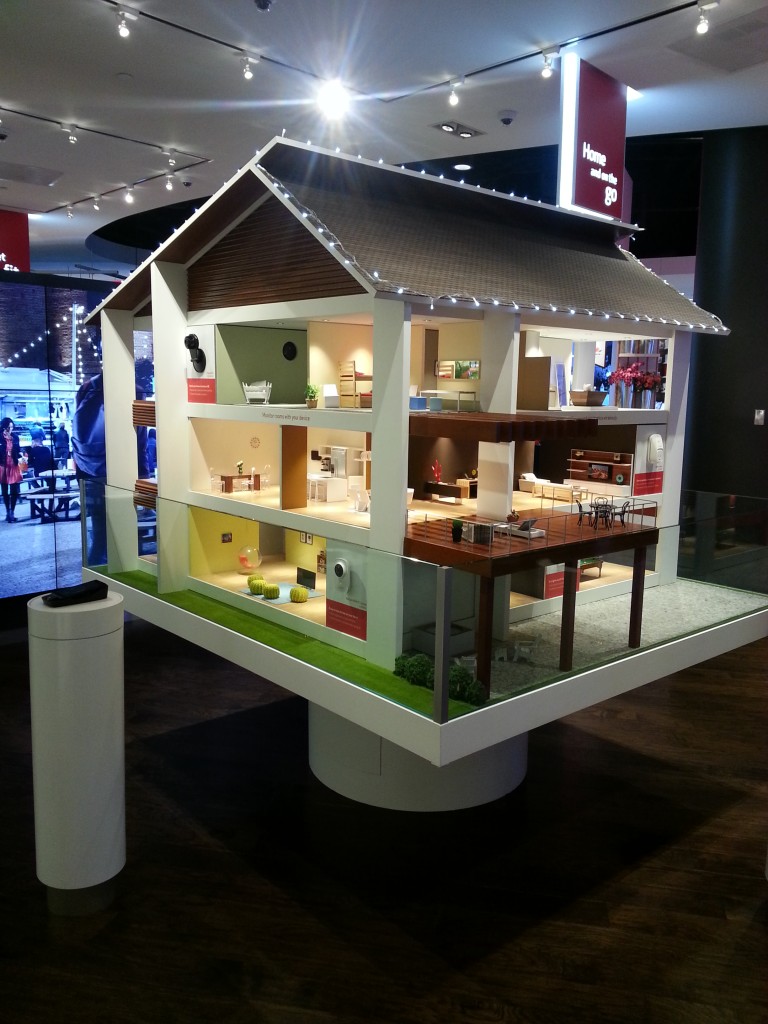 Home security on your phone – door locks, lights, temperature. There are even gadgets to help you remember to water your plants! Home and On the Go Zone.
I love gadgets, and often I will snag one only to be disappointed with it when I get home. Either it doesn't fit or feel how I thought it would, it doesn't do what I thought it would, or I just don't know how to use it correctly. And since returning items is a time-consuming hassle, the gadget that should have made my life easier becomes an expensive paper holder on my desk until I give it away. Each lifestyle zone has a different focus - music, fitness, fun, home automation, business and customization. In each zone, you'll find a specialist who can guide you from problem to solution with ease. In the Get Fit area, I was able to touch and feel a product I have had my eye on for awhile – the Fitbit. The specialists had me hop on a treadmill, put on the Fitbit Zip and walk. Showing me the app as I casually strolled, I was able to get a feel for the product and learn if it was right for me.
The Have Fun zone is popular with grownups, but kids are really going to love it (which makes taking the little ones to the wireless store so much more enjoyable). I predict the Orbotix Sphero 2.0 Robotic Gaming System will be a huge seller, especially because you can try it out on the mini golf course.
While the experience zones are fun, I loved the Wireless Workshop Zone. "The average person is only using about 10% of their phones capabilities," Tracey told me as he set up my phone to receive files via NFC. "The Wireless Workshops are free and will help you use your device to its maximum capabilities." Through the holidays, the wireless workshop area is set up to create stop motion mini-movies. With the backgrounds and props provided, this is a fun experience and left me with great ideas for a digital Christmas card.
But Can I Get a Phone? Behind the Focal Wall Experience, at the rear of the store, are the phones and accessory walls. At the device wall, interactive touch screens let you view specifications and features of each device, as well as compare it – side by side – with other devices available. Forty-eight smart phones, basic phones, tablets and WiFi devices are live, ready to be tried and tested.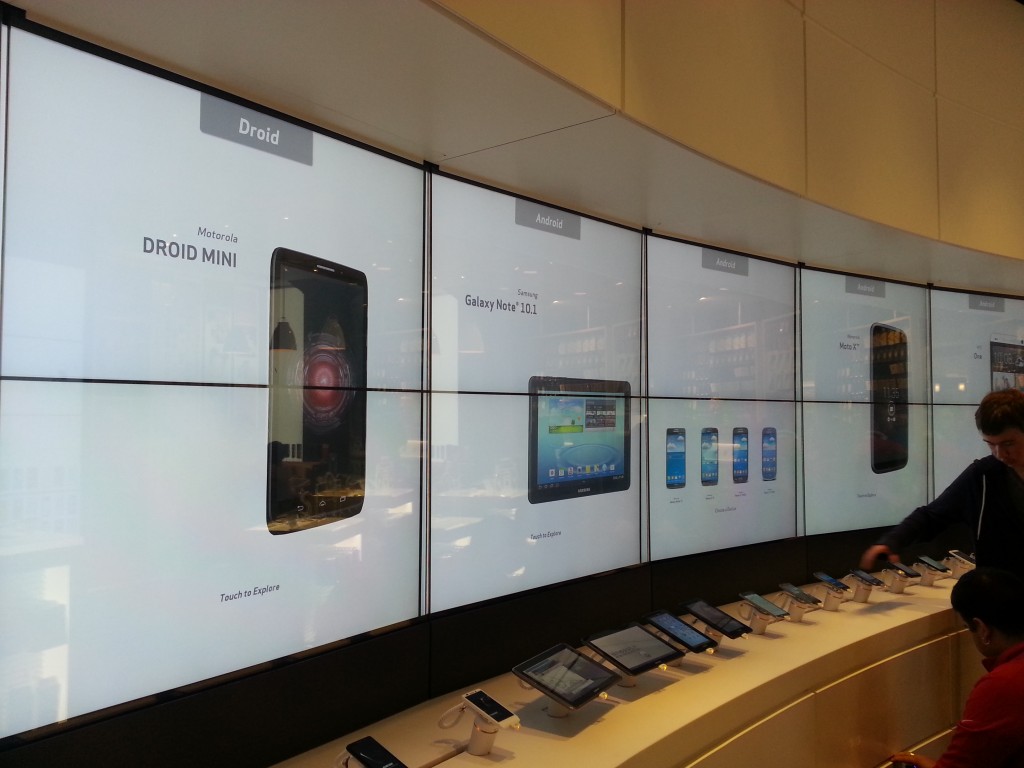 Interactive screens help you choose the best device for your needs.
After choosing the best device for your needs, you can view the optional accessories – and then find them on the surrounding accessory walls. It's everything you need, from cases to battery backup… and then some. The Customize It zone allows you to create a custom phone case (for certain phones) and have it in about an hour. Pull a photo from an online source, or step into the digital green screen photo booth and take a photo on the spot. If you need something more rugged, the Otterbox Mix and Match Zone lets you create your own color combinations for a unique, yet protective, case.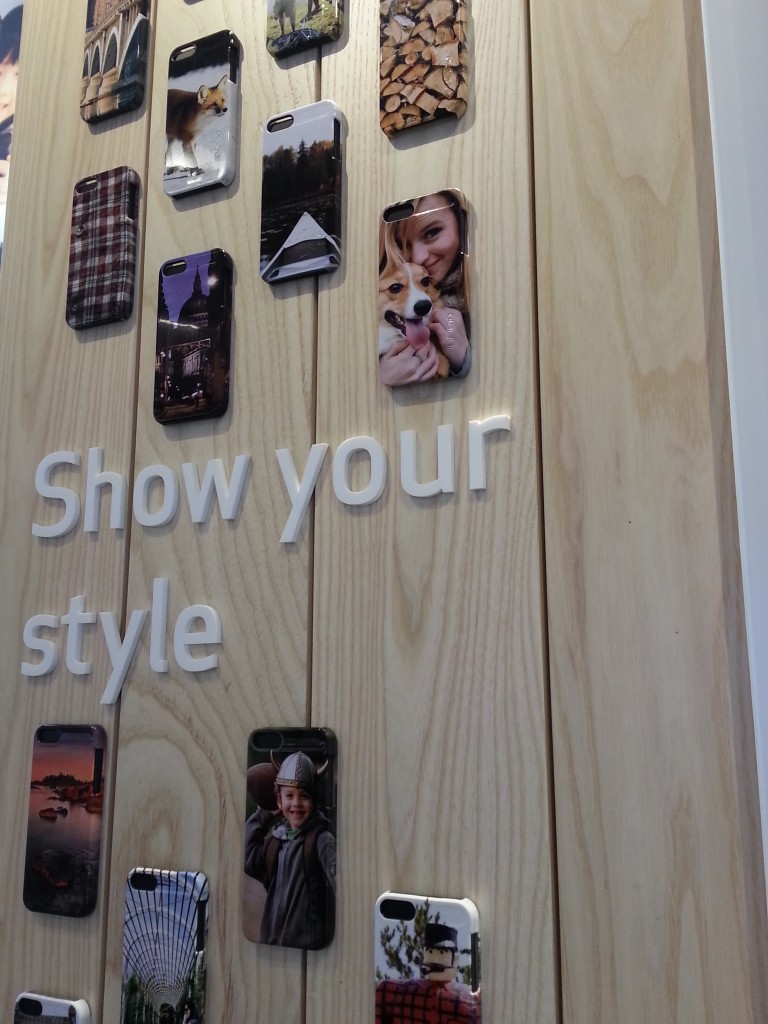 Limited only by your imagination.
From a Traveling Mom's Perspective Everyone in your family will find something to enjoy at the Verizon Destination Store. Beginning at the interactive window display, your visit is less about the products and more about the experience. The staff is helpful and very knowledgeable. Even if you don't purchase something, you'll likely leave knowing more about your phone and ways it can make your life easier, more productive or just more fun.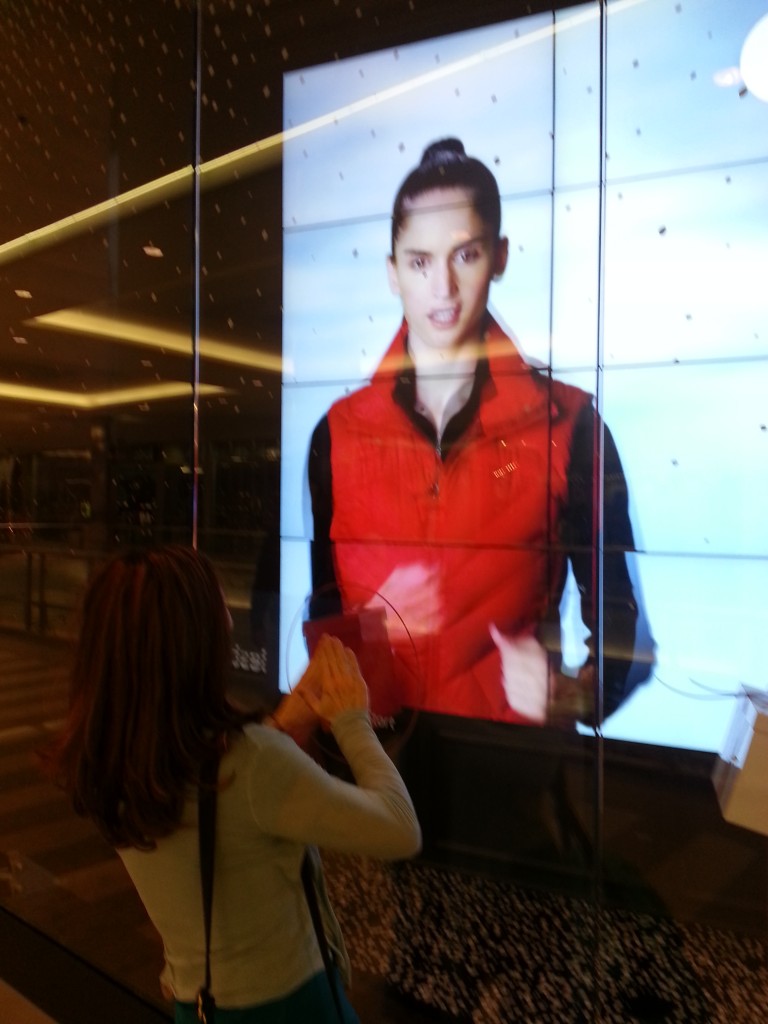 Changing with the time of day, the window display is only the beginning of the experience at the Verizon Destination Store.
The Verizon Destination Store is located on the second level in the southeast corner of the Mall of America. First photo credit. All other photos and video credit: Jody Halsted ** Verizon Wireless paid for Jody's hotel stay, dinner and breakfast, but did not directly compensate her to write this post. All opinions included here are her own. For more Verizon Wireless news, subscribe via RSS feeds in the right rail.