Verizon Guest Blogger Experiences US Open For First Time
Verizon Guest Blogger Experiences US Open For First Time
Guest Blogger, Kevin Wang (@Mister_Wang)
I have a complicated relationship with tennis. Having played on the USTA circuit and the varsity tennis team for all four years of high school, I put so much time into a demanding training and tournament play regime that I'd missed out on many a critical high school experience. Factor in the psychological stress of playing solo at a tactical sport where you can't run out the clock, and I was more than ready to quit by college. Surprisingly, my tennis trauma has lasted longer than I ever thought it would: I graduated high school in 2009, and haven't picked up a racket since.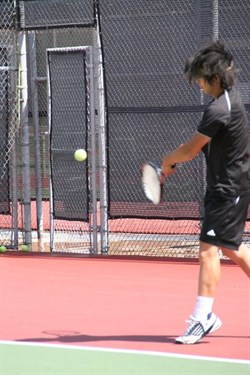 My love of the game still marginally persists, however, and when Verizon asked if I wanted to go watch some matches at the 2013 US Open, it was an offer too good to refuse. I hadn't actually been to any professional matches (save for a tiny Open in Hong Kong over a decade ago where I got to see Michael Chang play), let alone a Grand Slam. I did get horribly drunk at a London pub watching the 2010 Wimbledon Men's Singles Final. Maybe that counts as half or something.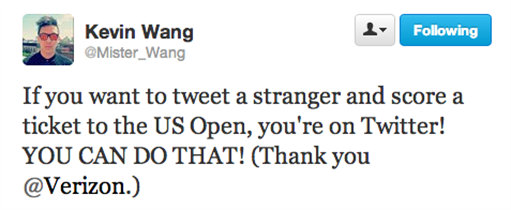 I wish I could describe the feeling that engulfs you when you walk into the Billie Jean USTA Center It's a massive beehive of activity: people from all over, milling about between matches and congregating colorful kiosks for merch and memorabilia, or catching up on smaller matches via jumbotrons, with the smell of all kinds of foods wafting up as a live band covers "Blurred Lines."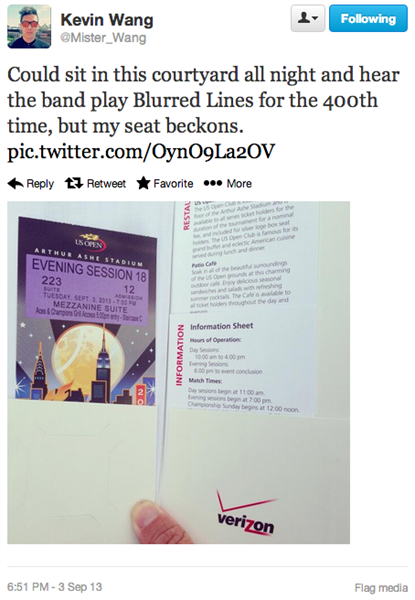 TV crews are running about at all times setting up, filming commentators, and breaking down stations. While all this occurs, matches continue constantly, and the air is occasionally punctuated with a triumphant roar of a crowd from a faraway court no doubt cheering a genius backhand winner. It's a terrifically exciting scene, and there's a magical energy of anticipation that sort of hangs in the air – like the buzz you start to feel all around you on the streets around election time, or when the first warm weather of the spring is imminent.
Verizon really hooked it up. We had a comfortable suite with great views of the court on Arthur Ashe Stadium, and a sick caterer who made a mean beef short rib. (I ate several plates of it so I sh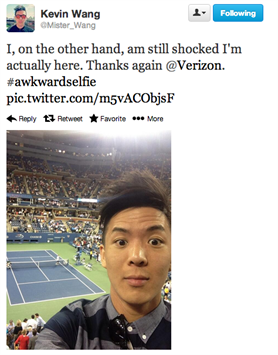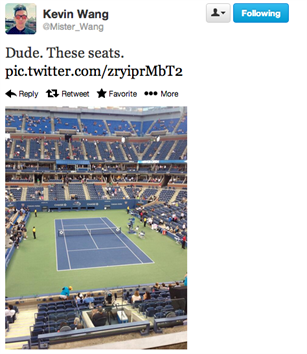 We watched two great matches: Serena Williams vs Carla Suarez Navarro, and Andy Murray vs Derek Istomin. First match wasn't even a real contest: Serena dominated the match from start to finish like an adult playing a child, crushing her serves and forward crosscourt winners on her way to a 6-0, 6-0 victory. Murray vs. Istomin was much more entertaining: Istomin, a quick crowd favorite with his bright outfit despite being a massive underdog, stole the first set from Murray in a close tie-break and frustrated the Scot throughout the night before his mental toughness and stamina faltered towards the end, with Murray winning the whole thing 6-7, 6-1, 6-4, 6-4.
What's always particularly fun to watch in tennis is how much demeanor and body language plays a role. Watch this (crappy iPhone) video I snapped of Istomin serving up an ace for a crucial hold, and note each player's demeanor:
Istomin has the complete swagger of the king, but Murray won't even let him get that satisfaction by turning and refusing to make eye contact while immediately preparing himself for his next serve hold. I could go on and on about everything that happened – including an amusing moment when Istomin changed the color of his shirt out of superstition after dropping 2 sets in a row – but I think it'd turn this post into an essay.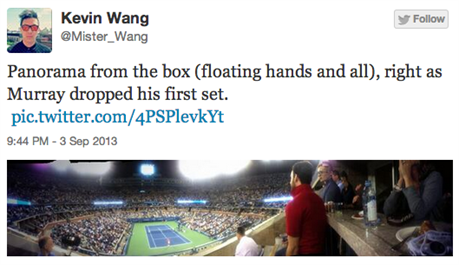 Thanks again Verizon for the great opportunity – you can't possibly know what it meant to see my tennis idols grazing the court I always longed to roam. More importantly, it invigorated an itch inside me that had been dormant for quite some time: the desire to play. Maybe it's "hold my beer" syndrome, but it'll be good to get back on the court again.