Verizon HopeLine Helps YWCA Create a Safer Teen Dating Environment in North Central Indiana
Verizon HopeLine Helps YWCA Create a Safer Teen Dating Environment in North Central Indiana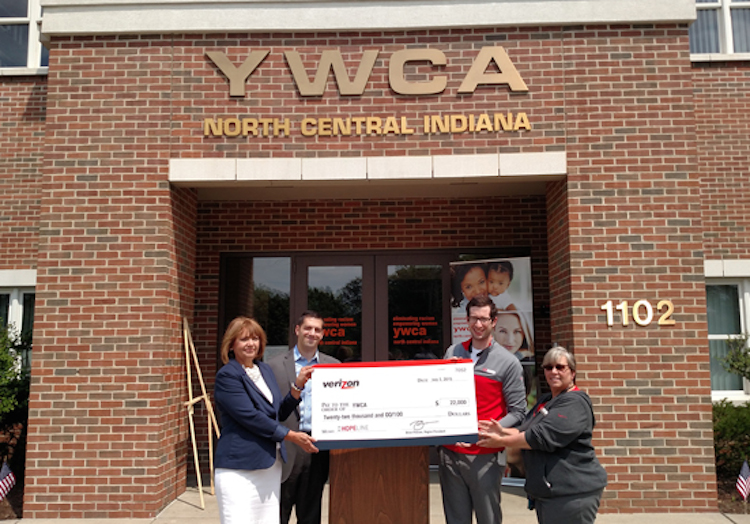 The YWCA of North Central Indiana is trying to change statistics.
According to the Centers for Disease Control and Prevention, one in 10 teens have been on a date and been physically abused by a boyfriend or a girlfriend. And, 22% of women and 15% of men who have experienced some form of partner violence said it happened between the ages of 11 and 17.
With these startling statistics in hand and the understanding that domestic violence doesn't only impact adults, the YWCA launched a program last year to educate and offer full-time outreach to local teenagers in St. Joseph County.
In the first year supporting the community, the YWCA's Teen Dating Violence program's prevention specialist:
Visited 53 classrooms.
Reached 2,545 students.
Implemented five six-week long after school programs with small groups (3 upper elementary schools, 1 middle school and one high school).
Planned a Valentine's Day themed event on healthy relationships at St. Mary's College, attracting more than 30 female students.
YWCA saw the success and impact this program was having in the community and knew they needed to expand upon it – but couldn't do so without additional funding.
With a recent $22,000 donation by HopeLine® from Verizon Wireless, the program is getting ready for an even bigger and brighter second year.
The donation was celebrated with a check presentation at the YWCA in early July 2015. With the help of Verizon HopeLine, the program will be able to reach more classrooms, encourage and educate on healthy relationships and build a better future for St. Joseph County teens.
"We are thrilled to have such a strong community minded partner in Verizon Wireless," said Linda Baechle, president & CEO of YWCA North Central Indiana. "Thanks to last year's Hopeline grant, we were able to reach more than 2,500 children with critical primary prevention education; that is, information designed to prevent teen dating and sexual violence behavior before it begins. This latest HopeLine grant means we can continue to expand our outreach to young people in our community, and we are very grateful."
Local student, Lily Victoria, who was affected by the program, was also present at the event.
"It's very important for this program to continue," Lily said. "If I hadn't been talked to or helped by them, I wouldn't be here right now."
The YWCA's Teen Dating and Sexual Violence Prevention Program is offered to both male and female students at elementary, middle and high schools in both St. Joseph and Elkhart Counties.
For more information about the program, visit http://www.ywcancin.org/.
For more Verizon Wireless news, subscribe via RSS feeds in the right rail.