Verizon HopeLine Hero Sgt. Dawn Higgins: Never Off When it Comes to Domestic Violence
Verizon HopeLine Hero Sgt. Dawn Higgins: Never Off When it Comes to Domestic Violence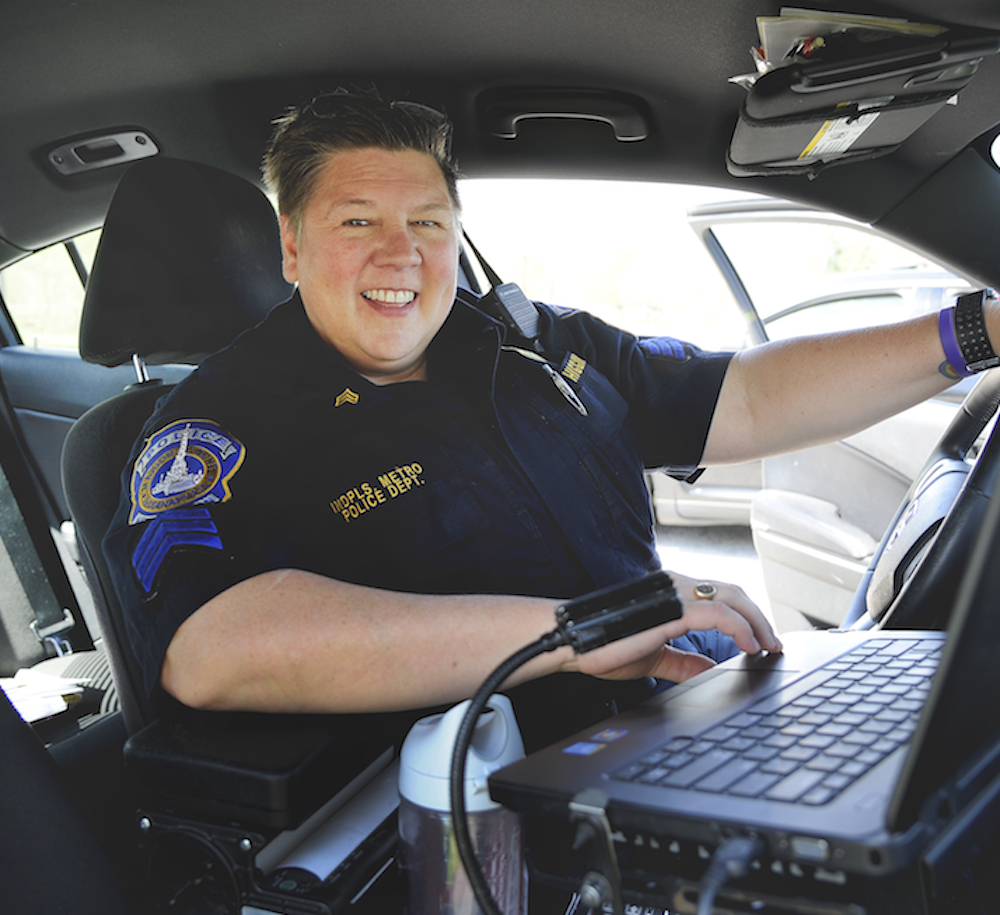 When you're surrounded by domestic violence for a living, the calls for help can come at any time. Dawn Higgins, a 32-year-employee of the Indianapolis Metropolitan Police Department, found herself in that position when a young girl called her daughter at home asking for help. Even though Higgins was off duty and it was in the middle of a snow storm, she strapped on her equipment and made her way to the residence.
Always on. Never off. That's not only a police officer's life, but it's Higgins' commitment to an issue that has been part of her professional life for a very long time.
She's also the only law enforcement board member of Coburn Place Safe Haven, a group that received $50,000 in 2014 HopeLine support from Verizon. When Higgins is off duty, she's committed to spending hours bridging the gap from real life-and-death scenarios to the practicality of fundraising for a non-profit organization to keep it functioning and focused on future growth.
She called the furor and outrage over the now infamous Ray Rice video "just a microcosm of an everyday occurrence."
"The public just doesn't get it. Domestic violence isn't a sound bite. If the national statistic is — it takes seven times before a person leaves — how do you know when that person will actually leave?"
At any of those junctures, Higgins said a victim could either make the decision to get out — or stay in a potentially lethal situation.
Coburn Place in Indianapolis meets the needs of homeless, low-income survivors of domestic violence by providing them with safe, transitional housing and comprehensive support services for up to two years. During their stay, survivors have access to comprehensive case management and supportive programming that provides immediate and long-term safety, social and emotional well-being, sustainable permanent housing and self-sufficiency.
As Higgins notes, innocent children are often in harm's way in domestic violence incidents. Through Coburn, families served last year were provided more than 511.5 hours of counseling. And 92% of Coburn Place program graduates exited to safe housing of their choice.
For Higgins' part, domestic violence is always top of mind.
Coburn Place provides her a bit of respite, as well. "It's so nice to go into an environment of big-hearted and positive people from all walks of life instead of picking up the pieces. It's proactive, and I get to do something to help before anything bad happens. It's on the front end."
According to Coburn Place Executive Director Julia Kathary: "Dawn is a true asset to survivors of intimate partner violence, and we are lucky to have her as part of our team."
Higgins also was present at the Colts-Verizon news conference in 2014, which announced a community HopeLine collection and featured Colts player Dwayne Allen speaking about how domestic violence was part of his life as a young man. Allen provided an eloquent admission from a national role model for many others who are voiceless, powerless and trapped.
In her own department, Higgins has lost officers to domestic violence, so it's personal.
As we recognize our Hoosier HopeLine Heroes this month, we hope you take time out to thank someone in law enforcement, as well. Just like Sgt. Dawn Higgins, officers are out there on and off work time, working to make your communities safer.
You can also contribute to a local domestic violence organization in your community. Sometimes the commitment of time counts — as with the service of Sgt. Higgins — just as much as the dollars.
If you're interested in volunteering locally, please visit the Coburn Place website.
For more Verizon Wireless news, subscribe via RSS feeds in the right rail.