Verizon HopeLine & Tom Izzo Announce Michigan Device Collection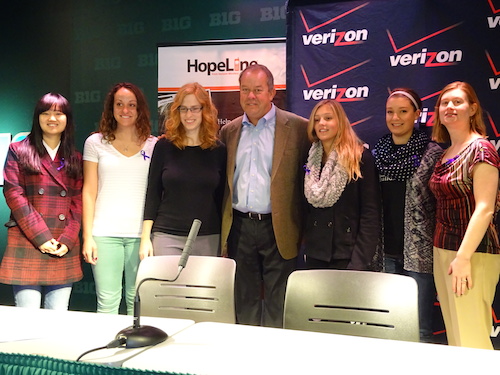 As more individuals and families learn that help exists to escape from domestic violence, calls increase to emergency shelter and advocacy groups such as Michigan State University's Safe Place.
"More victims leaving these situations helps break the cycle of violence," said Roxann, a Michigan resident and a domestic violence survivor who witnessed abuse as a child. "Getting out of that type of prison is crucial, for yourself and also if you have kids. They need to learn that physical and mental abuse are not normal behaviors. It rips apart families and impacts health and self-esteem. It erases every shred of confidence and dignity a person has."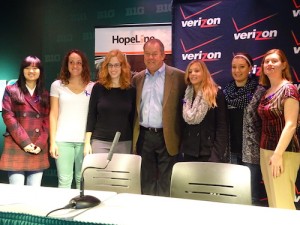 [From left to right]: Luyao Shen, MSU Safe Place Intern; Katie Sokol, MSU Safe Place Intern; Alyssa Baumann, Volunteer & Advocacy Coordinator, MSU Safe Place; Mark Hollis, Director of Athletics MSU; Sierra Petersen, MSU Safe Place Intern; Erica Schmittdiel, Advocacy Coordinator, MSU Safe Place.
Recently, Verizon Wireless HopeLine and Michigan State University Men's Basketball Head Coach Tom Izzo announced a statewide drive to collect 3,000 no-longer used wireless phones, accessories and tablets. The HopeLine drive will collect devices from the public between now and November 30, 2014. Michigan State University Athletic Director Mark Hollis, law enforcement officials and MSU Safe Place leaders also helped kick off the HopeLine drive.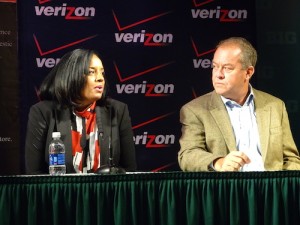 Verizon Wireless Region President Lauren Love-Wright and Mark Hollis, Director of Athletics at Michigan State University
"Verizon Wireless' goal is to place phones in the hands of as many domestic violence survivors across Michigan as possible so they can call for help when needed," said Verizon Wireless Region President Lauren Love-Wright. "The public is crucial in helping us make this happen."
In addition to the phone drive, MSU Safe Place received a grant of $25,000 from Verizon HopeLine. MSU Safe Place provides free and confidential advocacy, emergency shelter, counseling, support groups, safety planning, information and referrals to survivors of violence and their minor children. This year in Michigan, HopeLine has donated $107,000 to six organizations working to protect domestic violence survivors.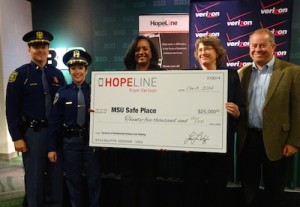 [From left to right]: Michigan State Police First Lt. Gabe Covey; Detective Sgt. Valerie O'Brien,from the Michigan State University Police Department; Verizon Wireless Region President Lauren Love-Wright; MSU Safe Place Director Holly Rosen; Mark Hollis, Director of Athletics at Michigan State University
"Together with Verizon we can raise critical awareness of this issue and engage our fans and the greater community," said Izzo. "Anyone can help. Anyone can clean out the junk drawer and donate those old phones for good use. We invite the community and our fans everywhere to donate their phones at Verizon stores across the state of Michigan."
October's Domestic Violence Awareness Month was established nationally in 1981 to spread awareness on this often-secret problem. To help domestic violence survivors, Verizon Wireless launched HopeLine, which partners with safe houses, advocacy groups and prominent leaders nationwide. The goal of the HopeLine program is to give mobile devices to domestic violence survivors and victims while simultaneously spreading public knowledge about how and where to reach for assistance.
Wireless phones donated to HopeLine are refurbished and charged with 3,000 minutes of wireless and text-messaging service. Donated devices are provided to local domestic violence agencies or local government and law enforcement agencies for use with their domestic violence clients. To find a nearby store to donate your phone visit http://www.verizonwireless.com/stores.
For more Verizon Wireless news, subscribe via RSS feeds in the right rail.