Verizon HopeLine Partners With Center for Victims to Educate Community About Violence Against Women & Girls
Verizon HopeLine Partners With Center for Victims to Educate Community About Violence Against Women & Girls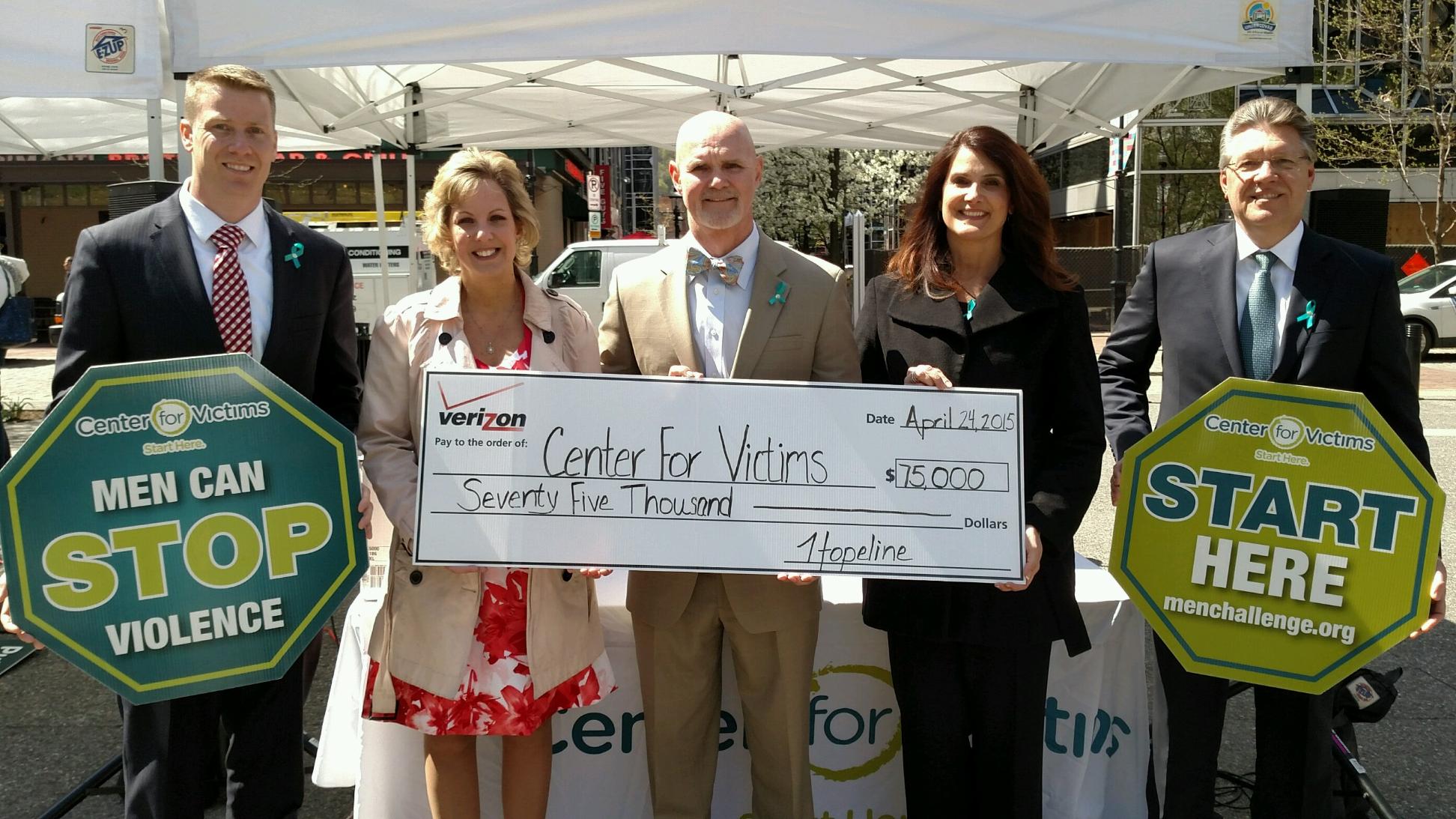 Last week, the Center for Victims invited the community to gather in Market Square in downtown Pittsburgh in observance of Sexual Assault Awareness and Prevention Month. During the event, attendees received free educational and awareness materials.
Attendees could also donate no-longer-used phones and accessories for Verizon Wireless' HopeLine program. Through Verizon HopeLine, we collect and securely scrub donated phones, refurbish and sell reusable phones and responsibly recycle unsalvageable phones. Proceeds are donated to domestic violence organizations nationwide.
We were also pleased to present the Center for Victims with a $75,000 donation, which will sponsor a campaign throughout 2015 that is targeted to educate teens, parents and communities on the issues surrounding violence against women and girls. The sponsorship is in conjunction with Center for Victims' MEN (Men Ending VioleNce) Challenge & Pledge, which has been signed by more than 300 men since it launched last spring.
The MEN's pledge and action plan is designed to encourage men to make a commitment to learn more about how to be a proactive bystander and speak out about violence against women and girls. Men who take the pledge receive a tool kit that will give them themed monthly activities and educational tips that can be used in their homes, workplaces, social networks and communities.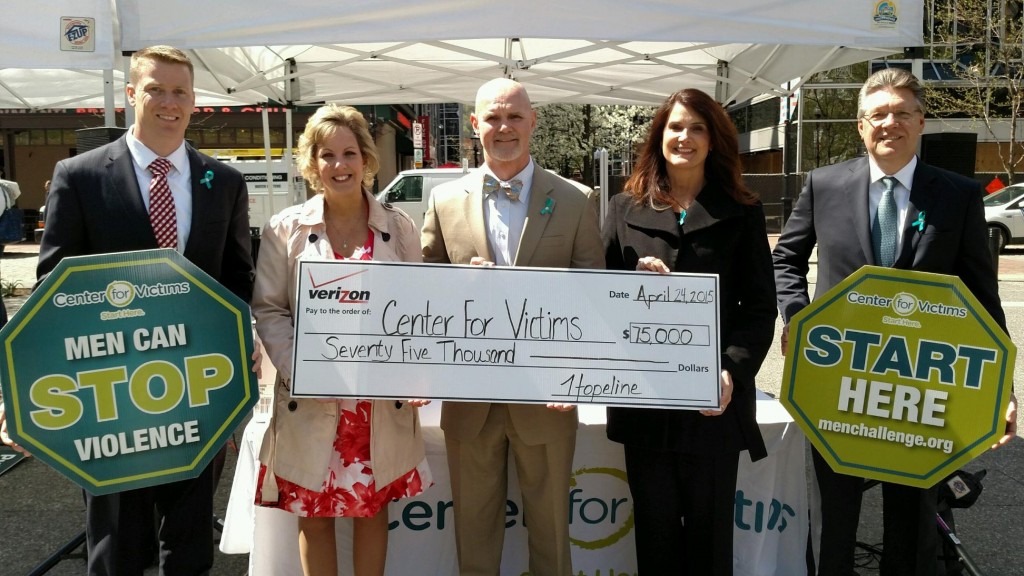 Jarrett Dawson (Verizon), Tracey Provident, CPO of Center for Victims, Verizon region president Mark Frazier, Donna Latsko (Verizon) and Carl Erhart (Verizon).
"We are pleased to support Center for Victims, with their MEN Challenge Awareness initiative, and throughout the year as they work to eliminate domestic violence in Greater Pittsburgh," said Mark Frazier, president of Verizon's Ohio/Pennsylvania/West Virginia Region. "We encourage this great community to join us in supporting Center for Victims. Together, we can make a real difference."
Verizon's donation will help fund a series of public service announcements that will air on the NBC-TV affiliate in Pittsburgh, WPXI. The segments will air throughout the year and will help educate the public on topics including teen dating violence prevention.
The Center for Victims is the most comprehensive and inclusive provider of services, advocacy and education for all victims of crime in Allegheny County. For more information on the organization or the MEN's Challenge, please visit www.centerforvictims.org.
You can stay up-to-date on the Center for Victims' news by following the organization on Twitter @Center4Victims.
For more Verizon Wireless news, subscribe via RSS feeds in the right rail.