Verizon Invested More Than $437 Million in Pennsylvania's Wireline Telecommunications Infrastructure in 2013
Verizon Invested More Than $437 Million in Pennsylvania's Wireline Telecommunications Infrastructure in 2013
Network Enhancements, Deployment of More Than 24,000 Miles of Fiber Fuel Innovation, Economic Growth in the Keystone State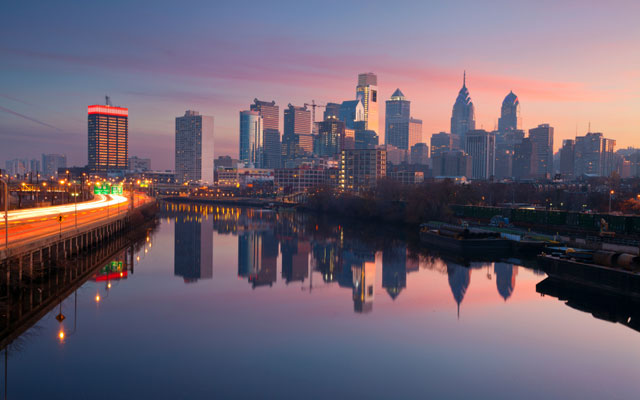 PHILADELPHIA – Pennsylvania's consumers, businesses and government agencies continued to benefit from Verizon's 2013 investment of more than $437 million in its industry-leading fiber-optic and Internet Protocol-based networks. These networks are platforms for innovation that help bring the Internet of things to life, and create opportunities to improve education, energy and healthcare.
"As technology rapidly transforms Pennsylvania, Verizon continues to build the networks of the future, investing in the most advanced technologies to ensure our customers have the best service experience possible every day," said Tim Smith, Verizon region president for consumer and mass business operations for Pennsylvania/Delaware. "Whether it's voice, broadband or TV service for the home or the services needed to grow a business, Verizon offers a broad array of products and services to meet the unique needs of our customers, and our networks help position Pennsylvania to be competitive nationally and globally, to grow existing jobs and attract new ones."
Consumers, Small Businesses Take Quantum Leap for Innovative Services
Verizon's major wireline infrastructure programs in 2013 included:
Continuing the deployment of the company's award-winning, 100 percent fiber-optic FiOS TV and FiOS Internet services. At year's end, FiOS services were available to nearly 1.9 million homes and businesses in southeastern, south-central and southwestern Pennsylvania. Verizon has placed more than 24,000 miles of fiber optics in Pennsylvania – enough to travel round trip between Philadelphia and Pittsburgh more than 40 times.
Building additional redundancy and reliability into Verizon Pennsylvania's wired network with the installation of more than 105 fiber-optic rings that have the ability to reroute traffic across the network when cables are damaged or accidently cut.
Enhancing the FiOS Bandwidth Effect, which enables consumers and small businesses to harness huge amounts of broadband.

FiOS Quantum, with speeds up to 500 Mbps down and 100 Mbps up, is America's fastest Internet. Other Quantum speeds include 300/65 Mbps, 150/65 Mbps, 75/35 Mbps and 50/25 Mbps. All Quantum tiers offer upload speeds that rival or exceed most download speeds offered by competitors.
The ultra-fast speed helps delivers technology that gives people the best way to stream videos, conduct video chats, upload large work files from the office or home, and use multiple Internet devices simultaneously, among other bandwidth-intensive applications.
Multi-player gaming advantages with tremendous speed vs. competitors.

Delivering FiOS TV anytime, anywhere on a variety of devices:

The FiOS Mobile App allows customers to manage their Verizon account and their lives – wherever they are – on a variety of Internet-connected devices. Best of all, they can watch up to 31 channels outside the home and 91 channels inside the home, depending upon their TV package.
FiOS TV Online, offering 71 channels over a broadband-connected PC, laptop, tablet or smartphone, including local channels in Philadelphia.
Advanced, interactive search and navigational experience.
Advanced, interactive TV Apps, ranging from sports to news to social networking to games and entertainment.
Industry-leading 70,000-plus FiOS On Demand video titles customers can rent or own, plus premium on-demand content packages with sports, movie and international programming.

Comprehensive choice including month-to-month plans and multiyear bundles.
In-Home Agent application for convenient, automated self-service.
Award-winning FiOS Digital Voice home phone service.
Investing in superior customer experiences: Verizon has improved phone service reliability for more than 500,000 customers who had repeat repair calls on their Verizon landline phone service by moving their service from copper to the company's advanced, all-fiber infrastructure. Nationwide, Verizon now serves more landline customers on its all-fiber infrastructure than on its legacy copper network. Fiber is less susceptible than copper to moisture and water damage and offers a better overall service experience.
Enterprise Business Solutions Tailored to Meet Client Needs
Verizon Enterprise Solutions oversees all of Verizon's solutions for large-business, wholesale and government customers in Pennsylvania and globally, including a portfolio of cloud and IT, enterprise mobility, security and advanced communications offerings. Its key client segments include healthcare, manufacturing and automotive, financial services and large government agencies. In 2013, Verizon:
Acquired EdgeCast and the assets of upLynk to further the company's delivery of media and entertainment services. These acquisitions enable Verizon to enhance delivery of end-to-end video solutions for best-in-class TV Everywhere and superior experiences to customers such as studios, broadcasters, retailers and enterprises that seek high-performance digital experiences across all devices.
Announced its next-generation public cloud platform, Verizon Cloud. Verizon Cloud offers large enterprises, mid-size companies and small development shops the agility and economic benefit of a generic public cloud along with the reliability and scale of an enterprise-level service with unprecedented control of performance and security. Verizon Cloud is currently in beta.
Launched Converged Health Management, a remote patient-monitoring medical platform designed to help clinicians and patients manage patients' health in between doctor visits. Verizon's newest solution addresses the day-to-day communications gap that has historically existed between patients and clinicians.
Introduced Managed Wireless ATM, a fully managed, wireless automated teller machine solution that banks can deploy to their remote ATMs, at events or for business continuity planning.
Rolled out "In Drive" service in conjunction with insurance companies. In Drive, developed by Verizon Telematics, offers drivers an opportunity to save money on auto insurance, based on their driving habits.
Verizon Communications Inc. (NYSE, Nasdaq: VZ), headquartered in New York, is a global leader in delivering broadband and other wireless and wireline communications services to consumer, business, government and wholesale customers. Verizon Wireless operates America's most reliable wireless network, with nearly 103 million retail connections nationwide. Verizon also provides converged communications, information and entertainment services over America's most advanced fiber-optic network, and delivers integrated business solutions to customers in more than 150 countries. A Dow 30 company with more than $120 billion in 2013 revenues, Verizon employs a diverse workforce of 176,800. For more information, visit www.verizon.com.
####