Verizon kicks off Latin Music Festival season with People en Espanol Festival
Verizon kicks off Latin Music Festival season with People en Espanol Festival
Offered festival goers free calls across Latin America during festival
In honor of Hispanic Heritage Month, Verizon celebrated culture and music as the principal sponsor of the People en Español Festival in New York City. Verizon brought a premium experience to this year's festival with the "Verizon Lounge" which offered the latest tech demos, exclusive giveaways and the International Phone Booth where attendees made calls to nations across Latin America for free.
"I spoke to my wife in Colombia, who I had gone two months without calling, and surprised her on our anniversary. She wasn't expecting it, " said one attendee who placed a call in the International Phone Booth.
Festival-goers also won big with Verizon over the weekend with prizes ranging from headphones and speakers to NFL tickets and a viewing of Gloria and Emilio Estefan's new Broadway musical, "On Your Feet!"
Joining Verizon in the celebration of Hispanic culture was Brazilian IndyCar champion Hélio Castroneves, who hosted the Verizon Lip Sync battle on the main stage alongside Verizon's Director of Marketing, Octavio Sacasa. After an entertaining and exciting battle, all three contestants were awarded tickets to Gloria Estefan's new Broadway musical, "On Your Feet!" and a VIP Verizon swag bag.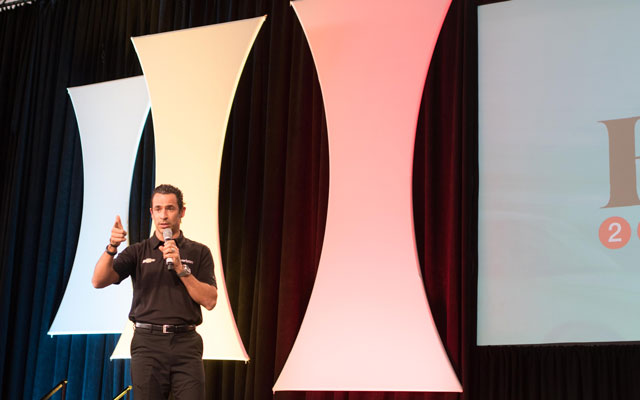 Singing sensation Jasmine V. also joined Verizon's festival experience and surprised 10 lucky festival attendees with a one-on-one meet-and-greet and photo opportunity at the Verizon Lounge.  
The People en Español Festival was a huge hit this year with insightful panel discussion, dynamic celebrity performances and special appearance by Gloria and Emilio Estefan and Pitbull.  But one of the highlights of the festival was the naturalization ceremony that took place Sunday morning, where 100 citizens from around the world received their U.S. citizenship.  Following the emotional ceremony, recipients were invited to Verizon's lounge, where they could make their first call overseas to celebrate their new status with family and friends for free at the International Phone Booth. 
Verizon will continue in the celebration of Latin music and culture throughout the year at the following events and shows:
L Festival at the Orange County Fairgrounds on October 24 and 25.
16th Annual Latin GRAMMY Awards in Las Vegas on November 19.
Univision's La Banda music competition reality show. Verizon is bringing a unique twist by giving one lucky viewer an opportunity to appear as a fourth judge via Hologram.