Verizon Move More Challenge Helps Midwest Readers Reach Goals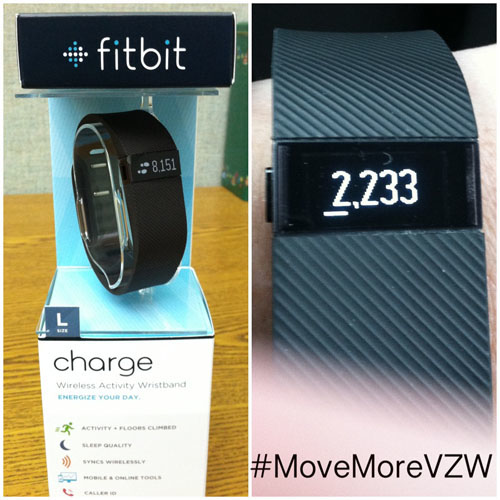 This is a guest post from Andi Brofft, a Cincinnati-based blogger who writes about health, fitness and fun. Follow her on Twitter (@udandi) and Instagram (@udandi) and Facebook (www.facebook.com/udandi).
Disclaimer: Andi will be receiving the Fitbit Charge for hosting the Move More contest.
Hi, I'm Andi and I write about working out in Cincinnati on my blog udandi. As we kick off 2015, I'm working with Verizon Midwest on hosting a challenge to help readers of my blog – and really anyone who likes a healthy lifestyle – get moving more!
Working out gives me a sense of accomplishment. I see how much I'm capable of, it provides a much needed outlet for movement after sitting during my day job and I get to meet new people who share the same passion as me.
So what challenge am I talking about? The Verizon Move More Challenge! It's open to Midwest residents who are committed to adding more movement in their everyday (see here for full rules).
Here's how the Move More Challenge works:
Participants who comment on my blog posts, like this one, between Jan. 5 and Mar. 31, 2015, will be eligible for a chance to win one of three new Fitbit Charge devices from Verizon Wireless.
It's a sweet reward for being good to yourself and the perfect motivator to achieve your personal fitness goals!
But do you really need an activity tracker to reach New Year's goals?
Prior to Verizon Wireless giving me a Fitbit Charge to use during this challenge, I might have said one does not need gadgets and technology to complete a workout. But now that I've been using the Fitbit Charge, I realize how little movement I get during the workday and that even though I power through a 55-minute indoor cycling class, I'm not as active as I think.
The one bonus I didn't anticipate is that using the Fitbit Charge has kept me connected me to my friend in England. Prior to her move, she was my workout pal, the one I called for hot yoga, boot camp or to try a park's parcours.
Even though we don't have the opportunity to sweat together, the technology of a Fitbit motivates me to chase her step count. My quest to keep up with her has led me to teaching myself country line dancing so I can get a few more steps in after work!
Technology has been a serious motivator for someone like me who doesn't consider herself a competitor (outside of competing with myself).
If you're ready to move more with me, please visit udandi.com and leave a comment letting me know how you plan to MOVE MORE! If you're interested in sharing this challenge on Instagram, Facebook or Twitter, please tag your updates with #MoveMoreVZW so I can follow along and cheer you on!
For more Verizon Wireless news, subscribe via RSS feeds in the right rail.