Verizon Show and Tell Contest Brings David Backes Back to School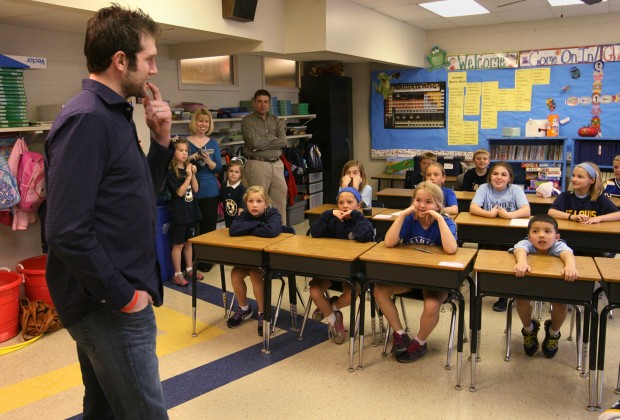 Last week, one young St. Louis hockey fan quickly became the coolest kid in school.
Madison Gnade, a nine-year-old third-grader at St. Paul's Catholic School in Fenton, Missouri, won our Verizon Wireless Show & Tell contest and the opportunity to bring St. Louis captain David Backes to school. Madison's mom, dad and five-year-old sister, Emma, were all on-hand to meet the hockey star.
Backes came bearing gifts – Madison and Emma were each treated to a signed hockey stick and Madison received an autographed authentic David Backes jersey – and answered a few questions that Madison prepared for the visit. Madison and Emma even got to see a few pictures of Backes' dogs!
Madison then took Backes to her third-grade class where her classmates also got to ask the hockey star questions and listen to him describe growing up playing sports and studying to become an electrical engineer before getting drafted by the Blues. The students also received autographs and had everything signed from t-shirts to leg casts.
The entire school then had the chance to ask Backes questions in an all-school assembly. The day ended in style as Madison and Backes took a limousine ride home from school.
It's safe to say that Madison's Show & Tell visitor will be all the talk in the St. Paul's hallways for weeks to come!
For more Verizon Wireless news, subscribe via RSS feeds in the right rail.