Verizon, West Virginia Coalition Against Domestic Violence Launch HopeLine Phone Drive
Verizon, West Virginia Coalition Against Domestic Violence Launch HopeLine Phone Drive
Annually, October is recognized as National Domestic Violence Awareness Month. This year, Verizon began the month by kicking off a HopeLine® from Verizon Wireless drive in Charleston, WV.
Armed with a goal of collecting one million phones by the end of 2015, Verizon teamed up with Secretary of State Natalie Tennant, the West Virginia Office of the Governor, the West Virginia Coalition Against Domestic Violence (WVCADV) and additional local domestic violence programs to help raise awareness of a serious issue impacting the local community. According to the National Coalition Against Domestic Violence, one in three women and one in four men have been victims of physical violence by an intimate partner. Every nine seconds, a woman is assaulted or beaten in the U.S., and on a typical day, more than 20,000 calls are placed to domestic violence hotlines nationwide.
Though a national problem, Verizon understands that domestic violence impacts our immediate communities, neighbors and loved ones. Therefore, Verizon representatives were pleased to unite with local Charleston leaders and residents in West Virginia's State Capitol Rotunda to fight against domestic violence and begin the statewide phone drive. "The future and success of ending domestic violence depends heavily on the leadership generated by those who believe in the right of all persons to live violence free lives," said Tonia Thomas, WVCADV team coordinator. "Thank you Verizon for taking that leadership role."
The Secretary of State's office, the West Virginia Office of the Governor, WVCADV's statewide office and more will be setting up HopeLine collection boxes in their facilities this month to collect no-longer-used phones, batteries and chargers to benefit those affected by domestic violence. The items will be turned into valuable financial support for awareness and prevention initiatives.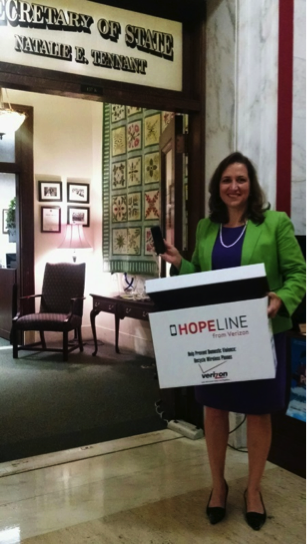 In an effort to further enhance the exemplary services WVCADV offers to the state of West Virginia, Verizon presented a $20,000 grant to the coalition. The grant will help WVCADV implement programming and engage West Virginia citizens in domestic violence awareness and prevention. Mark Nachman, director of business sales, presented the check to Tonia – which was a special moment for all domestic violence advocates in attendance.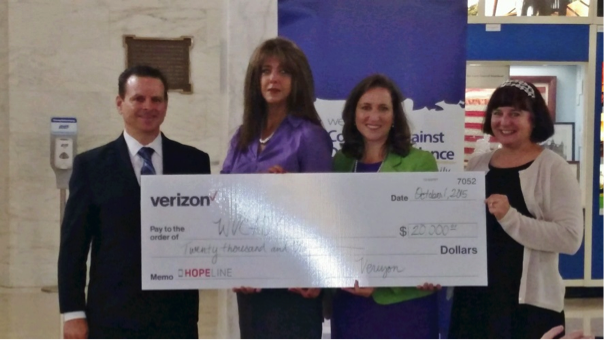 Mark Nachman, Becky Neal (aid to the governor), Natalie Tennant and Tonia Thomas during the check presentation.
Since its launch in 2001, HopeLine has collected more than 11 million phones nationwide, and Verizon hopes to add another million this year alone. With support from so many individuals, business and community leaders taking action against domestic violence by participating in the HopeLine drives, we hope to one day eliminate domestic violence once and for all.
If you're interested in hosting your own HopeLine phone drive, we encourage you to get involved today.